Key takeaways:
Hey Tea launched two limited-edition drinks and immersive tea houses in collaboration with the popular C-series Menghualu.
Tapping into the fan economy by harnessing "IP" or "themed" marketing can be especially lucrative in China.
This is due to the fact that the entertainment industry can pull in millions of views and create "super-fans" who would be interested in buying themed products.
---
C-drama Menghualu(or A Dream of Splendour) became an instant hit among Gen Z audiences from the moment it aired on Tencent's streaming platform. With a top-notch cast including the likes of "Mulan" star Liu Yifei, the show's popularity boomed to the point that China's leading bubble tea brand Hey Tea jumped on the opportunity to create an entire Menghualu-themed campaign.
By mid-June, Menghualu had not only accumulated more than 700 million views, but it also saw a jump in its Douban score from 8.3 to 8.8, making it the highest-rated domestic drama series in the first half of 2022. Since its release, the period drama set in the Northern Song Dynasty has attracted Chinese youth – notably young women – by the thousands.
Reviving ancient tea traditions
What makes this collaboration incredibly fitting is how naturally the show aligns itself with the Chinese tea brand. In fact, the hit series just so happens to follow three women who transform a tea shop into a successful restaurant. In the show, the main character showcases a long-forgotten tea art form called "chabaixi" – literally translated as "a hundred tricks with tea".
Closely resembling modern latte art, this centuries-old Chinese tea ceremony involves drawing patterns and characters with tea foam and water. It is due to the TV series that this Song dynasty art form (as well as many other Song dynasty delicacies) gained overnight popularity as viewers tried their hand at recreating it at home.
Hey Tea immediately picked up on the "chabaixi" comeback trend. On June 30, Hey Tea rolled out its two limited edition Menghualu-themed drinks "Perilla Peach Tea" and "Matcha Latte with Cheezo Art". The former drink drew its "Perilla Peach" flavour from the series, while the latter drink incorporated a series of delicate designs as an ode to the age-old "chabaixi" tradition. On the first day of its debut, nearly 300,000 cups were sold, and the hashtag "Hey Tea x Menghualu Collab" quickly climbed up to fourth place on Weibo's Hot Search list.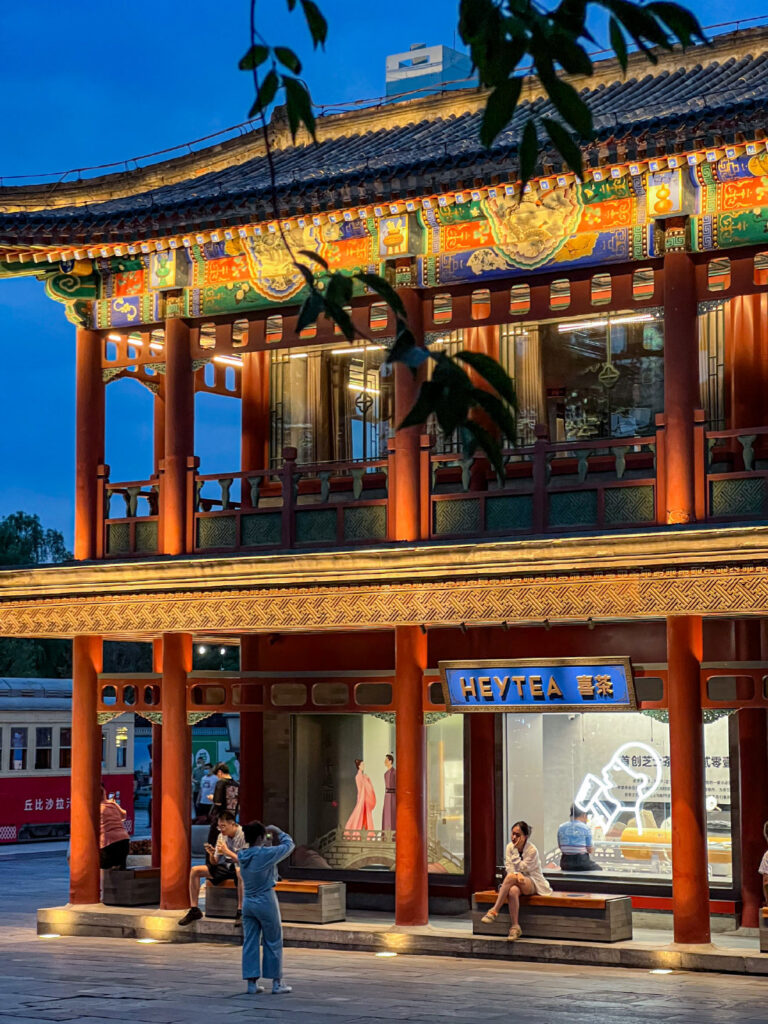 On the very same day, Hey Tea's official Mini Program crashed several times due to the massive influx of orders. The tea craze was so widespread that stores eventually ran out of ingredients and had to close down early to restock. While it was difficult to find tea on the day of the launch, netizens who were able to get their hands on the special drink praised the innovative collaboration. In addition to the co-branded drinks, Hey Tea also launched co-branded bottles of tea, providing more options for super-fans.
Not only did Hey Tea roll out limited edition drinks, but they also created fully-immersive Menghualu-themed tea houses for customers. Located in Beijing, Chengdu, Shenzhen, and Guangzhou, customers could witness the ancient tea ceremony as seen on screen. The overall initiative boosted engagement while bringing the once-forgotten tea tradition back to life.
Tapping into the "fan economy"
In order to capture the attention of the rising Gen Z consumer group, brands from all niches are eager to collaborate with highly anticipated films, up-and-coming TV shows, and even hop on viral internet trends. This is due to the fact that such media is likely to pull in millions of views and build connections with audiences who have the potential of becoming "fans" or even "super-fans" who would be interested in buying themed products.
In the case of Menghualu, its widespread popularity allows for various brands from an array of industries to find an angle for IP marketing. According to Jing Daily, Chinese businesses have already garnered 2.46 million USD in media impact value from leveraging the show's IP to co-launch limited edition products, such as food, gadgets, and garments. Following Hey Tea's campaign, other brands like rival bubble tea chain Nayuki and Hanfu label Shisanyu jumped on the booming bandwagon.
Overall, taking into consideration Hey Tea's vision to reinvigorate the millennia-old tea tradition among young Chinese consumers, the collaboration with Menghualu was a tasteful and suitable fit. With overlapping target audiences, the tea brand effortlessly leveraged the show's popularity in a campaign that resonated with the masses. Both the entertainment industry and brands work in tandem to extend the brand experience beyond a cinema trip or weekly episode.