While the annual showcase of global brands at this year's China International Import Expo concluded on 10 November, industries have been digesting the implications it left. And one gesture has been made towards China's up-and-coming fragrance market.
The trade fair saw the debut of Proudmen, a fragrance line under Unilever that is dedicated to men, and Prada's brand-new fragrance line PRADAOXE "Unpredictable" since the prestige Italian label joined L'Oréal's luxe portfolio. Another brand to make an appearance was the dark horse of the homegrown perfume market, DOCUMENTS who recently closed its series A round investment with a cash injection of more than 10 million RMB ($1.41 million) from L'Oréal's China investment arm Meicifang this September.
YSL, which is also under L'Oréal's umbrella, was seen doubling down efforts in grabbing a slice of the scent momentum by presenting the group's first in-store fragrance finder SCENT-STATION that is based on neuroscience.
Visitors were invited for a polysensory experience through a neuro-connected headset. The cutting-edge technology can track and analyse different feel-good emotions by up to 14 different patterns, representing 27 YSL fragrances. The results are then translated into a unique and personalised selection of 3 YSL scents, therefore, achieving a truly customised fragrance recommendation.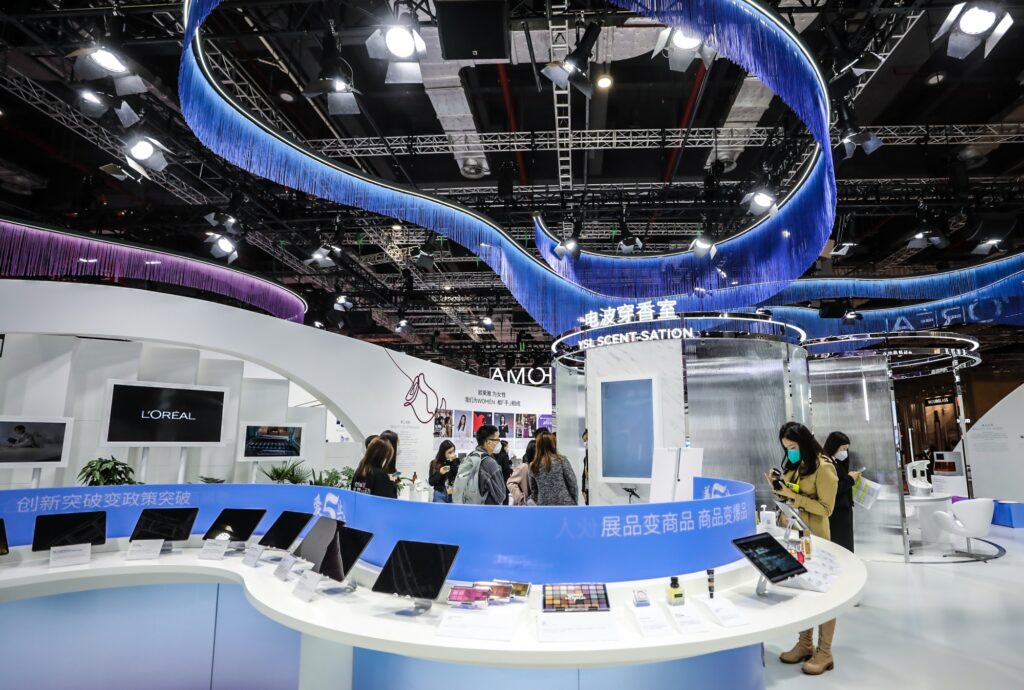 These strides taken by global brands is a direct response to the growing appetite for fragrance products and the rising olfactory economy in China. The sector clocked a market scale valued at 13.6 billion RMB ($1.92 billion) in 2021, a year-on-year growth of 24.8% and is projected to hit 30 billion RMB ($4.23 billion) by the end of 2025, which equates to a growth rate three times as fast as the global average, according to the industry data research institute iiMedia.
Driving the demand for scents are the Millennial and Gen Z crowds, accounting for 77.2% of the overall spending. So far China's Tier-1 (including new Tier 1) and Tier-2 cities are the core battlefields for scented products, drawing in the most interest from white collars and females who are seen as the market backbone, contributing to 67.1% of the total relevant consumption.
While perfume is leading the overall growth, scented products for personal care such as body sprays and shampoos as well as home fragrances have also been gaining traction, compromising 62.4%, 59.4% and 55% of the total product sales under the fragrance category in 2021.
The burgeoning interest in fragrance consumption is largely driven by an ever-strong desire to attain self-fulfilment with "making themselves feel happy" and "expressing their individuality and personal tastes" being some of the top motivations amongst the young cohort of fragrance buyers. Wearing perfume also functions as social currency and it allows the lucrative demographics to show their "social status", and to mingle with fellows in similar communities.
Despite the emergence of new fragrance lines, established global labels continue to hold a footfall in the sector. Scents curated by Chanel, Jo Malone, Gucci, YSL and Armani are among the top 5 to generate the most conversation on China's largest lifestyle-sharing platform Xiaohongshu as of this June, according to a joint report by Xinkuaibao Data Research Centre and iiMedia.
However, domestic fragrance makers are catching up fast, and an increasing preference for niche, in particular, oriental scents amongst Chinese consumers has worked in favour of those local challengers, resulting in 74.7% of perfume buyers in the last year showing the endorsement of homegrown brands. Included are To Summer and DOCUMENTS. Born in 2018, To Summer rose to China's fragrance hype, boasting its philosophy of curating eastern scents, leveraging a wide range of Chinese ingredients.
While also focusing on oriental olfactory, DOCUMENTS presents zen-style branding aesthetics. It has established itself as a premium niche fragrance brand in just two years, winning over Chinese consumers, especially high-consumption Gen Zs and Millennials. Striving to "visualise" scents and document the consumers' journey of exploring the world in the invisible sense, the brand places a heavy focus on offline space creation and experiential events.
This strategy is believed to have fared well for DOCUMENTS so far, with the one-year-old brand reporting an average conversion rate of 25% from physical activities, as confirmed by Meng Zhaoran, founder of DOCUMENTS at the latest online forum focusing on China's premium fragrance market, hosted by the Chinese magazine Luxe on 24 November.
"Today's Chinese consumers are quite open and have been exercising their judgements as they consume…Despite China's COVID rules imposing challenges on physical events, we still believe offline interaction is irreplaceable and will continue to be valued by consumers. This is particularly true for high-end perfume makers as it is, I believe, the only way to allow deep consumer engagement and to exhibit the real value of products and the brand behind it," explained Meng.
China's fragrance landscape has diversified with not only more market players but also a wider range of scents. This has been the push that brands needed to renovate their technologies which could help them to enrich consumer experiences, and more importantly, discover fragrances that speak to consumers' emotional needs, so they can resonate with the shrewd generations from inside through the power of scents.