This year's Beijing 2022 Winter Olympics was expected to be different. China has been strict with implementing its zero COVID policy and the country has been sticking to their commitment that the Games would be 'streamlined, safe and splendid'- as promised by Xi Jinping which he has managed to achieve.
Athletes arrived at a much different Olympics compared to previous years but the Olympic spirit prevailed. Sadly, due to stringent COVID restrictions, no spectators could watch any of the events on-site. Bubbles were formed within subsections of teams and within press teams to ensure a COVID-safe and successful game.
The Games through a different lens
With such curbs on viewership, you may think popularity or enthusiasm about the games would have decreased. However, people have been having just as much fun keeping up with the events and athletes' everyday lives in the Olympic village as never before through TikTok. With a key focus, surprisingly, not on sporting success, but something perhaps more relatable among the wider audience – what they eat.
There have been many Olympians' using their platforms to give us a not-so-secret tour and insight into what the mealtimes of athletes look like. And, it must be said it looks delicious. Although the athletes were not able to travel freely whilst in Beijing, they were able to travel through the medium of cuisine. The food hall provided foods from all over the globe including different regions of China, Italy, Japan, India, and America, and if that wasn't enough choice then you can also head to KFC or Pizza Hut.
Buffet tours and food favourites
German athlete Leon Vokenserpger and American athlete Shaun White, both snowboarders, provided extensive tours of the food hall to their combined viewership of over 4.5 million.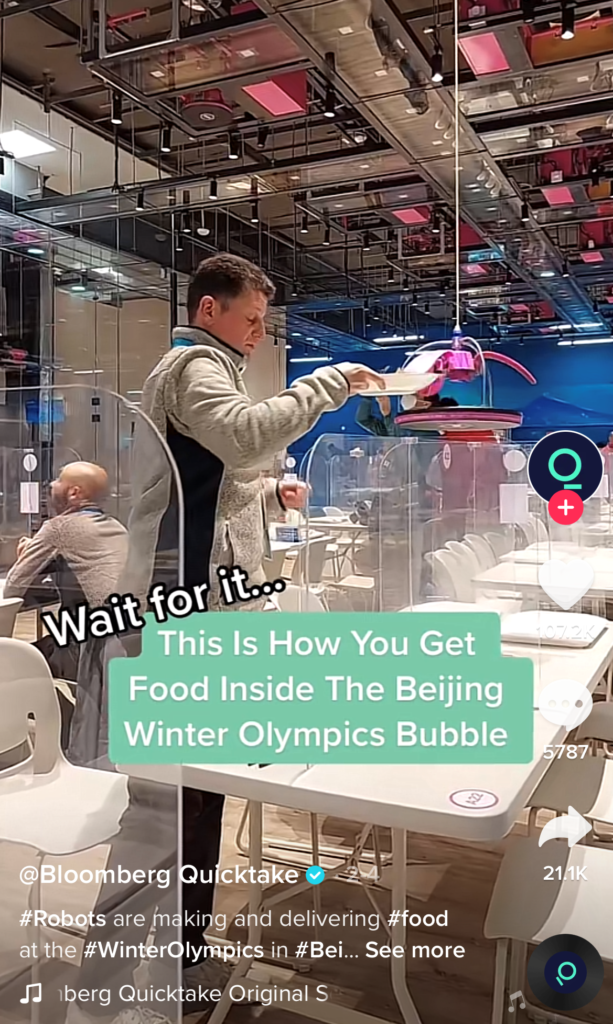 The hall is open 24 hours a day, and many of the athletes have praised its convenience and quality. Some have even been overwhelmed by choice. US Olympic snowboarder, Tessa Maud shared with her followers 'I tried sweet and sour pork, pork dumplings, spicy tofu, and Dan Dan noodles, please tell me more things to try.' In an interactive post to her TikTok fans.
Not all about the athletes
It would be short-sighted to not talk about how the press was being fed as the way the press teams were dining this year is unique too and perhaps even more exciting. Journalists at the Press Centre were getting their food delivered to them remotely by robots in the ceiling. The delivery is not the only thing handled by AI; the Beijing Winter Olympics has its own 100% robot-run restaurant. Everything from cooking to serving is handled by AI. Robots oversee everything, from stewing, stir-frying, grilling, to assembling. You could even have a cocktail shaken- or stirred for you by one of these robots.
An Olympics like no other
So, one thing is for sure, no one will be going hungry in the Olympic Village and the rest of us may never get to try a burger made and delivered by a robot. And despite the COVID restrictions, the entertaining side of this international sports event has not been ruined thanks to technology. On the contrary, these high-tech installations have levelled up the daily life for villagers from across the world and have made their stay in the Beijing Olympic Village much different from previous ones, which has been a unique experience for all visitors in the Winter Olympics' history.