Two years after the initial run, McDonald's has brought back its viral cat bed for the Chinese market, this time with an upgraded design. Inspired by McDelivery bags, the new cat bed/bag can be used as a backpack or tote bag to transport your feline friends. In all three designs, cat flaps are provided so pets can enter or exit – or simply stick their heads out during transit.
500,000 cat beds are available as free gifts for anyone ordering delivery of a special 2-person meal through the McDonald's app between the 15th and 19th of November. The topic #麦当劳猫窝# ("McDonald's cat bed") has 140 million views on Weibo, China's Twitter-like microblogging platform. Meanwhile, users who share photographs of cats (not limited to real cats, pictures or motifs of cats are also accepted) with McDonald's paper bags on Weibo along with the hashtag will enter a prize draw to win one of the new baggy cat beds.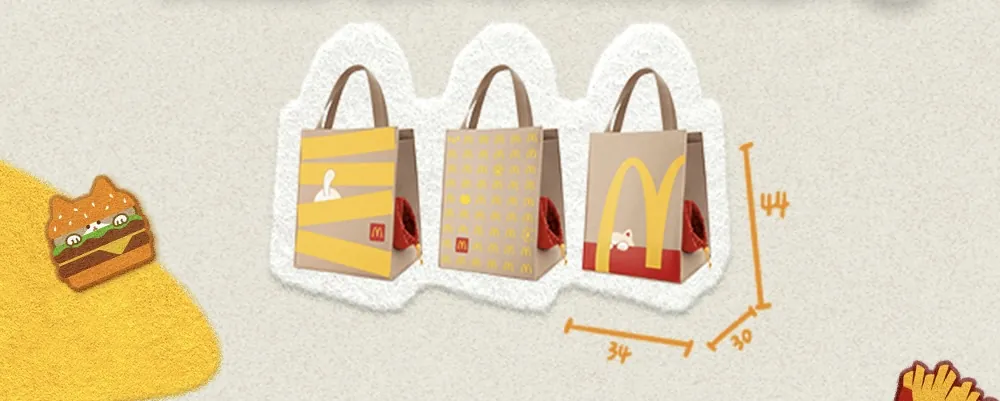 Back in the winter of 2021, McD's released its first series of cat beds for the Chinese market. The design of these cardboard first-generation cat beds was inspired by boxes of McD's classic burgers including the Cheeseburger, the Big Mac and the Filet-O-Fish. With the previous topic #能睡猫的汉堡盒# ("burger boxes that cats can sleep in") gaining 55.22 million views on Weibo, it seems McDonald's has outdone itself with the new cat bed.
Cat beds are popular among pet-related campaigns. Last year, KFC teamed up with ZEZE for a chicken-shaped cat bed nicknamed "chicken coop". This was a proper plushy cat bed, but was limited to 60,000 units and customers needed to add an extra 20 RMB (2.76 USD) to get it. PC giant Lenovo, milk tea chain CoCo and healthy food brand CHLOECHAN (Baoji Dujiaoshou) all released cardboard cat beds in the past 2 years. Comparatively, the new release from McDonald's is more practical with its transport function, but less pricey or scarce than KFC's plushy bed and can be a perfect gift to pet owners.
Join our newsletter