Automotive manufacturers in China are facing an electric shock as a result of the mounting appetite for electric vehicles (EVs), which saw the country record its strongest EV market growth in 2021 with over 3.2 million fleets sold. With the nation racing to reach carbon neutrality by 2060, government policies have so far been the major contributing factor to the market momentum, however, a transformation has come to the industry in recent years which is being driven by evolving consumer demands.
Qing Na spoke to Edison Xiong from Xpeng, one of China's leading EV builders and deep dives into China's EV space, unveiling opportunities and challenges for market players amid the changeover in the thriving market.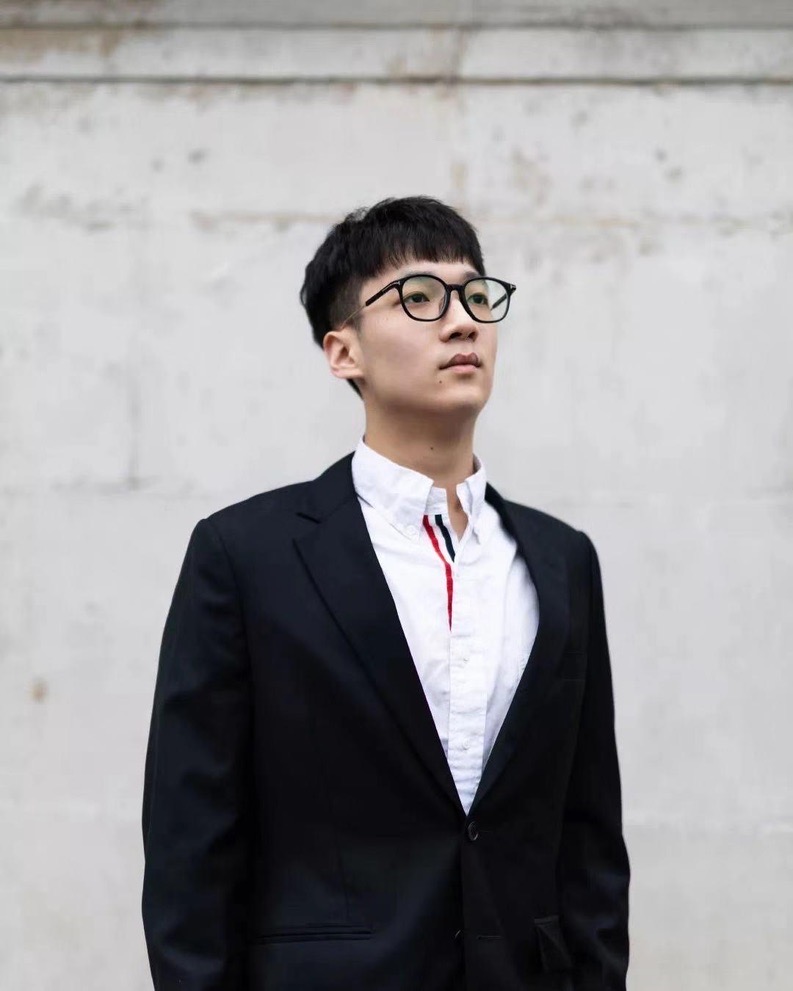 Edison Xiong is currently the product lead at Xpeng Motors. His product portfolio works to solve customer problems but prioritises initiatives that drive the most significant business outcomes. He joined Xpeng after receiving a Bachelor's and Master's degree in management science from the School of Management at UCL. Prior to Xpeng, Xiong also had work experience with NIO, another emerging Chinese EV maker, responsible for analysing overseas consumer preferences.
Could you please provide an overview of the EV industry in China at the moment?
I think right now the Chinese EV industry has a really positive image if you compare the Chinese market with others. You can see monthly sales volumes are always reaching new highs and have been surpassing total revenues year on year between the period of 2017 and 2021.
If we compare the monthly sales revenue, we have seen doubled growth over the past few years. For example, if we look at sales for March 2021 [figure 1], there is a 261% year-on-year increase compared to 2020. What's also really important about last year was that at the end of 2021, in particular, November and December, we actually saw for the first time, China achieving a monthly penetration rate of 20% for EVs, a breakthrough in the EV industry.

This is because the EV market has progressed from the stage when a couple of years ago, most Chinese consumers still believed that combustion engine cars were much better than EVs. With the industry in its infancy, only people who were willing to take risks would try EVs and it wasn't until about 5 years ago that native carmakers started selling them.
This was much later down the line compared with foreign player Tesla who actually helped with the introduction of EVs in China and drew in some early adopters who were willing to choose the new option thanks to the brand's existing audience base. From that point onwards, the country has seen a wider adoption of EVs by the public and even a growing appetite for these products in recent years.
The Chinese government's push to honour its climate pledge has somehow contributed to the EV market growth, could you bring into context one or two of the government's policies and explain how they would benefit EV makers and their influence on consumer decisions?
When talking about policy incentives, we can break it down into four major parts. There are monetary rewards, tax exemptions, license privileges, and carbon credits. The money policies are straightforward as the government will reward consumers with a one-off payment when they buy an EV. In fact, the financial incentives have been around since 2010. But right now, with the electric vehicle penetration rate rising, the government is actually spending more and more money on the implementation of its policies, as a result of more consumers opting for EVs.
However, the country has now confirmed that financial incentives will be fully removed by the end of this year at the latest. This means that in 2023, consumers who buy an EV will not be rewarded with any money. What this also means is that the market will evolve from being policy-driven to being market-driven. From then onwards, people will buy electric cars because they want to not because of monetary incentives.
As well as financial gain, buying an EV vehicle means there are tax exemptions. When you buy a car, you normally need to pay lots of different taxes such as congestion tax. And in China, we have a purchase tax, which is the tax that you have to pay when you buy a car, and it is a certain percentage of the overall car price. But if you buy an EV, you will be fully exempt from the purchase tax which makes the cost of buying one much lower.

Additionally, there are license privileges. This was introduced specifically to metropolitan cities like Beijing and Shanghai to relieve congestion. Under the system, there are license limitations, which means only vehicles whose license plates end in a particular number are allowed to access certain areas within the city on specific days. But cars with an EV license plate could be free from such limitations.
The final thing about the policy incentives is around carbon credits. This is the only scheme relevant to car manufacturers. The carbon credit is coupled with EV credit – a credit that carmakers will get when they sell more EV models. So basically, the greener you make your cars, the more EV credits you can earn. For carmakers, they will be incentivised to collect more EV credits because they can be traded in their secondary markets based on the market price.
And if you look at the chart [figure 2], Tesla has the most EV points in China as of 2020. Firstly, this is because Tesla's vehicles are all battery operated so they do not produce any carbon emissions. Secondly, Tesla is one of the top EV sellers in China. Therefore, they have a large volume of EV sales every year and their cars are powered by electricity which makes their EV credits much higher than any other carmaker.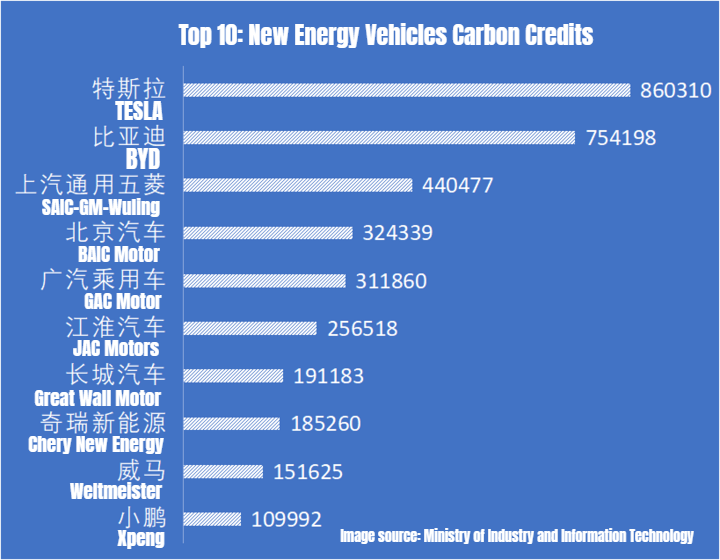 Companies can leverage these two credits to generate extra income. For example with Tesla, based on the market price released in January, which was between 500 and 800 RMB ($74.54 and $119.27) per carbon point on the secondary market, if you multiple that price and Tesla's total points, it would contribute approximately 413 million RMB ($61.57 million) to the brand's income, which is huge. And there would be no additional cost for Tesla, which is a great benefit to the brand for producing such large units of electric-powered models.
What are the opportunities and challenges facing EV manufacturers in China, and what are the potential solutions to those challenges?
There has been a shift in the Chinese automotive industry, where almost all carmakers are now planning to either increase their EV output or switch to producing EV models only. But what I'm seeing right now is the amount of EV credits in the market exceeding the demand. With there being more EV credits produced as a result of carmakers ramping up the sales of electric vehicles, this results in inflation just like when the government prints too much money. This leads to the decreasing value of those EV credits. If you look at the stats, the price of EV credits in the secondary market was as high as 3,000 RMB ($447.18) per point in 2020, six times the value of the market price today.
Also, charging is a major issue for the industry in China. There are specific problems that make chargers difficult for consumers to access. Firstly, they are built by different companies, such as Qingdao TGood Electric Co. Ltd, State Grid, and Star Charge, so charging speeds are inconsistent.
Secondly, right now in China, although there are so many chargers, they are unevenly distributed. Most are installed in tier 1 cities, like Beijing and Shanghai, as well as new tier-1 cities such as Chengdu, Chongqing, and Wuhan. This graph [figure 3] says a lot because if you look at the amount of charging stations, you can see there are several charging stands available at each station.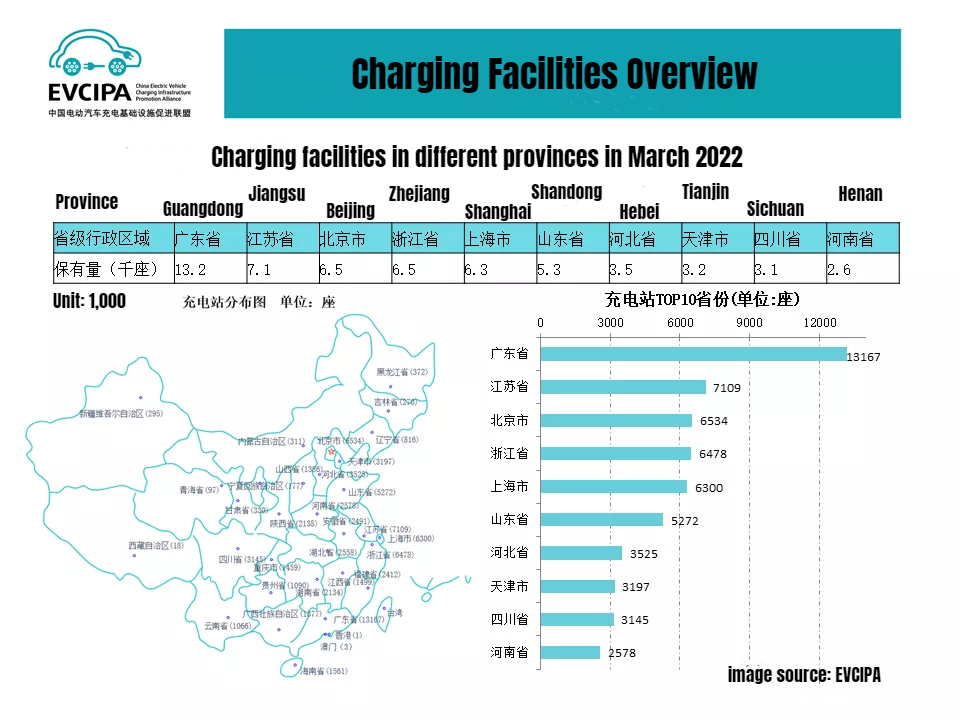 If you look at the data for March 2022 in the province of Guangdong where I live, the city has the most charging stations compared to the rest of the country. This is almost double compared to the second-ranked province of Jiangsu, even though Jiangsu has a big economy. You sort of see the comparison here and it is significant. If you look at areas like Tibet, charging facilities are limited. Then what happens if you want to go to that area? The answer is you won't be driving an electric car because you won't be able to charge it.
The final issue is with the maintenance of charging stations. The development of the maintenance system cannot keep pace with the development of the car itself. Installations and maintenance not only require large monetary investment but also involve the cooperation of multiple departments, resulting in low efficiency of those facilities.
At present, there are three common approaches that car manufacturers in China take. The first one is related to battery technology aka battery swapping. It was adopted by NIO, where they strategically collaborated with Sinopec, who has a monopoly when we talk about things like gas refuelling in the Chinese market.
The idea is that they build a station, usually next to a gas station, where an automatic system will replace an exhausted battery with a fully charged one. It acts like a gas-filling experience so it doesn't change people's habits of fuelling combustion engine vehicles, which has become a big selling point for NIO. There are also home chargers normally offered by carmakers as part of a package, such as BYD. This goes for public chargers too with some being offered by authorities whilst others are installed by carmakers as an exclusive offer.
In terms of similar opportunities, we see a trend where local brands have become consumers' first choice. If you look at this chart [figure 4], BYD is actually the brand who saw the biggest purchase intent (22.84%) in 2021, as shown below. It means that one out of five potential consumers intends to buy a BYD EV.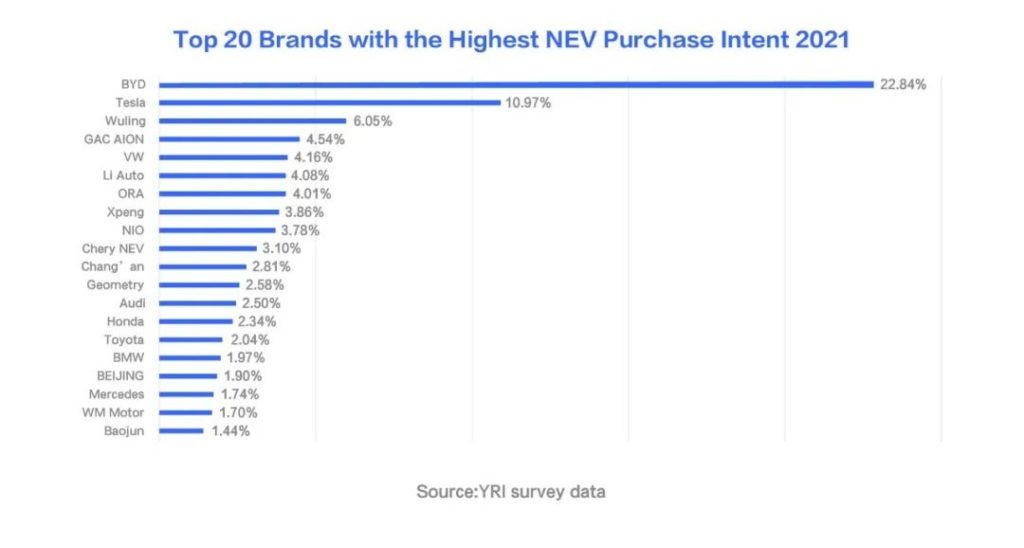 Another reason why Chinese brands have become the preferred choice by consumers is because brands including NIO, Xpeng, and Li Auto have realised the market potential of EVs much earlier than their native counterparts. As a result, they have the early entry benefit, which means people are much more familiar with them than emerging brands.
Should local EV makers worry about challenges posed by Tesla?
I think for most companies there will be lots of pressure from Tesla. We are going to see Tesla boost its capacity with a second Gigafactory in China, which shows an increasing demand for its products. But at the same time, I think this may not be a completely bad sign for other manufacturers and could potentially benefit the EV market in China as a whole.
Firstly, Tesla's strategy of production in China has really boosted consumer awareness of EVs. Almost everyone in China knows Tesla. If Tesla ramps up its EV production, then there will be more electric vehicles on the road. This allows the product to be more visible to the public, therefore, resulting in an increased awareness which will benefit the penetration of the EV industry as a whole in return.
Also, with Tesla speeding up the development of its EV supply chain, it has pushed up demand for automotive components. As a result, original equipment manufacturers in China will also have to double down their efforts in development and research to not only meet the demand but also the standards required for electric-powered vehicles to suit Tesla's overall needs. This market-driven approach would certainly push the entire Chinese supply chain to upgrade.
What do you think is the key to winning over Chinese consumers interested in buying EVs or drawing them to EVs?
I think there are three winning factors: range, after-service, and charging networks. There is still room for improvement around reliable mileage. At present, the range marked by many auto manufacturers is basically the maximum theoretical value, but the actual driving process can be affected by weather, road conditions, congestion, and other aspects, so the range of new energy vehicles is lower than the official range. Therefore, consumers, especially those who live in areas with extreme weather conditions, worry about the capability of an EV. If we are driving in the North, when it is cold in winter, the mileage is even lower, and the capable distance for an EV to run may be halved in such conditions.
Secondly, good after-service provides a solid guarantee for consumers especially when EV technology has not yet fully matured. The history of EV carmakers is short compared to that of say Mercedes-Benz, which has been in the automotive industry for nearly 100 years. They have a well-established after-sales network, and their after-sales package is very complete and sophisticated, which makes consumers feel comfortable in the knowledge that they won't need to worry even after purchase.
What I've been seeing in today's Chinese EV market is that because the technology is still new, it's easy to find issues. However, at the moment, carmakers are so focused on delivering new models in order to compete with competitors and fulfill market expectations, that somehow they overlook the after-sales care which is why we've seen many complaints about such services from EV buyers in China. Consumers are definitely aware that the cost of owning an EV is very affordable, but they would prefer an EV maker who cares about their consumers from the beginning.
Last but not least, having a well-established charging network is also very important. At present, many of the larger cities in China are well equipped with more charging facilities. But in some remote places, especially in third and fourth-tier cities, EV charging facilities need to be improved. In the future, a more sophisticated charging ecosystem will be expected to enable customers to travel freely, therefore, achieving the true goal of a low-carbon journey.