Nayuki, one of China's top new-style tea chains, has attempted to innovate the hyped Web3 marketing by introducing virtual shares to its 50 million membership holders, as per the tea maker's official account on WeChat on 30 June.
The idea was initiated in celebration of the brand's IPO (Initial Public Offering) one-year anniversary in Hong Kong. Users will be rewarded "Nayuki Coins" equivalent to the value of their actual purchase, with one Yuan being equal to one "Nayuki Coin". These digital coins can then be traded for virtual shares and "virtual shareholders" can exchange a voucher valued at 3 RMB for every 30 virtual shares.
To enhance the real sense of stock market trading, Nayuki even tied the price of these virtual shares to its real market value with leveraged trading available too. Therefore, the behaviour of the virtual stock will be in line with the market performance of the company but at the same time, consumer investors may face bigger uncertainties due to the risky rules. 
Shortly after the announcement, heated discussions broke out, propelling relevant hashtags to garner over 100 million views on China's biggest microblogging site Weibo within a few hours. The overall sentiment is one of scepticism as many have pointed out that there has been a slump of more than 60% in the share price since its IPO debut to HKD$6.57 ($0.84) at the close of trade on 30 June, compared to the issue price of HK$19.8 ($2.52).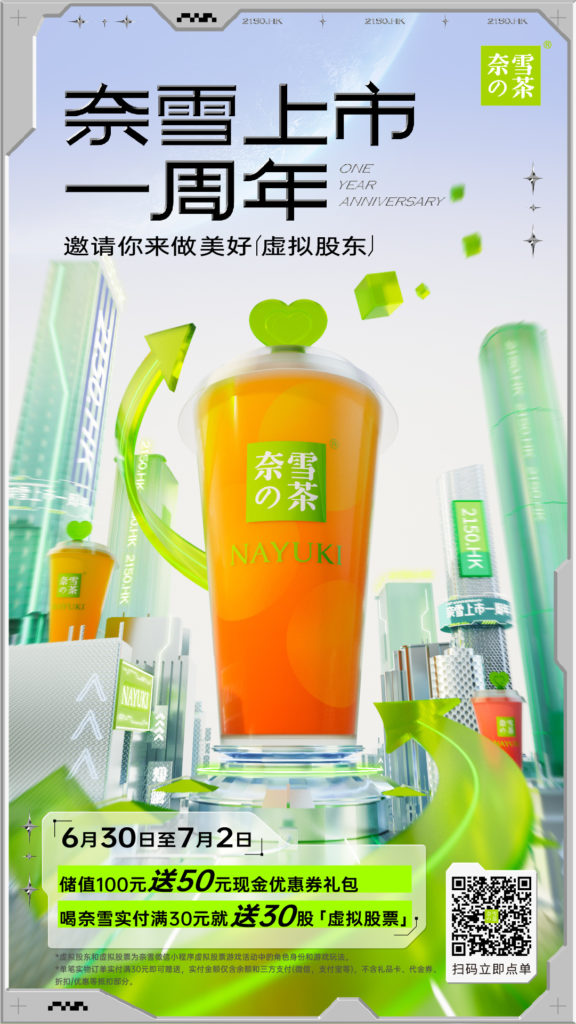 Adding to the concern, Zhu Yonghong, a lawyer at V&T Law Firm (Shanghai) told the Chinese media outlet iFeng Tech that "considering the large number it (Nayuki) has been promoting to and the nature of spurring consumption, this could also lead to suspicions of illegal fundraising."
Moreover, the practice of bonding virtual shares with real ones has also faced warnings of speculation and risk of being involved in "illegal financial activities" as the Chinese authorities have banned all kinds of virtual currency trading. Nayuki has not provided any official response to the controversy as of publication.
Join our newsletter