The famous French luxury brand Yves Saint Laurent (YSL) took a unique approach for Chinese New Year… to abandon a marketing campaign for the festival altogether. Instead, they chose to focus on another key celebration – Valentine's Day – which took place just two days after Chinese New Year in 2021. The only mention that the brand made of the most important annual event in the Chinese calendar online was to reassure consumers that they would continue to deliver throughout the festival on their Taobao store. YSL's unconventional approach didn't even see them post the usual "Happy Chinese New Year" message on WeChat or other social channels.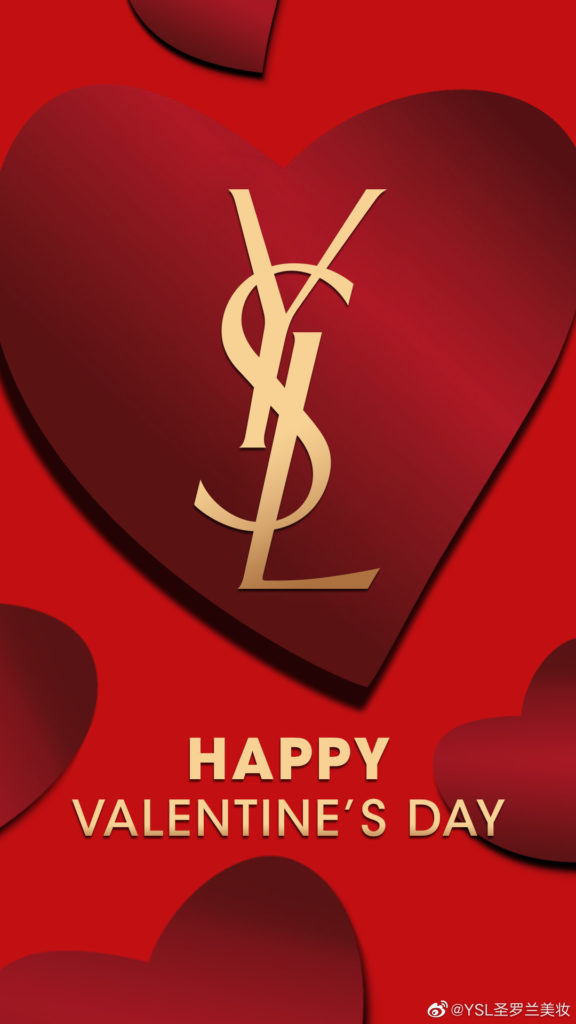 Brands had to consider how to best position themselves with Chinese consumers as the two events took place so close together this year. YSL distinguished itself from other brands by investing heavily in its Valentine's Day marketing campaign, which led to it dominating the advertising space for this festival. However, it also subtly appealed to Chinese New Year through many aspects of the campaign. The background colour of all its promotional posters was red, a colour that represents Valentine's Day as well as good luck and fortune for the new year. In addition, the products promoted in the campaign could also be purchased for relatives as a Chinese New Year gift.
Sought after limited-edition boxes
YSL began promoting its Valentine's Day campaign on WeChat on January 17 with the launch of heart-shaped limited edition gift boxes featuring the brand's latest lipsticks and perfumes. These products were released at the beginning of 2021, so YSL had already developed product awareness before their Valentine's Day gift boxes arrived on the scene.
This year, their catchphrase for Valentine's Day was:
The messaging targeted male consumers who wanted a luxury gift for their partners and YSL's customisation service enabled products to be personalised with a word or short phrase.
Paid advertising on social media
YSL used paid advertising to promote its campaign on Weibo and its hashtag "#YSL Valentine's Day gift" hit 42.33 million views. Due to its extensive promotions, the brand's adverts dominated the hashtag page "#Red Valentine's Day" which gained 310 million views. YSL linked its adverts and posts on Weibo to its Taobao store so users could directly make a purchase when clicking on a picture of its Valentine's Day gift box. WeChat users could also buy the gift boxes directly via YSL's WeChat mini program.
YSL changed its cover image on Douyin (Chinese TikTok) to "Happy Valentine's Day" and also posted promotional videos on the platform. On micro-blogging platform Xiaohongshu, searching "#YSL Valentine's Day gift" resulted in paid adverts and posts from makeup influencers popping up. The brand worked with cosmetics influencers across these platforms and many shared their love stories. This storytelling approach helped to expand YSL's reach and the inclusion of Douyin KOLs attracted potential younger consumers. Chinese consumers give a heavy weighting to influencers' opinions so this strategy encouraged impulse and emotional purchasing and spurred consumption of the limited edition gift boxes.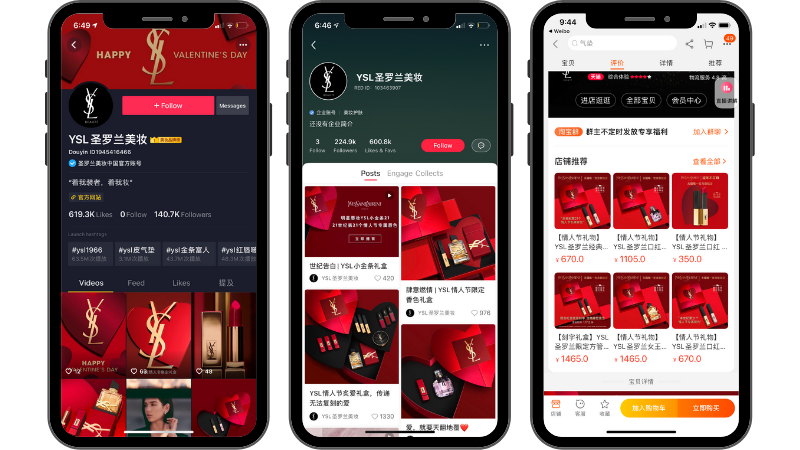 YSL dominates the Valentine's Day scene
While YSL's strategy of focusing on Valentine's Day over Chinese New Year may be regarded as risky by many brands, the luxury house's bet paid off. As the two events fell so close this year, many brands overlooked or side-lined Valentine's Day, leading to a gap in the market which YSL dominated. Promotion via paid advertising and influencer endorsement on China's four key social media channels expanded the campaign's reach and resulted in wide-scale awareness.
---
Join our next BYOB event 'Chinese New Year on WeChat' in collaboration with ChatLabs on March 3. We will discuss how brands have leveraged cultural insights and WeChat as a digital marketing tool in an array of Chinese New Year campaigns.
---
Read more about luxury brands in China: