Key takeaways
Xiaohongshu held a fashion show in March for vendors, influencers, and casual fashion lovers to come together on the streets of Shanghai.
The event featured REDlabel clothes authenticated by Xiaohongshu and a dedicated H5 page on the app.
In-person events help Xiaohongshu foster personal connections with users amid fierce inter-app rivalry.
---
Xiaohongshu is synonymous with fashion in today's China. Founded in 2013, the app made its name as a pre-purchase research tool for shoppers to rapidly crowdsource intel on the best products and deals. It then evolved into the quintessential social commerce ecosystem – a platform where shopping, vlogging, and comment sections are melded into one space.
Driven by the app's overwhelmingly young and female (82% under 34, 89% female) userbase, fashion thrives above all on the app, making it the quickest way to see what trends are in right now. Recognising that the platform has become a community space where fashion vloggers and their savvy followers converge, Xiaohongshu has started creating events as a new way to help businesses on the app thrive and draw out the creativity of its users.
Come as you are to Xinhua Road
In this vein, Xiaohongshu hosted an online fashion show in 2022 inspired by the metaverse craze. This spring it brings fashion back into the real world, jumping off the post-pandemic hunger for in-person events. The theme? "Find your catwalk in daily life".
Taking place in an alley off Shanghai's leafy Xinhua Road from March 19-20, the fashion week had three themed catwalks as well as 20 designer brands in attendance. Online promotional posters explained the meaning behind the simple theme: "Because everyone on Xiaohongshu is fashionable, Xiaohongshu is launching a fashion show that belongs to everyone". KOLs and influencers were of course in attendance at the event with social media promotions listing big names like actor Chen Zheng and fashion blogger Jiang Sida to help generate buzz.
But the tone of the event was a far cry from the glitzy, exclusive world of the Paris or New York fashion weeks. Influencers seen on the runway were all in streetwear and beamed widely when showing off their looks – a stark contrast to the steely poses seen usually seen on models' faces. According to a local news site, elders, young people, kids, workers, artists and even pets from the local community also came down to Xinhua Road. The result was a uniquely down-to-earth atmosphere that emphasized the individuality of fashion, rather than showing it as an untouchable art form.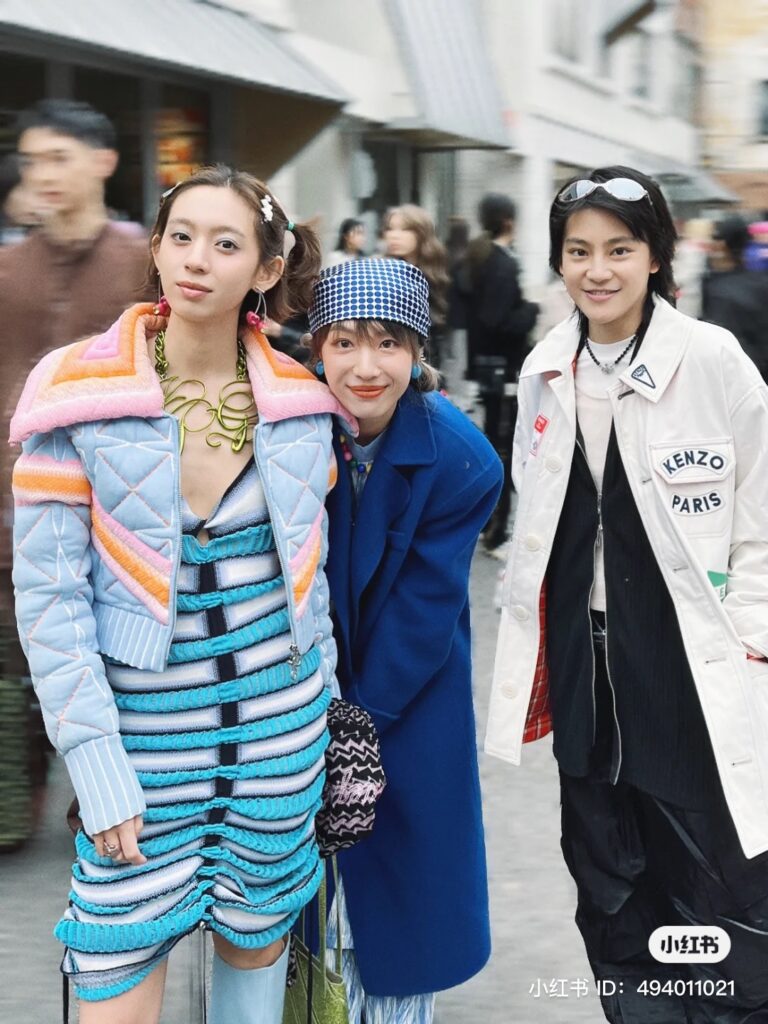 Fashion show attendees also got the chance to peruse and try on clothes at leisure and could even sign up to participate in a catwalk. All clothes available at the event were certified with Xiaohongshu's very own "REDlabel" to indicate their quality and authenticity. The exploration continued online on the app's purpose-built Everyone Fashion Week H5 page, where attendees could share their impressions, locate their favourite items from the event, or generate more traffic to their own channels.
App wars and the search for community
Xiaohongshu recently announced additional app features to expand livestreaming on the platform, a year after the occupation became a state-accredited profession. This comes amid the app wars – virtually all of China's major social media and e-commerce apps are scrambling for a bigger slice of the social commerce pie. For Douyin, this looks like stepping up their e-commerce and food delivery capabilities. On the counterattack, the food delivery app Meituan has been pushing development of its short video function and lifestyle-sharing capabilities.
Most worryingly for Xiaohongshu, the short video platform Kuaishou, which is particularly popular in China's 2nd– and 3rd tier cities, has begun stepping into the lifestyle-sharing space. Starting on February 28, Kuaishou has been trial-running a promotion of group purchases on the platform, connecting users to local businesses via short video sharing in Beijing and Hangzhou. Similarly to Xiaohongshu, Kuaishou has also shown its intention to invest in livestreaming, going further than any other app by launching its own livestreaming graduate scheme. How can apps stand out in such fierce competition? Creating memorable experiences and building a stronger sense of community is one way.
Xiaohongshu's Everyone Fashion Week strengthens the app's brand image by putting the spotlight on the real people behind the business. This way, consumers are more likely to see the company not just as the anonymous techies behind a tool they love, but as fellow creators and fashion lovers. Above all, the Everyone Fashion Week creates an offline microcosm of the vibrant online community of Xiaohongshu, bringing users and influencers together to celebrate self-expression through fashion.