Key takeaways:
The limited edition sunscreen range uses the image of Doraemon, a classic Japanese manga character that is beloved in China
Shiseido has put forth its strategy to become the number one global beauty brand by 2030 by "winning with [their] heritage"
Doraemon branding capitalises on Japanese cultural heritage whilst also fitting the tastes of Chinese consumers
---
The skincare brand Anessa – an offshoot of the Japanese beauty giant Shiseido – has teamed up with the beloved manga franchise Doraemon for its latest range of sunscreens for the Chinese market.
Originally a manga series that was later adapted into multiple TV series and films, Doraemon follows the story of a blue cat-like robot who travels back in time from the 22nd century to help a human boy named Nobita. First airing in China in 1991, thirty years later the Doraemon TV series is a much-loved childhood classic for Chinese born in the 80s and 90s and remains well-known among young people today.
The limited edition Doraemon sunscreen by Anessa pairs Shiseido's reliable sun protection formula with a cobalt blue bottle featuring Doraemon's face. The campaign uses the slogan "Walk with me in the light until we reach the future", referencing Doraemon's time travel theme. The product launched on February 21st-24th during "Super Brand Day" (also known as "brand's own Double Eleven"), a promotional event on the e-commerce platform Tmall.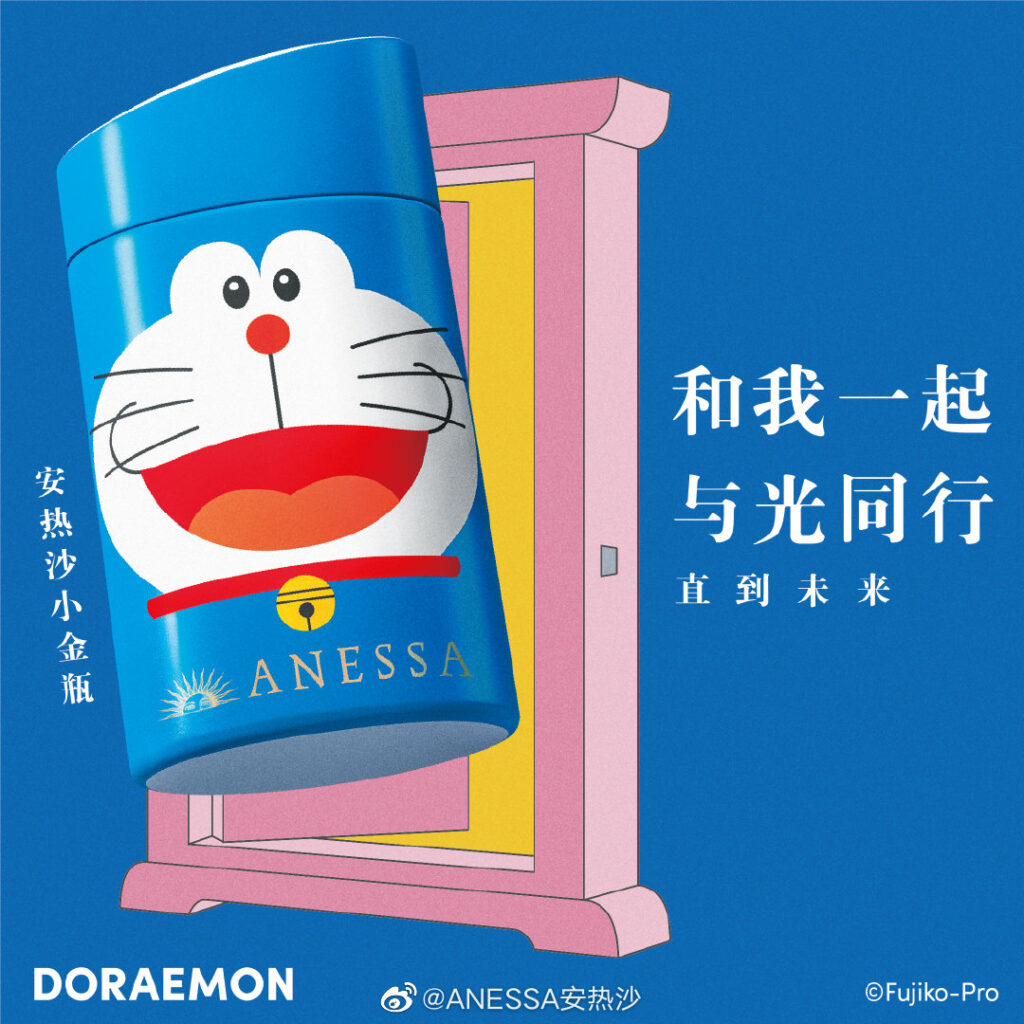 Winning with heritage
Doraemon evokes childhood nostalgia for many Chinese, but also subtly reminds shoppers of Shiseido's long history – an important Unique Selling Point in a cosmetics market increasingly saturated with young homegrown upstarts like Florasis, which launched only in 2017. One of the oldest cosmetics brands in the world, Shiseido was established in 1872 and has been operating in China since 1981, even celebrating its 40th China anniversary in 2021 with a drones show against the Shanghai skyline.
In 2021 Shiseido announced its medium-long term strategy 'WIN 2030' to become the world's no.1 beauty company by 2030. According to their own detailed roadmap, the 2030 vision centres on Shiseido's aim to "be a global winner with our heritage", suggesting a desire to use their rich experience in the industry to their advantage. The Chinese market is a key part of this plan, as indicated by the brand's major investments in research and development in China over the last two years.
Shiseido's long history in the cosmetics market helps the brand gain consumer's trust, but provides challenges for piquing the interest of young consumers who tend to look for the latest trend. Shiseido has already made huge strides in appealing to younger Chinese consumers through technological innovations and digital marketing events featuring Chinese stars. Anessa has brought on Yang Zi, a TV actress with a large youth following, as one brand ambassador, for example. A post on the microblogging site Weibo showing Anessa's latest ad campaign featuring the actress hit 100,000 reposts.
But whilst these strategies help grab the attention of China's Gen Z, they do not necessarily cultivate brand loyalty. The use of Doraemon spotlights Shiseido's long history, whilst at the same time lending the brand a more youthful and accessible image – one that can hopefully inspire a deeper sense of emotional resonance and value alignment among young people. Above all, the limited edition Doraemon sunscreen has fun at its core. The online promotional material for the product expresses a nostalgic desire for simplicity, encouraging customers to "rush to the seaside" and "play freely" alongside Doraemon's smiling face.
Riding the guochao wave the Japanese way
Partnering with a manga franchise appears an odd marketing strategy for a high-end brand like Shiseido. In fact, the Doraemon sunscreen range follows on the heels of several designer brand-cartoon crossovers, including Gucci x Doraemon and Longchamp x Pokémon, which invite a sense of playfulness into the often intimidating image presented by designer brands. Whilst these campaigns are all cross-cultural, the Shiseido x Doraemon collaboration instead emphasizes Shiseido's roots, leveraging Japanese iconography to transcend national borders.
Shiseido's objective of "winning with heritage" also reflects a desire to leverage the cultural heritage of Japan. Such a move would seem ripe for controversy in China's current climate. Brands have been keen to shed their association with Japan after a spate of controversies over Japanese-inspired branding ignited the fury of Chinese netizens. This is in large part due to the longstanding tensions between China and Japan, a relationship which always stands on delicate ground.
Guochao is another factor in the distaste for Japanese cultural references. Guochao is the trend of domestic companies weaving Chinese cultural heritage into their marketing campaigns, highlighting the homegrown nature of their businesses and re-imagining tradition as cool and trendy.
But guochao is not only for Chinese companies. Writing for Jing Daily, Arnold Ma explains "In contrast to common misconceptions, guochao is not solely about patriotism or nationalism. Modern Chinese history and retro nostalgia can be integrated into a [non-Chinese] brand's design philosophy to create a rich, meaningful campaign." Shiseido's Doraemon sunscreen does this very effectively, subverting the expected meaning of the guochao trend into a campaign that can emphasize Chinese culture at the same time as Japanese culture.
Doraemon does not just represent Japan's artistic heritage, but due its long-standing popularity in China also evokes a more positive imagining of the China-Japan relationship built on decades of cross-border cultural exchange. Wary of the dangerous associations of Japanese branding in China, manga franchises offer the perfect opportunity to capitalise on Japan's cultural heritage without risking cancellation by Chinese consumers.