Key takeaways:
Meituan collaborated with Starbucks and rolled out skiing-themed promotional activities between 22 to 25 December 2022.
The peripheral gift sets were inspired by Meituan's staff uniforms in their signature yellow colour and came with a complete set of delivery-like equipment.
To resonate with entry-level skiers as well as tap into the uniform's popularity, Meituan released posters with amusing slogans attached.
---
There's nothing better than having a hot cup of coffee on a freezing cold winter's day. In December, to manifest the consumer sensation, China's delivery platform Meituan joined forces with American coffeehouse Starbucks and hopped onto the country's ski fever, while implementing a brand-new marketing tactic to gain traction among the young demographics.
Meituan collaborated with Starbucks to leverage ski fever
The Beijing Winter Olympics 2022 ignited an interest in snow sports in China, introducing skiing to the public which has become a newfound hobby for many citizens, with 51.3% of them aged between 25 to 34 years old. This past winter, skiing-related topics garnered more than 1.72 million notes on China's lifestyle-sharing community Xiaohongshu.
After observing that the dominant group of ski lovers were also fans of drinking coffee, Meituan collaborated with Starbucks and rolled out skiing-themed promotional activities between 22 to 25 December 2022. Appealing price points on top of features such as limited-time "buy one get one free" promotions, free delivery services and peripheral gift sets, made it hard for consumers to resist the temptation.
To present better coffee-delivery services, Meituan offered training for its riders and focused on coffee-related knowledge. Consumers could also add points to their Starbucks loyalty cards after placing orders on Meituan's platform. All these elements worked together to accelerate sales, which saw weekly growth of 100%, and activity-related keywords used by searchers surged by 51 fold compared to its previous events, according to statistics shared by Meituan.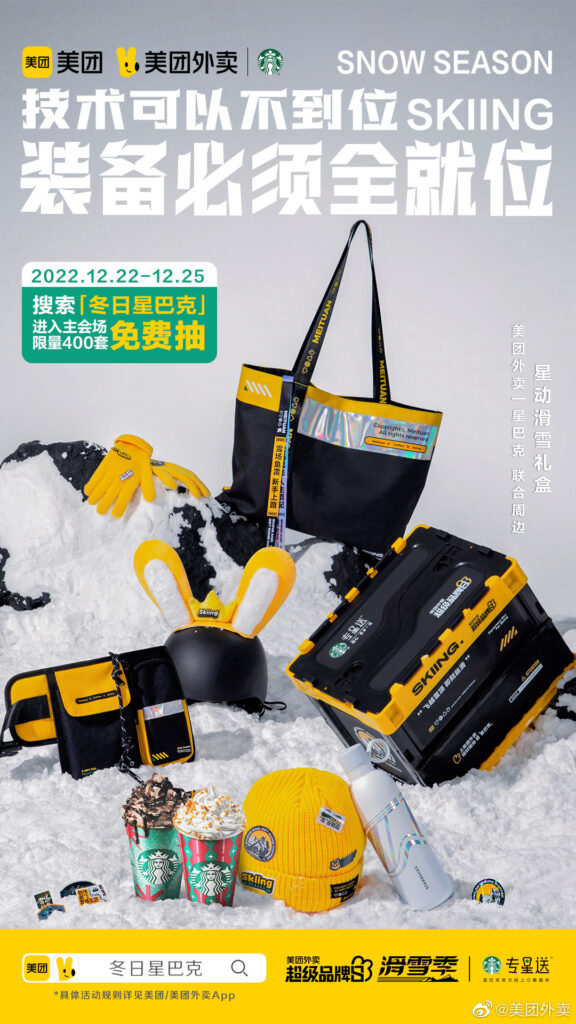 How did Meituan's peripherals cause an Internet sensation?
The peripheral gift sets were the highlight of this marketing event, which was inspired by Meituan's staff uniforms in its signature yellow colour. The gift sets included the complete set of delivery equipment with a delivery-packaging-inspired skiing box, kangaroo-ear-attached delivery helmet and delivery gloves included.
Soon after the amusing peripheral products were released, they immediately gained traction among the younger generations. The topic "I mistook Meituan delivery rider for my skiing coach" amassed over 6.36 million views on Weibo, China's microblogging site as the promotional event reached its height. Posts shared by influencers wearing peripheral delivery uniforms in skiing resorts on social media platforms also added to the buzz.
In order to resonate with the large demographic of skiers who were trying to ski for the first time as well as tap into the uniform's popularity, Meituan released posters with entertaining slogans attached. For example, "it's okay to be unskilful at skiing but the equipment has to be professional," which showed the delivery giant's great understanding of its target audience.
Prior to the skiing-themed event, Meituan rolled out multiple marketing activities focusing on the younger demographics such as camping lovers and office workers, implementing appealing tactics to cater to their tastes. While the delivery industry has witnessed an uptick in popularity with restaurants embracing delivery services in line with maintaining dine-in business developments.
In 2018, Meituan initiated its "Super Brand Day" project and by capitalising on the current trend, could make full use of its immense user base and delivery advantages. By teaming up with widely recognised brands and collectively releasing promotional events, this project reaches the intended audiences, whilst enhancing consumer engagements and thus leveraging brand awareness.
Looking back at all the strategies carried out by Meituan, a great understanding of consumer habits is the key to its sensational promotions. Only when brands acquire data on their consumers' favourable hobbies and buzzing lifestyles, can they produce targeted strategies to stay relevant to the audience segments and gain traction, thus increasing penetration.