Key takeaways:
In a campaign designed to showcase its smart home technology, Haier created a heartfelt short video that connects the wisdom of past generations to the ingenuity of a high-tech future.
Contributing factors to Haier's campaign success was the timing of the campaign around Chinese New Year as well as the pathos that caters directly to the traditional concepts of family and respecting elder.
---
Society, as we know it today, is very much focused on the latest and greatest gadgets. In our constant search for innovation, sometimes we may forget where we came from. In a campaign aimed to showcase its smart home technology, Chinese home appliances brand Haier goes back to the old inventive ways of our parents and grandparents' generations.
Even prior to the emergence of smart home technology, generations upon generations of parents were already creating their own types of 'artificial intelligence'. Haier's heartfelt short film begins in old times in which parents and grandparents harnessed their resourcefulness to come up with creative innovations to improve their lives and others.
From a wet towel on the bed that serves as a humidifier, to a grapefruit peel odour purifier, every scene highlights an inn. Such inventions were the very pearls of wisdom given to us by our ancestors that helped us get to where we are today. The video then flashes forward to today's technology, tying the development of innovations of these domestic products.
The sheer slogan "Made by Ba Ma" (or "Made by Mum and Dad") not only serves as a respectful gesture to generations past but also as a nod to the rise of homegrown brands. In a way, the name tags that are shown on objects and innovations made by Chinese parents can be interpreted as an allusion to the "Made in China" message that has been sweeping the nation since the government issued the country's ten-year action plan focusing on promoting domestic manufacturing.
There are also other factors that contribute greatly to this campaign's success. First and foremost is the timing of the campaign. Released ahead of the Chinese New Year, a time in which families flock back to their hometowns to visit their parents and grandparents, this heartfelt short video displays an enormous amount of pathos to those homebound. This year, especially, emotions are heightened as the country opens up for the first time in three years after stringent covid policies that kept families apart from previous Spring Festival celebrations.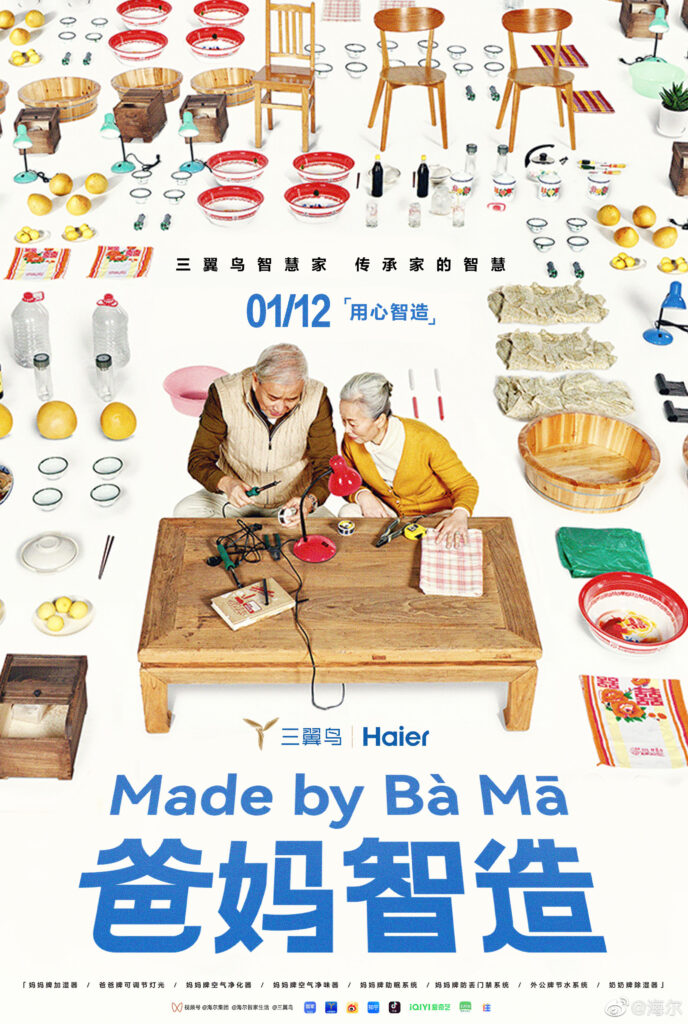 Secondly, the campaign caters to the Chinese concept of family and respecting elders. By showing the various inventions made by mothers, fathers, grandmothers, and grandfathers alike, Haier shows that just because society may have advanced in technological ways, doesn't mean that the ways of previous generations were any less intelligent than the smartphones we possess.
A personal touch that hammers home
Taking the campaign a step further, Haier opened a physical store exhibiting the crafty inventions made by moms and dads throughout the nation.
Meanwhile, on Chinese social media, Haier collaborated with Sanlian Life Weekly to discuss the topic and invited Chinese comedian Li Dan to share some of his parents' wisdom. One of the topics featured in the episode was "How do mom and dad always find a way?". On Weibo, the hashtags "Inheriting the Wisdom of the Family" and  "Made with Parents' Wisdom" garnered a staggering 490 million and 180 million views respectively.
All in all, Haier's heartfelt message definitely hit home for the many Chinese people who finally made it home this year for their long overdue family reunions and celebration this Chinese New Year.