Key takeaways:
In its wholesome CNY short film, homegrown beauty brand Florasis not only taps into China's "Silver Economy", but also attempts to leverage the intergenerational relationships between China's Gen Z and their grandparents.
China's silver-haired demographic consisting of those aged 60 and older is on the rise and is expected to reach 330 million by 2030, making up 25.5% of the total population.
---
Chinese New Year is a celebration that never fails to evoke feelings of love, hope and togetherness in families who reunite for the holidays. It is unsurprising, therefore, that brands would hop on the seemingly saturated family-themed CNY marketing bandwagon. However, one Chinese brand managed to stand out from the rest and speak directly to the hearts of each generation.
Hailing from Hangzhou, the Chinese professional makeup brand Huaxizi (known as Florasis in English), set out to create a holiday advertisement from a simple concept: red lipstick.
In its heartfelt short film advertisement, the red lipstick serves as a time machine that retrieves beautiful memories from the grandmother, who when initially asked by her grandmother if she wanted to apply makeup, quickly refused since she was "much too old". However, with some time and convincing, the granddaughter manages to get her to try on the red lipstick, which allows her to relive some sweet memories of when she was young, thus recreating the beauty of the past.
Not only does Florasis speak to all generations of women, but it also sends a patriotic message as Chinese families reunited for the first time since the outset of the pandemic. Bearing the slogan "Seeing National Colours Again", the makeup brand places an emphasis on the cherished "sense of ritual" which includes getting all dolled up for the holiday season.
China's "Silver Economy" and how it targets young consumers
The ad also shows the importance of telling a compelling story that resonates with customers' emotions. Specifically, Florasis' short film attempts to leverage the intergenerational relationships between China's Gen Z and their grandparents. Growing up under China's one-child policy, many Gen Z-ers spent their childhoods with their grandparents and are generally more attached to them than their own parents. Florasis' senior campaign, therefore, mainly targeted young consumers, and did so with flying colours.
In addition, the advertisement taps into China's rising "Silver Economy", where elders have seen a growing influence on China's consumer market, especially within the fashion industry. One contributing factor to its growth stems from a short video phenomenon in which Chinese elders have become social media sensations. This silver-haired demographic of those aged 60 and older is expected to reach 330 million by 2030, making up 25.5% of the total population according to the National Bureau of Statistics.
On the Chinese social media platform Weibo, the advertisement managed to amass a staggering 17.77 million views and accumulate over 24,000 likes, 1316 comments and 673 shares. Meanwhile, the hashtags "May love and beauty reunite in the New Year" and "Years can't take away their beauty" garnered over 50 million views and 47 million views respectively. Netizens praised the heartfelt and empowering messages from the makeup brand's short holiday film.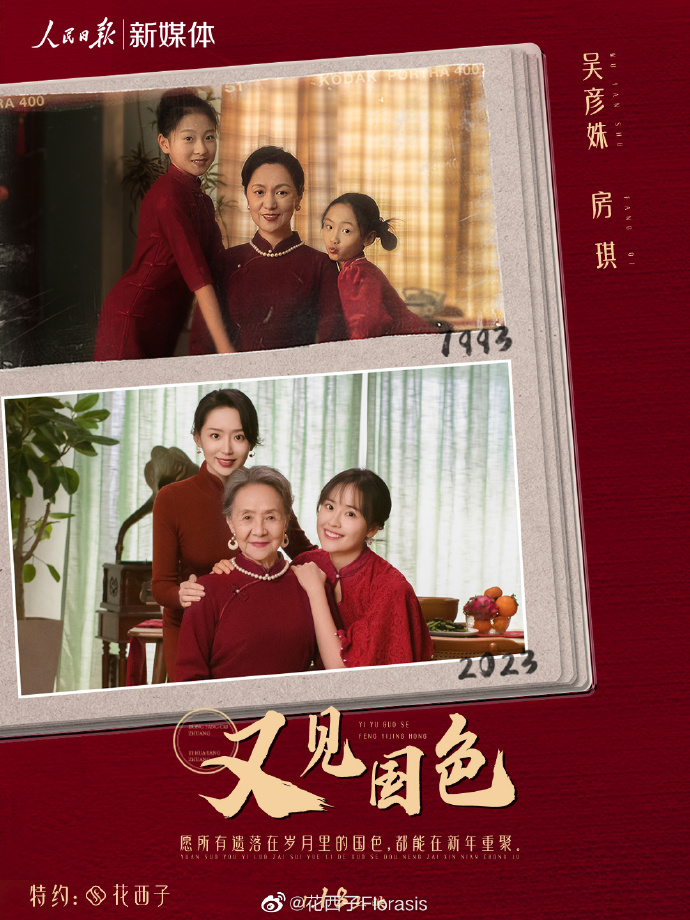 Of course, the success of the advertisement can be largely attributed to its ability to tap into its viewers' emotions. Yet another reason is due to the appearance of female talk show host and travel blogger Fang Qi, who played the role of the granddaughter in the short film. On Weibo, she has over 1 million followers, and with such a large following it is safe to assume that it propelled the wholesome video even further.
Founded in March 2017, the cosmetics company has made great strides on its journey to conquering the cosmetics market. In 2019, sales of Florasis ranked among the top 10 cosmetics brands on Tmall, accumulating more than 1 billion RMB (147 million USD). In 2020, the brand reportedly reached 3 billion RMB (441 million USD) in sales, exceeding those of Perfect Diary, another top Chinese makeup brand in the market. The brand hopes to help Chinese women feel as beautiful as possible no matter how they do their makeup.