Yiwu, a city known as China's Christmas town, has been gearing up for this year's celebrations by producing gifts with a COVID-twist.
The city of 1.2 million people which is located in central Zhejiang province produced and exported 80% of the world's Christmas products in 2019, making it the biggest Christmas factory in the world. Currently, there are over 500 merchants who focus on Christmas products in Yiwu, with the city offering a comprehensive industry chain from production to packaging.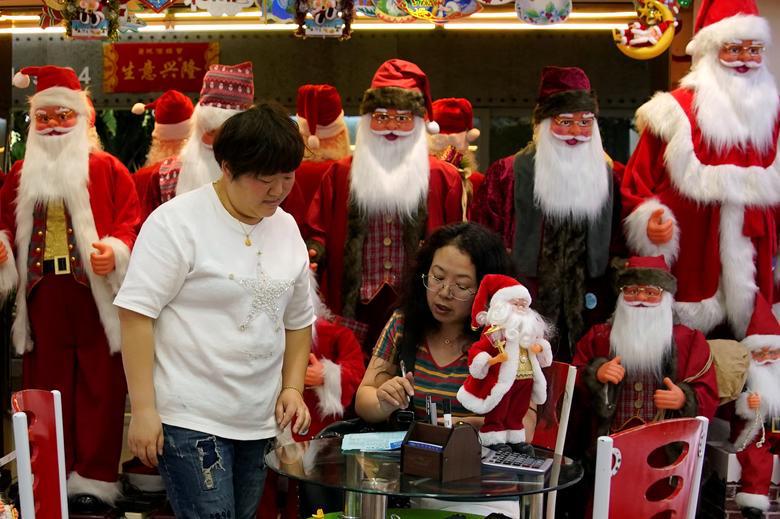 The value of Yiwu's exported Christmas products reached 1.97 billion RMB between January and November 2019, an annual increase of 22.8%. However, this year, a variety of previously unthinkable Christmas gifts are being produced in Yiwu… Father Christmas face masks, stockings accompanied with hand sanitisers and wipes, Father Christmas toilet seat covers and other COVID-19 related products. Global buyers started buying Christmas products from Yiwu in July this year as they prepared for mass buying during the festive period.
Yiwu established its website yiwugo.com in October 2012 to enable global buyers to access its products and services. The e-commerce site has more than 53,000 suppliers and sees an average of 500,000 daily visitors and 10 million daily page views. Of its 5 million registered users, 10% are based overseas.
Although Yiwu predominantly exports its Christmas products, Christmas is becoming celebrated more and more within China. From dressing up in a Christmas style and photoshoots to festive foods, China's lack of Christmas traditions has meant that it has developed its own celebrations.
More and more brands are launching Christmas-themed events and promotions in China. Shanghai is hosting a "Green Christmas Market 2020" at event space BASE on Anfu Road which will celebrates a sustainable lifestyle with a range of stalls from local craft brands and plant-based food options. The Ritz Bar & Lounge is also offering a winter-themed afternoon tea at its 1930s-Shanghai-inspired living room.
Join our newsletter