Perfect Diary 完美日记 has become China's leading homegrown makeup brand, even rivalling top international cosmetic brands in its popularity among Chinese consumers. It has been ranked in the top three most popular brands among Chinese Gen-Z consumers alongside Huawei and Lining.
Perfect Diary was established in 2016 by Yatsen and was the e-commerce company's first cosmetics brand. Yatsen's empire has now expanded to include cosmetics brands Little Ondine and Abby's Choice. It listed on the New York Stock Exchange stock in November, becoming the first Chinese beauty company to do so.
Rapid offline and online expansion
Perfect Diary has more than 30 physical stores in China, including in Guangzhou, Shenzhen and Chengdu. However, the brand has ambitious plans to open 600 stores in the next 3 years. Each Perfect Diary store has a shopping guide which offers discounts to consumers who follow their social media accounts. E-commerce consumers will also receive 1 to 2 RMB discount vouchers in parcels which they can redeem by following Perfect Diary's official WeChat account.
As a result, they have established an extensive online following with 15.92 million followers on Tmall, 2.59 million on JD, 570,000 followers on Weibo, as well as 1.94 million on Xiaohongshu and a store with 538 products. They also have two verified accounts on short-form video platform Douyin: one which focusses on promotional content and advertising and another for users to share their experience of specific products.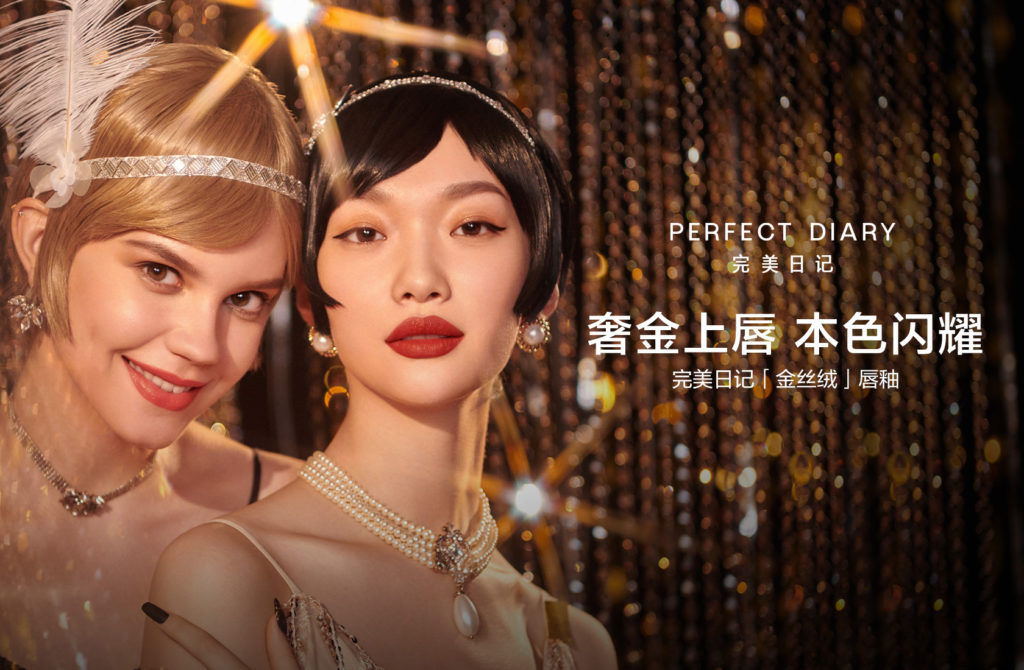 Perfect Diary's main WeChat account has 3.49 million followers but the brand has over 20 official accounts, including a makeup laboratory, product recommendation community and trial store. While the accounts focus on separate content, they all share the same promotional marketing about new products and campaigns for special events. They also have WeChat fan chat groups to engage with their consumers and a personal consultant "小完子" Xiao Wan Zi to answer consumer's questions. WeChat users can add "小完子" so that they don't miss out on any news about Perfect Diary. The numerous accounts have helped Perfect Diary to expand its reach on WeChat and has enabled the brand to be one of the few companies to successfully pick up traffic on WeChat.
Perfect Diary have also expanded into the international market and have an English website, as well as accounts on Instagram and Twitter. The brand has won a number of prestigious global awards, such as the 2019 WWD BEAUTYINC x MEIYA AWARDS and the ELLE Beauty Star Awards. To spread brand awareness, they have launched a sales representative programme which gives individuals commission when they promote sales through Perfect Diary's website.
Perfect Diary's famous ambassadors
Perfect Diary selected famous Chinese actress and singer Zhou Xun 周迅 as their first global spokesperson. Along with Zhang Ziyi (章子怡), Zhao Wei (赵薇) and Xu Jinglei (徐静蕾), she is one of the Four Dan Actresses (the four most famous actresses in China). Zhou became famous globally for her role in Suzhou River (2000) and Blazac and the Little Chinese Seamstress (2002). Bringing in one of China's top names brought the brand a lot of attention on social media and broadened their following.
In October, Perfect Diary announced that Australian singer Troye Sivan would be a brand ambassador. Sivan, known as 戳爷 Brother Chuo in China due to the pronunciation of his name in Chinese, has over 1.65 million followers on Weibo.
He posted the announcement alongside a promotional video on Weibo: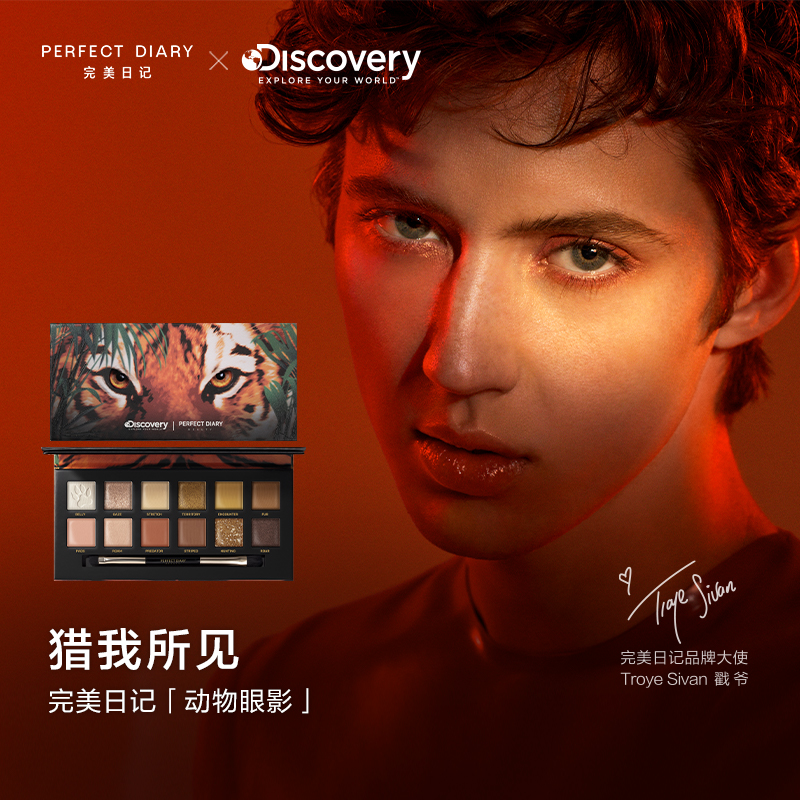 The post linked to Perfect Diary's animal eyeshadow on Tmall which 350,000 people expressed a "desire to buy" online. The promotional video was in collaboration with two big names – Vogue China and Grammy award-winner Dave Meyers. It received 62,700 likes and 5,500 shares with many Weibo users sharing screenshots of their orders on the comment section to show their support for Sivan. As well as being popular among young Chinese, Sivan will help the brand appeal to Western audiences.
Perfect Diary X Discovery – animal themed eyeshadows
In 2019, Perfect Diary launched twelves shades of animal themed eyeshadows, including tiger, pig, panda and bear, inspired by the Discovery Channel's photography and video footage. Perfect Diary sold 48 animal eyeshadow palettes every second and became the most popular eyeshadow product on Tmall. In 2020, it launched a range of 12 cat and dog eyeshadows which sold out on Tmall within four seconds of its release.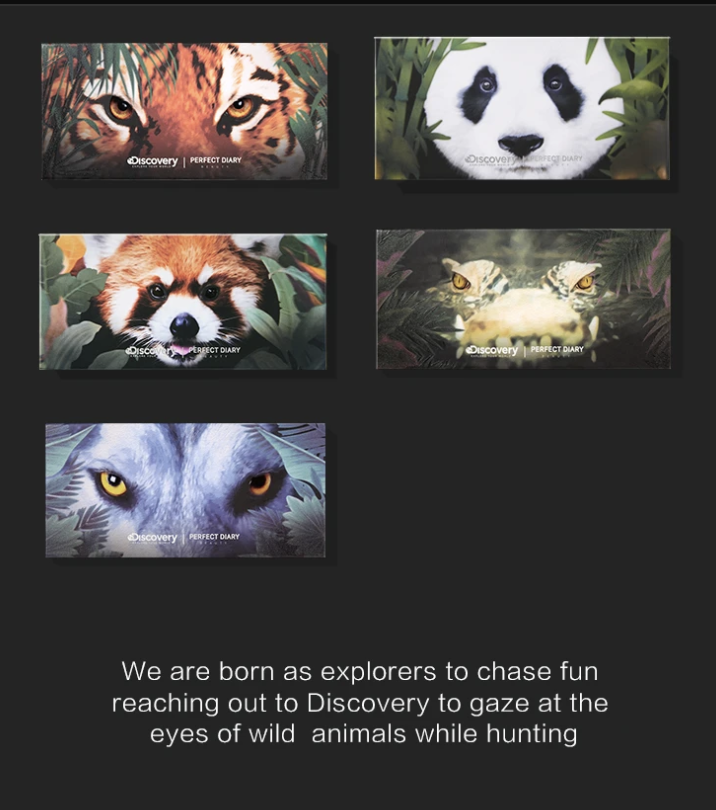 Each of the range of animal eyeshadows have a different significance and meaning: the koi eyeshadow launched in May this year represented good luck for 2020 throughout the pandemic (the koi fish is a symbol of good luck in China). The jade rabbit eyeshadow was in support of China's Aerospace Science and Technology due to the traditional Mid-Autumn Festival tale of Chang'e and the Jade Rabbit.
The twelve dog shades released this year were inspired by top livestreamer Li Jiaqi's dog called Never. Li Jiaqi featured in promotions for the product and also filmed a daily vlog of "Li Jiaqi and Never" to reveal more about his and his dog's daily life to followers. Li's inclusion attracted more attention to the campaign as he is extremely popular in China with over 40 million followers on Douyin. Perfect Diary also used the eyeshadow products to raise awareness of animal welfare issues, such as animal abuse and hunting.
Engaging consumers with well thought-out campaigns
Perfect Diary has a huge presence in China, especially online with accounts on all major social media platforms and e-commerce platforms. They understand how to leverage social media channels to attract a diverse Chinese audience. Their marketing strategies, which show an in-depth knowledge of Chinese culture and consumers, have enabled them to surpass international brands very quickly. In addition, appealing to high-profile celebrities has helped them boost engagement and appeal to new audiences.
The brand has resonated with consumers by showing their social consciousness. As well as promoting awareness of animal hunting and abuse with their eyeshadow palettes, they also launched a campaign for International Nurse's Day in which nurses received a makeover to conceal their PPE marks amid the pandemic. They also held a similar campaign for aerospace female workers to highlight the challenges of their job and show respect for them.