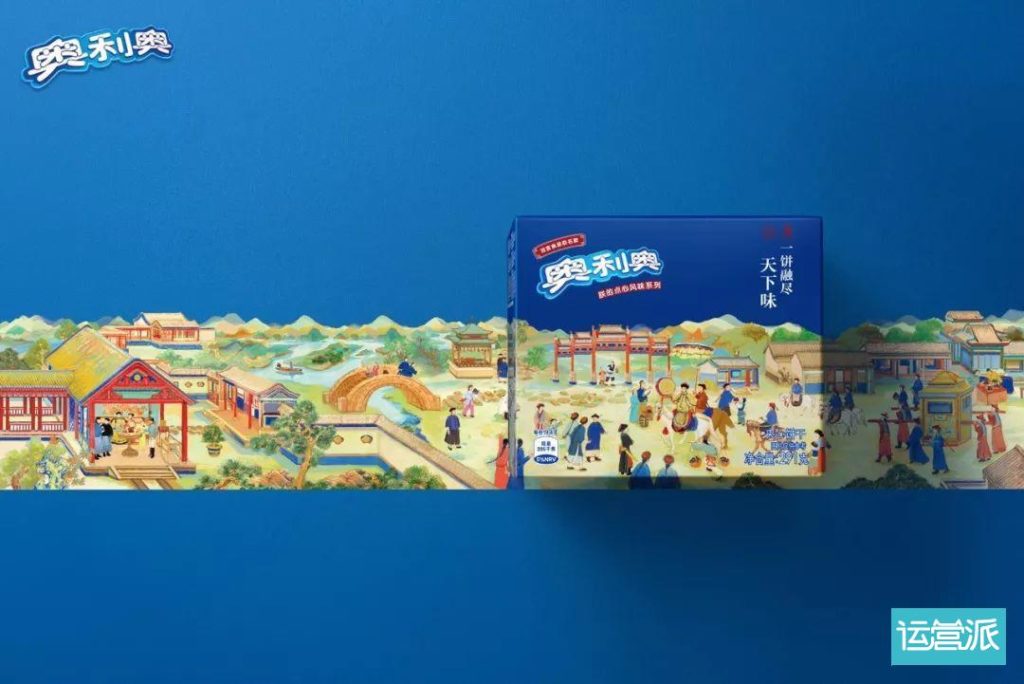 As one of the most famous biscuits brands globally, Oreo, never shies away from the chance to launch a creative campaign. Indeed, Tmall's Super Brand Day offers the perfect opportunity for this. Super Brand Day is e-commerce giant Tmall's special day offering discounts and promotional activities for brands on its platform.
Last year, the brand teamed up with Beijing's Forbidden City to launch six new flavours inspired by the imperial era, including green tea, red bean, pepper, rose and barbecued pork. It was a hugely successful campaign which contributed more than 260,000 new followers to its Tmall flagship store.
Oreo X Jay Chou's collections
This year, Oreo partnered with another famous national icon, one of the most popular singers in China, Jay Chou. Having been in the music business for twenty years and sold more than thirty million albums, he is a well-known name among the majority of millennials, as well as younger generations. Appealing to Chou's large follower base, Oreo announced him as its brand ambassador on May 17 and launched a campaign with the singer.
The campaign seamlessly combined nostalgia surrounding food and music to mark 20 years since Chou's debut album and the 20th anniversary of Oreo's entry into the Chinese market.
Oreo introduced a limited edition music box that plays two of Jay Chou's classic songs, Sweet and Nunchakus. The brand also launched Jay Chou milk teacups and fashion merchandise on Mondelēz's (the snack giant that owns Oreo) flagship store. The collection included Oreo bags, vintage T-shirts, parent-and-child dresses, creative brooches and bucket hats.
Creative art exhibition in Shanghai station
As well as launching limited edition products, Oreo also created an unparalleled art exhibition composed of 50,000 pieces of mini Oreo and a huge poster of Jay Chou along with the covers of several of his famous albums. The artwork took five artists 25 days to put together. It was exhibited at the most crowded station in Shanghai, Xu Jia Hui subway station.
In order to reduce waste, Oreo used expired biscuits for the art exhibition, showing the brand's awareness of its environmental impact.
Many influencers and followers of the brand attended the Oreo Art Exhibition, sharing posts about it on their Weibo and Douyin accounts. The campaign's Weibo hashtag #哎哟不错奥利奥 hit over 860 million views and 3.28 million comments. This year was Oreo's fifth Super Brand Day, and it reported a 20% increase in transaction volume from last year and added more than 100,000 followers to its Tmall flagship store.
Nostalgia marketing harnesses results in China
Whether it is a cartoon, character from a film or musician, figures from childhood tend to leave a strong, lasting impression on people's emotions. Many brands use nostalgia marketing in campaigns to attract their target audience by touching on cherished memories.
Through its limited edition products and art exhibition, Oreo appealed to Chinese millennials' connection with Jay Chou and increased their brand awareness. Western brands should conduct consumer research to uncover what their target audience truly feels nostalgic about and incorporate this into their marketing strategy.
Brand: Oreo
Social Media Agency: BlueMedia
CCO: Maxx