Mid-Autumn Festival is the second most important festival in China and marks one of the few occasions when families have a chance to gather together. It's when "people and the moon reunite to form a full circle" as an old saying goes. However, in recent years, it's become more difficult for this to happen as many Chinese young people have to spend the festival working.
This is an increasingly common phenomenon due to the work pressures and competitive job environment in China (for more, read about the rise of Career PUAs). Instead, of the whole family reuniting in their hometown, parents travel to the city where their children live – what has become known as "reversed celebration".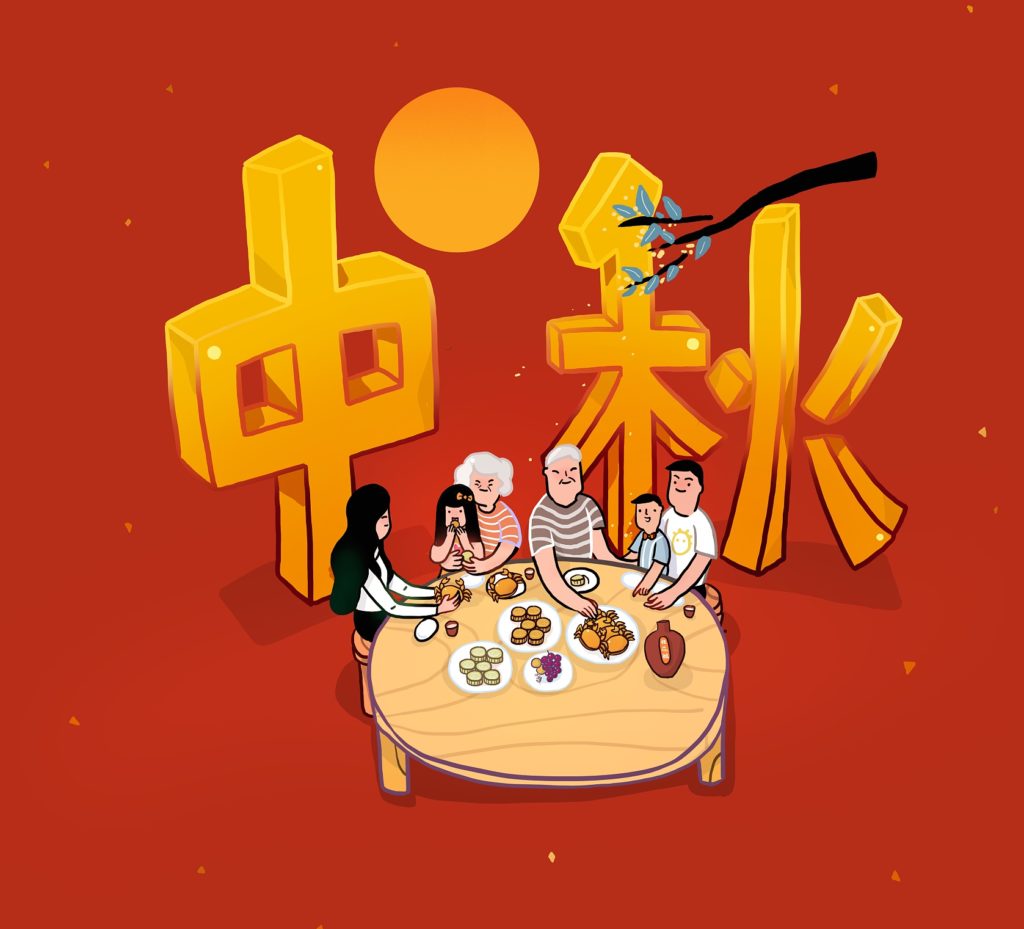 One of the most important features of Mid-Autumn Festival is the mooncake – it's as important as chocolate eggs are to Easter. Mooncakes are symbolically round to represent the moon and reunion, and are available in a range of flavours, including red bean, snow skin and green tea. While many brands choose mooncakes as a focus for their campaign, this was not the case for this years' advertising from Mengniu.
Mengniu – China's leading dairy brand
Mengniu Dairy was founded in 1999 and is one of China's leading dairy product manufacturers. The company has a staggering production capacity and produced 9.50 million tons in 2019. Mengniu has developed a nostalgic brand image as almost everybody born after 1995 grew up with its milk and so has a close association with the brand.
Touching video brings up key themes of Mid-Autumn celebrations
The brand launched a short film called At Your Back which touched many Chinese consumers. The video featured a white collar worker, Nannan, who is swept off her feet with work during Mid-Autumn Festival. As she is unable to return home to celebrate, her parents visit ladened with bags of nutritious food and milk.
Due to her heavy work burden and late hours spent at the office, Nannan can't make time to see her parents and show them around the city. After staying alone in Nannan's flats for three days, her parents decide to return to their hometown to celebrate. Yet they don't go without preparing her a taste of Mid-Autumn festival to come back to.
Despite the time-consuming and labor intensive work of planning, preparing and cooking, they leave a range of classic Mid-Autumn dishes for their daughter with little notes attached.
This is typical of Chinese parents who will always put their children's demands as priority and will sacrifice anything to make sure they are cared for and healthy. In traditional Chinese culture, older generations devote all their resources to raising their children so that they will in turn look after them when they are older.
The slogan at the end of the campaign sends a powerful message about the importance of family:
China's "milk culture"
When Nannan returns home from a long day at work, she sees that her parents have put two boxes of Mengniu milk on her desk. Chinese parents often highlight the importance of milk for growth and strong bones and make their children drink milk daily when they are young. As such, many Chinese have a strong association between milk and their childhood. Mengniu uses the gift of milk to symbolise Nannan's parents' love. It also reinforces the message that many Chinese children hear constantly – milk products can help you recharge when you're feeling tired and unwell.
Success of emotional campaigns on Weibo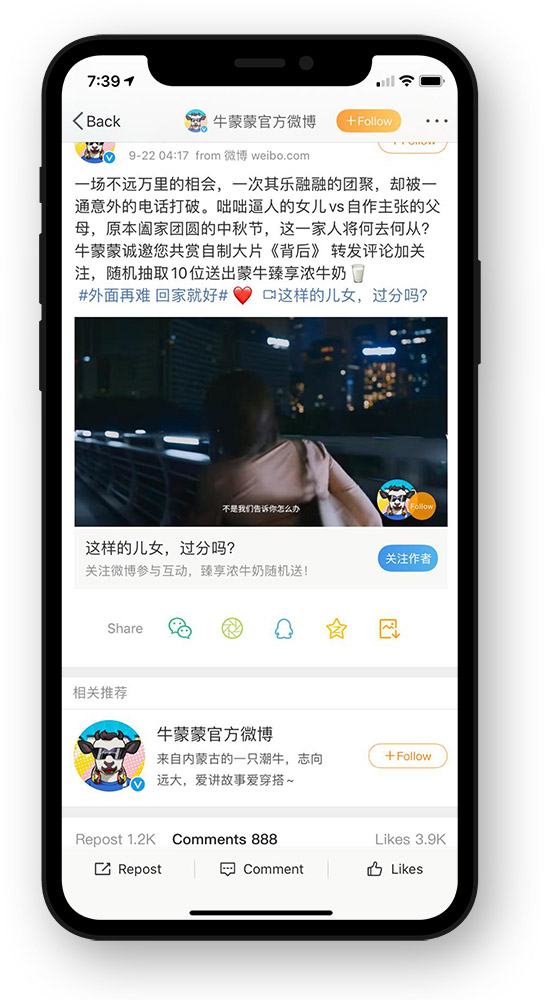 Mengniu invests heavily in Weibo advertising to target potential consumers and this channel also led us to the campaign! Posting on Weibo is a great way to build a following by engaging directly with a large, active community of users and targeting specific consumers through hashtags. Emotional advertising which can arouse strong feelings, such as this campaign, do particularly well on Weibo and and the video gained over 3.3 million views.
Mengniu's campaign evokes a positive brand connection
The COVID-19 pandemic has led to a growing consumer focus on health and, in particular, boosting the immune system. As a result, demand for dairy products has grown. Mengniu's Mid-Autumn Festival short film plays on this trend, highlighting how Mengniu products can improve health.
By appealing to an important festival and evoking childhood associations with milk, the campaign aims to link Mengniu's milk with love, happiness and family. Thereby creating a special connection which can develop a positive brand association among Mengniu's audience.
Brand: Mengniu
---
See other case studies about Mengniu: