"Because I'm worth it", the famed tagline of the French personal care brand L'Oréal has become something more than a snappy catchphrase for commercials but resonates more with female empowerment in society today. This view is echoed in China, where the worth of women has been continuously reviewed and redefined amid the rise of feminism.
As a result, the brand has found its trademark slogan turned into a conversation starter for engaging discussion between women in China, with the slogan being adapted into the latest campaign on the eve of International Women's Day.
Entitled "I Say I'm Worth It", the campaign is a trilogy that leverages Chinese social media, celebrities that might not belong to the mainstream, and China's thriving industry of podcasts. China's largest microblogging site Weibo turns out to be an ideal space to kick off the conversation, with the campaign hashtag drawing more than 40 million reads as of 7 March.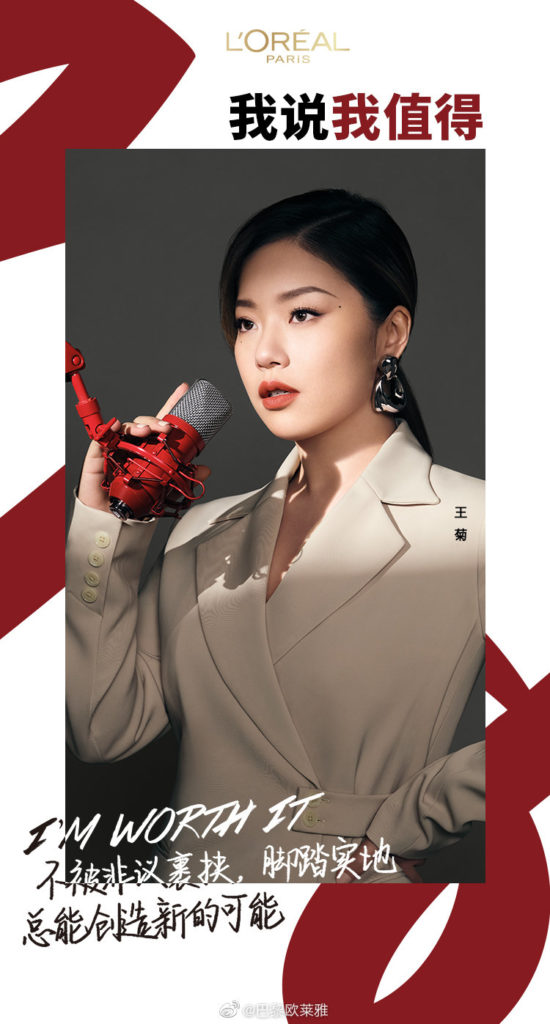 The enthusiasm of the discussion joined by tens of thousands of internet users has been fuelled with Chinese celebrities including model Ju Xiaowen, actresses Gong Li, and Xin Zhilei, and singer Ouyang Nana, posting their definitions of the words "I'm Worth It", which prompts more female users to follow suit.
While the prelude continues on Weibo, L'Oréal has broadened the brand's advocacy to the podcast, tapping into China's growing interest in audio-based content. In collaboration with China's most popular audio-sharing platform Ximalaya, L'Oréal has lined up a new crew, involving celebrity agent Yang Tianzhen, as well as bringing in male celebrities including China's Olympic table tennis champion Ma Long, and American actor Daniel Wu to share women's power in their eyes.
With these customised talks fleshed out with the lived experience of these celebrities, the podcast programmes have been able to resonate with a wider audience, engaging not only female but also male listeners, and therefore, deliver the brand's voice in a more convincing way while enhancing the recognition and trust in the brand amongst its target consumers.
These contents have then been elaborated with the release of a TV commercial, where stereotypes around women, such as appearance, body image and public judgments on women's marrying age and career path, have been challenged. The fightback by Yang, whose rounder figure and average look might not fall into the traditional beauty standards in China, has pushed the sentiment of women empowerment to new heights.
The multi-layered campaign with rich customised content is timely, allowing the brand to leverage not only Women's Day, but also the rising trend of feminism in China. By doing so, the brand has been able to enhance the loyalty amongst its customers, while creating a touchpoint with new consumers through this crucial cause.
Join our newsletter