In a country where tea reigns supreme, coffee consumption in China has remained relatively low over the years. However, recent studies show that there is an emerging market taking place, especially in top-tier cities where people have delved deeper into coffee culture. In fact, between 2006 and 2018 there was a 500% increase in coffee consumption, resulting in about half the population enjoying coffee today. Future coffee sales are projected to reach a whopping US $25 billion by 2025.
While more and more young people in China are joining the coffee culture bandwagon, many still find it hard to accept the bitter taste of a plain cup of joe, so they typically opt for milk-based coffees such as lattes and cappuccinos instead. The only issue, though, is that while the milk does indeed dilute the bitterness and sweeten the taste of the beverage, the flavour still remains quite flat.
Cha Latte's instant coffee provides a solution to this problem, offering mixtures that are intended to cater to every Chinese person's palette. Having spent a lot of time in order to find the perfect balance in flavour combinations, they created their three-in-one instant coffee which carries notes of various flowers and fruity teas.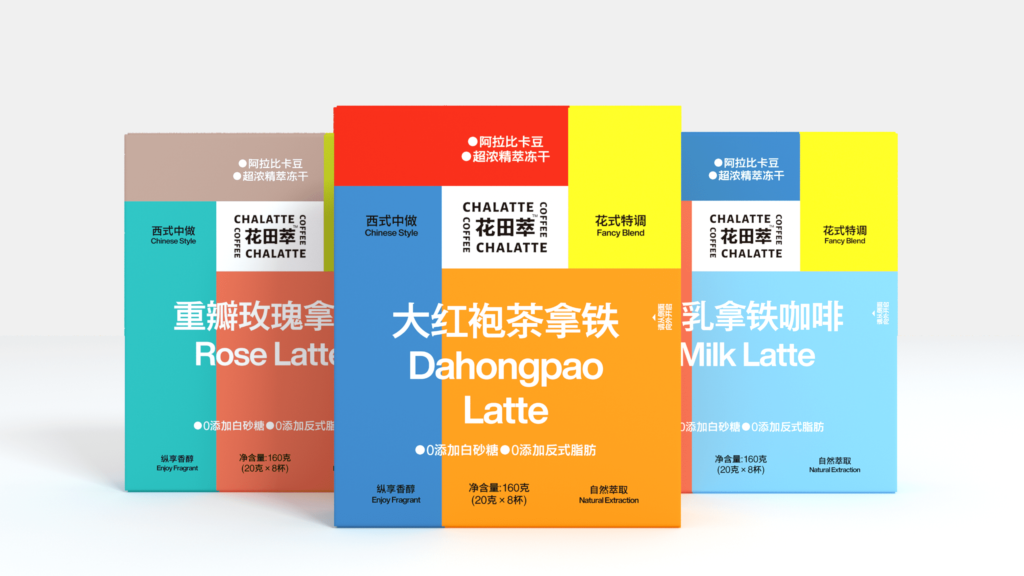 Their first batch of products launched is sourced from Yunnan and includes "Dahongpao Cha Latte" (or Red Robe, a type of rock tea originally from Fujian province), "Double Rose Latte" and "Latte with cream" which can be purchased on Tmall, JD.com, and other e-commerce platforms. As a company, they stand "committed to bringing users a rich taste and museum-level coffee experience at a price of about 3 RMB" (45 cents USD).
This brand is not the first to come out with Chinese-style flavoured coffee, though. Other brands have tried their hand at entering the market, but their focus was limited to nutritional elements of Chinese medicine. Other coffee giants like Starbucks have added fruity frappuccinos and other sweet drinks to their menus to adapt to their Chinese consumers. Luckin Coffee also recently collaborated with Coconut Tree to create their "raw coconut latte".
While these initiatives have been successful, none of them has really created specific blends of Chinese tea, coffee, and milk flavours in the way that Cha Latte does.
With the release of this unique product, Cha Latte shows that adapting to China's cultural traditions and preferences is key to success in the market. Many customers are currently expressing their satisfaction with Yunnan-based coffee via reviews on e-commerce platforms such as Taobao. Overall, the future seems bright for this company as well as other companies who decide to partake in what could be a potential coffee boom.
Join our newsletter