New York-based cosmetics label Maybelline unveiled its metaverse global debut on Alibaba's e-commerce arm Tmall, according to its parent company L'Oréal China on 21 October. Known as "The City of Rhythm", the virtual universe is exclusive to China's upcoming annual online shopping spectacular Double 11, another initiative by Alibaba.
The announcement came just a few days before the official presale kick-off at 8 PM (local time) on 24 October. This is slightly later than the previous two years' 20 and 21 October dates, potentially trying to avoid a clash with the 20th Party Congress closing ceremony. Under the tagline "A makeup carnival sparked by diverse beats", the virtual musical journey is joined by ITZY, one of South Korea's beloved girl groups, who are also Maybelline's first K-pop global spokespersons since 2021, leveraging the K-pop fever, which remains popular amongst China's post-95s and post-00s.
A total of four meta spaces have been installed, showcasing Maybelline's four signature offerings including the FITME Pro Liquid Foundation, Flush Tint, Hyper Precise Liquid Eyeliner, and Super Stay Matte Ink Lipstick. The digitally immersive and interactive environment incorporates a virtual makeup try-on coupled with product specifications to guide consumers through, and the background is a nod to the brand's overall tone.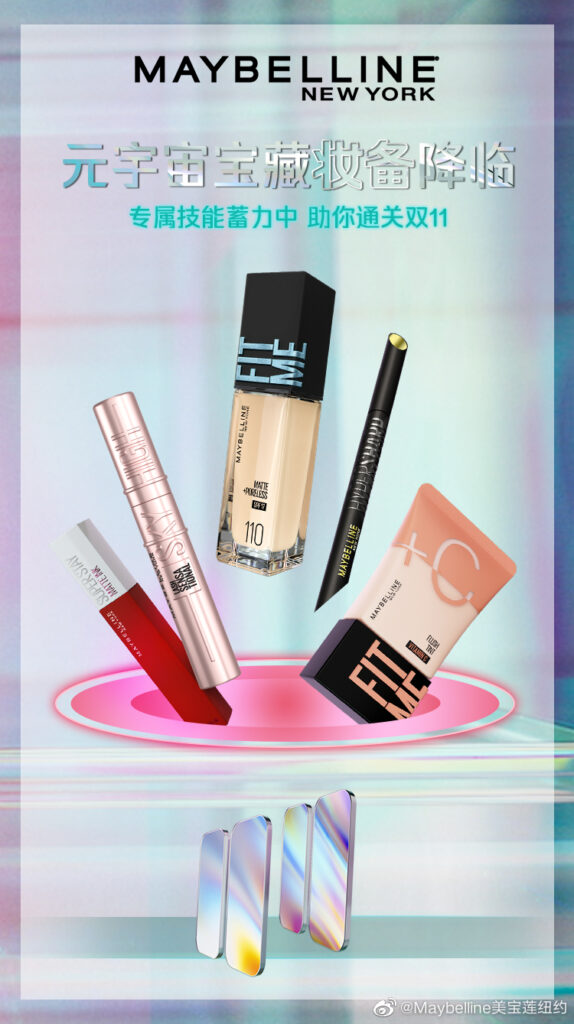 The meta universe can be accessed through Maybelline's flagship store on Tmall as well as the brand's live streaming sessions. A "hyper virtual" live stream room has been set up, where the brand taps into the virtual live streamers who shares the latest beauty trends to further spur consumption.
This is a bold step in exploring Web 3 marketing in China's digital landscape, a swift move following the brand's decision in July to "shift its focus from offline to online" in the Chinese market as part of a "strategic transformation" from traditional offline channels to realise online and offline integration, according to Maybelline.
As a result, the L'Oréal-owned brand is set to close all of its 80 physical storefronts in China, across seven regions including Guangdong province which has the most Maybelline installations (15 stores). Counters within the health and beauty care chain store Watsons will remain, while its online presence has been strengthened, doubling down efforts in a "short video + live streaming" strategy.
On top of traditional e-commerce marketplaces such as Tmall and Pinduoduo, Maybelline has been capitalising on viral video-sharing platforms such as Douyin (Chinese TikTok) and its rival Kuaishou alongside other Chinese social media that have also been pushing e-commerce, such as WeChat's mini-program.
The latest move has once again shown the brand's ambition in operating in the Chinese market after 20 years and continue to gain a slice of the country's lucrative beauty market by bolstering the building of the brand's digital ecosystem. Revealing the metaverse in partnership with Tmall, a digital marketing powerhouse for brands, in the run-up to the e-commerce extravaganza is another endeavour by Maybelline to achieve that goal.
For more latest trends and market insights into China's beauty and fragrance industries, join us for the first Dao Insights event – Dine by Dao on Thursday 1 December 2022
Join our newsletter