Extreme weather outerwear maker Canada Goose has joined forces with Feng Chen Wang, a Chinese-born, London-based designer brand with a pulse on menswear, and Xu Zhen, a renowned contemporary Chinese artist, to remodel the Canadian brand's signature performance luxury apparel for their latest capsule series.
The new collection consists of a total of 12 pieces of men's and women's lifestyle ready-to-wear, ranging from jackets and knitwear to accessories and skirts. It also sees the birth of Canada Goose's first-ever collaborative footwear silhouette, a take on the Journey Boots reimaged by Feng Chen Wang with denim and contrasting colour on the hardware.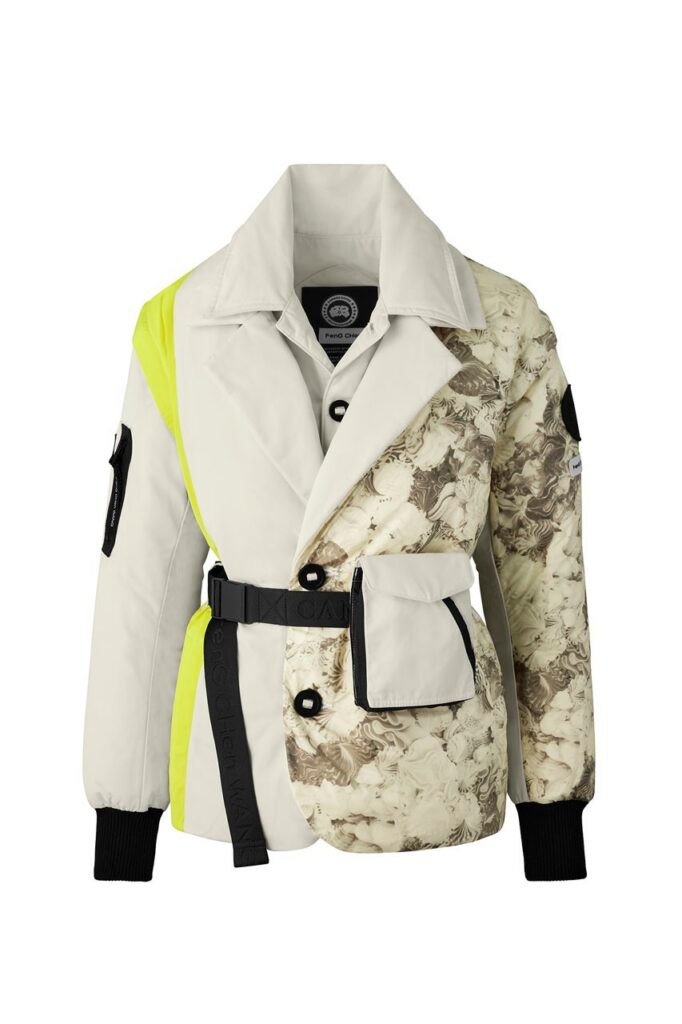 Designed to capture seasonal transitions, the series blends a fusion of futuristic modern aesthetics fabricated by Feng Chen Wang. It also draws inspiration from Xu Zhen's conceptual artwork titled Under Heaven, with the dense flowers in fancy colours featured in the original paintings imprinted onto the new design.
By doing so, Canada Goose can tap into one of China's iconic art figures who is sharp at uncovering social taboos in contemporary China through artworks that entail theatrical humour and social critique, which resonates with the young and often rebellious post-95s and post-00s and caters to their pursuit of individuality.
Meanwhile, founded in 2015 following Wang's graduation from the Royal College of Art London with an MA degree in Fashion Menswear, Feng Chen Wang presented an aesthetic of "future-modern, emotional and multidimensional" with a focus on technical deconstruction, as described by the founder.
The brand soon gained global recognition after its debut at New York Fashion Week for Spring Summer 2016 and gained a foothold in the global menswear fashion sector having been a permanent and celebrated fixture on the official London Fashion Week men's schedule.
The collaboration allows Canada Goose to leverage Feng Chen Wang's unique style as well as its fame in the territory to renovate its offerings, especially in its menswear line while growing its appeal to the younger generations with more expressive and graphic-heavy designs.
The new series is officially available from 20 October at select Canada Goose retail stores across Asia as well as both Canada Goose and Feng Chen Wang's websites.
Join our newsletter