Hundreds of dresses presented by Honor of Kings have hit online shelves, as the world's most-played video game launched its own womenswear brand MEETING SHERO on 15 May. A total of four designs features four in-game female heroes, including Wang Zhaojun, Xiao Qiao, Diao Chan and Yao, leveraging the popularity of these fictional figures to generate buzz for the new brand.
With price tags ranging from 1,298 RMB (185.42 USD) to 1,680 RMB (239.99 USD), each design is limited to 100 pieces, which is listed on the game's own marketplace via its WeChat mini program. Each dress is accompanied by a unique collection certificate according to the official brand introduction, showing the intention to play on the consumer psychology for pursuing uniqueness.
The new creation will be under the management of WEBYWE, a subline focusing on crossover collaborations that is owned by the Chinese designer brand WECOUTURE, as per the announcement by Honor of Kings on Weibo, China's answer to Twitter.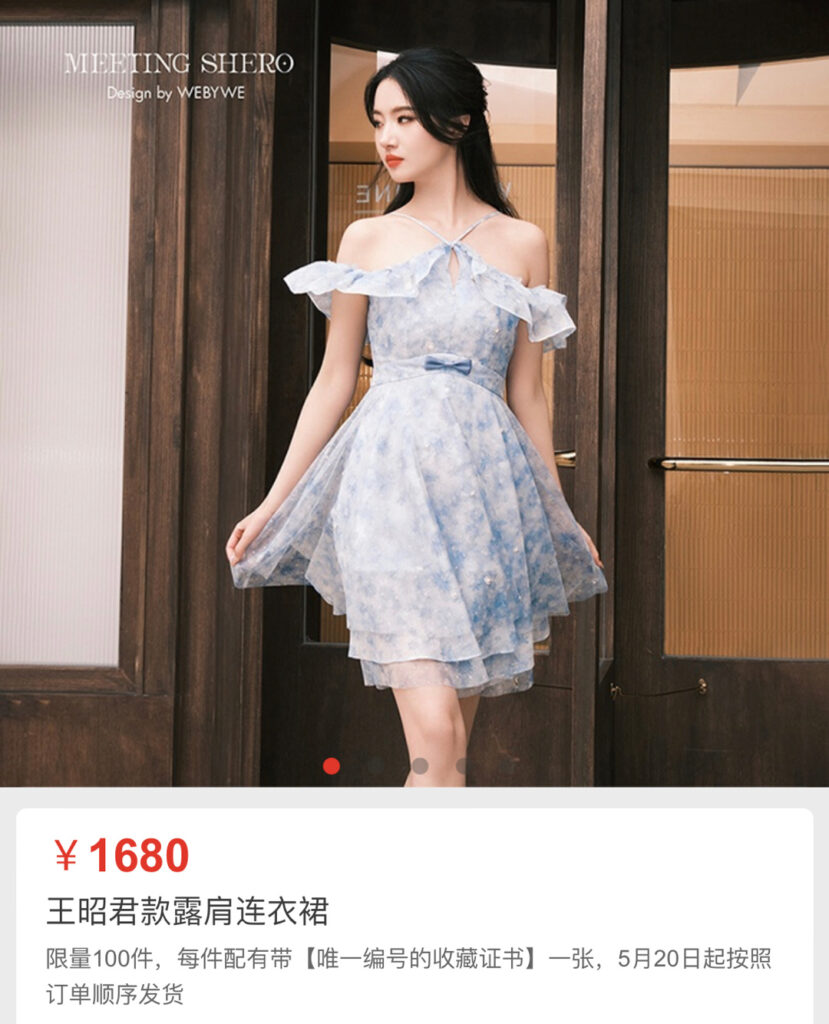 The launch of the brand dedicated to women is part of the hit game's efforts to capitalise on its lucrative user base where female players are at the core. It is reported that the game saw its daily active users (DAU) hit 100 million thresholds as of 2020 with a peak of 140 million, as per the Chinese media publication 36Kr. Players in China contributed to 96% of the game's total income.
Meanwhile, 54% of its 200 million users were women, according to a report by the Chinese news outlet Huanqiu. And female players have been growing in prominence over the past few years. The birth of this women-focused brand, therefore, creates another avenue of revenue for Honor of Kings amid the game's declining income due to the government's continued restriction on minors and teenagers playing video games.
The debut of the new brand has made a splash with the hashtags MEETING SHERO and Honor of Kings womenswear drawing in more than 14 million and 97 million views respectively on Weibo as of 17 May. Whether the endeavour will pay off, however, remains in question as satirical comments flood the online space.
The price appears to be at the centre of the controversy with many viewing the clothing as overpriced. "I would consider buying one if it's 168 RMB (24 USD). But if I had 1,680 RMB, I'd rather have something else," one netizen commented. Others compared the action to "cutting leeks" (or Ge Jiucai, a Chinese internet slang which simply means taking advantage of or scamming people). The sales performance is also reflective of such an attitude with little consumer interest being shown to the limited collection. As such, Zhang Yi, CEO of iiMedia (an industry data analysis institute) warned such a monetisation approach may be harmful to the Honor of Kings IP in the long run.
Join our newsletter