On May 16, Italian luxury fashion brand Bottega Veneta made its official debut on JD.com, marking the first official collaboration between the global luxury group Kering and the popular e-commerce platform in the luxury fashion sector.
With over 2,000 products available, Bottega Veneta's JD.com store covers a wide spectrum of offerings, including bags, shoes, ready-to-wear clothing, small leather goods, accessories, jewellery, and eyewear.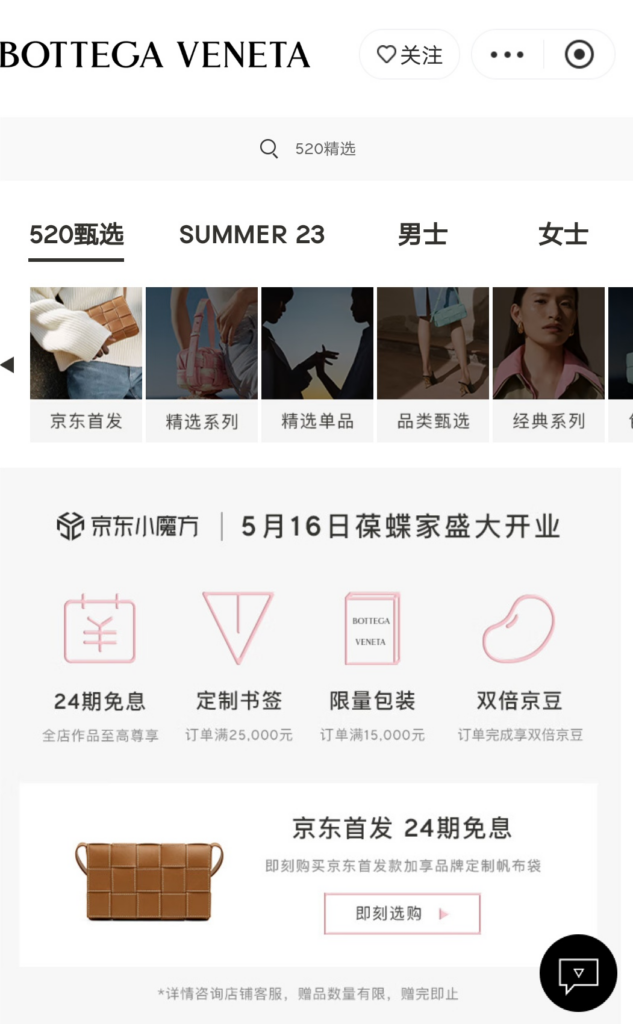 Bottega Veneta's presence on JD.com aligns with the preferences of the platform's users, offering unique advantages in terms of product selection, availability of new and exclusive items, and seasonal product launches. In fact, the collaboration is currently gearing up for the release of a special series designed to celebrate JD.com's upcoming 520 marketing campaign. In addition, a collection was created specifically for male users, highlighting Bottega Veneta's effort to cater to diverse consumer groups.
As part of the opening event of JD.com's 520 campaign, Bottega Veneta is showcasing a range of products, including the popular Brick Cassette handbag series. The collection features the newly released 2023 ladies' Brick Cassette small shoulder bag and Brick Cassette small cross-body bag, available in four colours. Customers can take advantage of up to 24 interest-free instalments during the promotional period, along with exclusive perks such as custom bookmarks and limited-edition pink gift boxes.
In terms of marketing, JD.com's advanced technology provides luxury brands like Bottega Veneta with great control over their online flagship stores, enabling brands to cultivate a distinct experience in line with their unique marketing positioning. In addition, the platform offers customisable sections to elevate customers' overall shopping experience and extends comprehensive operational and marketing support. As such, Bottega Veneta can leverage retail milestones and new product launches to foster more interaction between the brand and its potential customers.
All in all, Bottega Veneta's partnership with JD.com signifies a significant step toward more growth in China, with the renowned brand tapping into JD.com's extensive user base and leveraging its marketing resources to reach a wider audience. This newfound collaboration sets the stage for a fruitful relationship that could potentially take the online luxury shopping experience to new heights.
Join our newsletter