Key Takeaways:
L'Oréal Group, the world's largest beauty company, has launched a number of sustainable initiatives and awareness raising campaigns in China as part of its global efforts to halve CO2 emissions by 2030.
L'Oréal worked with nine well-known brands and beauty KOLs to launch its "Do Make-up for the Planet" campaign and encouraged consumers to engage with related hashtags online.
The Chinese public are becoming increasingly conscious about sustainability and many young middle-class consumers value brands that highlight their commitment to the environment.
---
Climate change is becoming an increasingly pressing concern globally as highlighted by the Intergovernmental Panel on Climate Change's recent report which described the environment's transformation as a "code red for humanity". While the Chinese government is taking steps to tackle climate change – it has pledged to be carbon neutral by 2060 – and the public is also becoming increasingly environmentally conscious, responsibility also lies with businesses.
Action by the L'Oréal Group shows how multinational corporations can use their market position to influence consumer habits and environmental practices within the industry.
L'Oréal outlines environmental targets for 2030
The L'Oréal Group, the world's largest beauty company, has highlighted its commitment to protecting the environment through its "L'Oréal for the Future" program. The company has pledged to halve carbon dioxide emissions per product by 2030 globally and has targets on climate, water, biodiversity and natural resources to reach by that time. These include reducing packaging, using more eco-friendly ingredients, investing in environmental projects, and focussing on carbon-neutral manufacturing.
The project takes into account L'Oréal's direct impact as well as the:
L'Oréal launches range of sustainable projects in China
The L'Oréal Group has localised its sustainable efforts to China, where it has had a presence since 1997 and is the second-largest market for the company. As part of its drive to make more sites carbon neutral (it had constructed 72 carbon-neutral sites globally by the end of 2020), L'Oréal has created a water wastage treatment facility at its factory in Suzhou.
In 2018, the company partnered with Alibaba to ensure all packaging for its products is sustainable. In addition, Alibaba's logistics platform Cainiao worked with 13 brands under the L'Oréal Group to form a "Green Brand Alliance" and commit to environmentally friendly pledges. The company has also tried to integrate local natural ingredients, such as tea extracts or traditional Chinese medicine ingredients, into its products.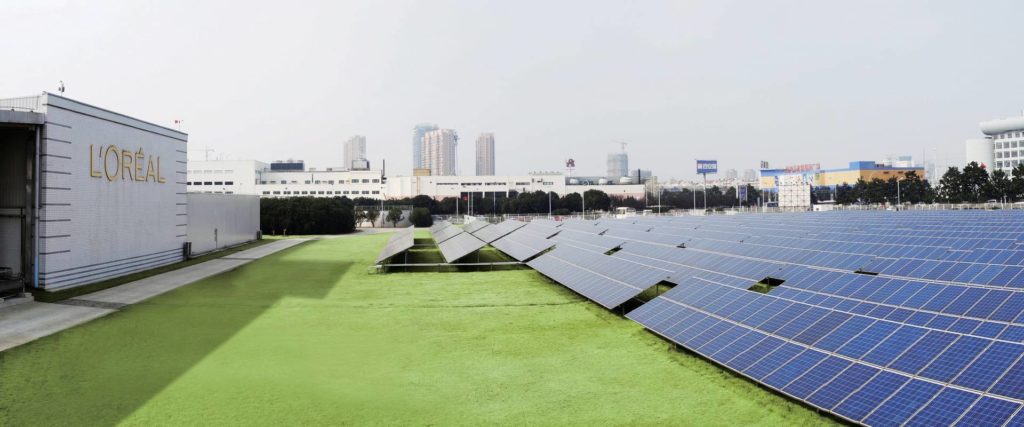 L'Oréal Group has also sought to engage Chinese consumers in the conversation through campaigns that raise awareness and provoke a conversation. The company first launched its "green consumption initiative" in China in 2017, in which it encouraged the public to consume sustainably by recycling and reducing energy and water usage. In 2020, L'Oréal China held an interactive exhibition "Good Planet, See U" at the K11 Chi Art Museum in Shanghai to inform the public about environmental protection.
9 brands and KOLs join "Do Make-Up for the Planet"
To engage Chinese consumers in its sustainable messaging, L'Oréal teamed up with nine well-known brands to launch its "Do Make-up for the Planet" campaign (为地球上妆)  as part of "L'Oréal for the Future".  Nine beauty Key Opinion Leaders (KOLs) were invited to apply L'Oréal's sustainable cosmetics in nature-inspired styles. One influencer "Ria_大芮" looked to sugar cane, which can be used to produce the sustainable material EVA (ethylene vinyl acetate), for her make-up design.
All the brands involved – both domestic and international companies, including McDonald's, Allbirds, Heinz and e-commerce platform Juhuasuan – have been involved in activities to protect the earth's biodiversity. For example, AllBirds has used EVA to produce a range of shoes, while Armani launched "Acqua for Life" to provide deprived communities with access to drinking water.
L'Oréal's campaign highlights to consumers how businesses in different industries have been working towards their sustainable commitments, providing beneficial PR for the brands involved.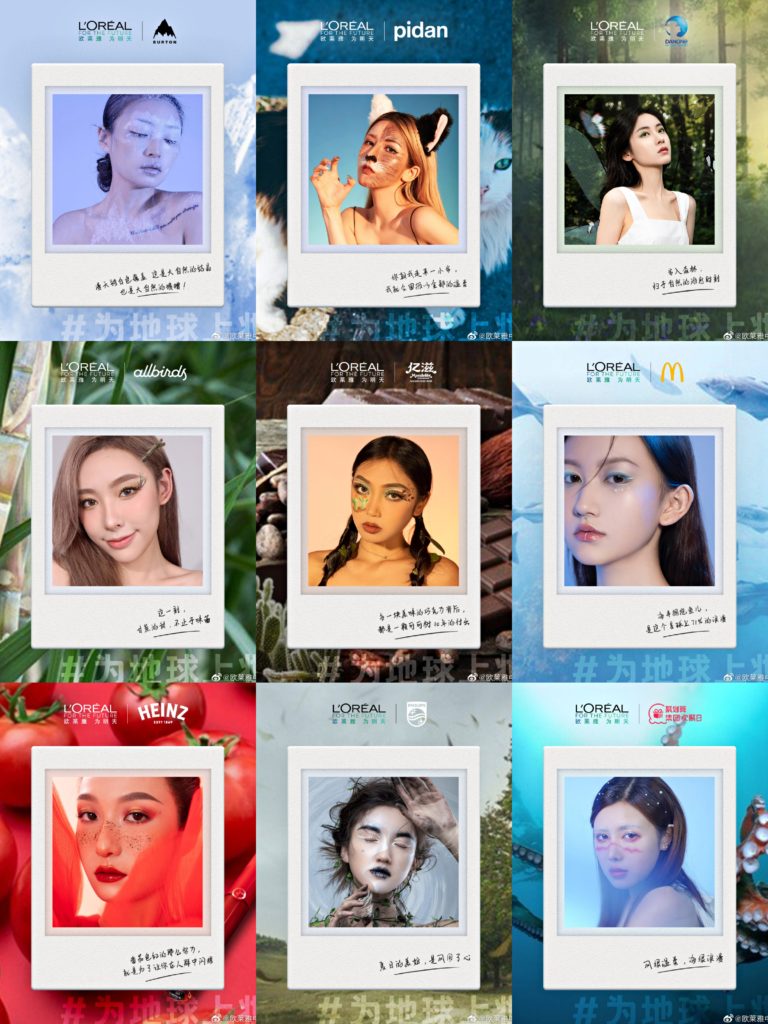 Famous ambassadors endorse biodiversity campaign
L'Oréal also teamed up with the non-for-profit organisation China Environmental Protection Foundation, calling for everyone to "protect the earth's biodiversity" (保护地球生物多样性). L'Oréal Group and its brands (which include Lancôme, Armani Beauty and Shu Uemura) worked with 40 of their famous brand ambassadors to raise awareness. They leveraged the huge fanbases of celebrities such as Ouyang Nana, Wang Linkai, and Hua Chenyu to boost engagement of the campaign.
UGC and prize draw sparks online engagement
The campaign was shared by L'Oréal on Weibo and Xiaohongshu, as well as being promoted by the KOLs and celebrities involved. Lots of make-up artists drew inspiration from the "Do Make-up for the Planet" campaign and posted videos of their own nature-themed creations online.
Consumers were invited to participate in the campaign by engaging with relevant Weibo topics. Those who added the hashtag "#L'Oreal For the Future" and "#Do Make-up for the Planet" to their Weibo post were entered into a prize lottery to win a limited-edition L'Oréal biodiversity gift set. This boosted views of the campaign and resulted in "#L'Oreal For the Future" (#欧莱雅为明天) gaining 1.7 million views on Weibo.
Weibo users praised the campaign for encouraging people to learn about biodiversity and consider their environmental footprint. Netizens commented that the product which used bamboo as inspiration stood out because of its connection with pandas, which were previously endangered but are now growing in numbers due to protection efforts.
The make-up is very artistic.

Love this creative idea to protect the earth's biodiversity.

Netizens' comments
Chinese consumers value social responsibility
Through an extensive range of projects and campaigns, the L'Oréal Group and the brands under it have shown their commitment to sustainability globally. "Do Make-up for the Planet" shows how a creative UGC campaign can foster awareness of social issues among the public.
Chinese consumers appreciate brands that highlight their corporate responsibility and address societal issues, as shown by the reaction to brands' response to the floods in Henan. The L'Oréal Group's extensive presence in the Chinese market has encouraged brands and KOLs alike to take part in the campaign, gaining more exposure for both sides and boosting their image in the eyes of consumers.
---
Read more: