Key takeaways:
China's Gen-Z have different goals and values from previous generations; they pay more attention to experience, quality and social belonging.
Their desire for a higher quality of life is reflected in the term "New Delicacy Lifestyle" (新精致主义) and in their online habits and consumption trends.
Douyin focussed on this concept for its "Cutting-Edge New Release" campaign which drove sales and brand awareness for three start-ups.
---
Consumption habits are changing in China as those born after 2000 evolve as consumers and become more certain of themselves and their demands. As China's current Gen-Z discover their spiritual needs, pursue a high quality of life and prioritise their happiness, they are shaping consumption and marketing trends.
Gen-Z's desire for a high-quality life is reflected in content preferences
The younger generation's search for a high-quality life is reflected in their consumer preferences. China's Gen-Z pays more attention to experience, quality, cultural identity, self-expression, and sense of social belonging. In contrast to older generations who prioritised saving to care for their family, Gen-Z is keen to invest in their own interests and professional skills. This is part of their quest to achieve a 'better self' and a higher quality of life. As a result, Gen-Z falls into the vicious circle of "refined but poor" consumerism. Amid ever-increasing living costs in China's tier-1 cities, they use all their savings to achieve their desired lifestyle.
Their values and priorities for life are also reflected online. Some of the most popular topics among Gen-Z users on short video platform Douyin (Chinese TikTok) include low-calorie diet, artisan spirit, domestic products, and minimalism. These keywords form an important part of their vision of life.
China's younger generation look for brands that reflect their identity
Their strong personal aims mean that Gen-Z has certain demands when it comes to brands. Their willingness to engage with a brand depends on whether its values and the lifestyle that it promotes align with their own. Indeed, Gen-Z wants to use products and services that reflect their personality.
Compared with the post-80s and 90s generation, Gen-Z wants more personalised consumer experiences. Rather than focusing on the functionality of products, they seek to purchase items that embellish their daily lives. Gen Z's unique observation to detail and their sense of self-satisfaction from achieving their desired life is reflected in the term "New Delicacy Lifestyle" (新精致主义).
Douyin helps connect young brands with its 600 million users
Appealing to this concept, Douyin launched a "Cutting-Edge New Release" series from 13 to 15 May in cooperation with three young brands. The platform helped the brands to create exclusive short films and special live broadcasts sessions to connect directly with their Gen-Z consumers.
PMPM encourages Gen-Z to explore the world
Emerging skincare brand PMPM is familiar to many Gen-Zers. The company's founder, Shan Shuo, has fulfilled the dreams of many in the young generation, having travelled extensively with her friends. With the motto of "explore the world and bring back skin energy", she poured her understanding of beauty, freedom, and nature into PMPM's brand identity, winning over Gen-Z consumers.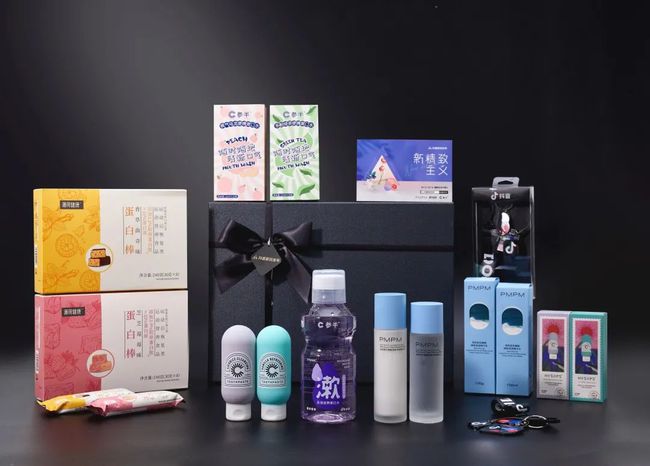 PMPM's short campaign video appeals to camping and the outdoors which are popular travel choices among China's Gen-Z. The film amplifies the dream of many young consumers to explore the world, and, by doing so, their self-identities. The video effectively developed the brand-consumer relationship with PMPM selling 20,000 of their new series face masks and 100,000 beauty brushes during the campaign.
NYSCPS urges young consumers to pay attention to detail
In contrast to the past, dental and oral management is essential to today's 'new' consumer groups and many Gen-Zers will carry portable products around with them. Oral care brand NYSCPS highlights that concentrating on small details, such as oral hygiene, can help consumers to improve their quality of life and pursue their dreams.
"Nourish the mouth like caring for the skin"

Motto of NYSCPS
Similar to PMPM, NYSCPS' brand image and the design of their products align with Gen Z's requirement for a "New Delicacy Lifestyle". The Douyin video shows a woman unlocking her potential and feeling more self-confident in the workplace by using the brand's products. The campaign resonated with consumers and the brand sold 76,000 bottles of oral care mouthwash in three days.
Mint Health's video focuses on self-care
Do people who enjoy staying at home have to be lazy and gluttonous? For many of China's young generation, being a 'homebody' requires both a sense of ritual and a disciplined lifestyle. Instead of relying on food takeaway services, they manage their figure and health through a high-value and low-calorie diet.
Nutrition management brand Mint Health promoted its one-stop body nutrition management program by showing a young man enjoying his at-home healthy lifestyle by himself, satisfying his pursuit of a "New Delicacy Lifestyle".
Livestreams featuring KOLs further boost the brands' sales
In addition to the videos, Douyin helped the three brands launch live broadcasts with shopping hosts and influencers. Douyin launched a special live event with the theme of "New Delicacy Lifestyle" featuring the platform's famous shopping host, Wang Xiaoming. Involving Key Opinion Leaders with a high following boosted the brands' exposure and increased their following.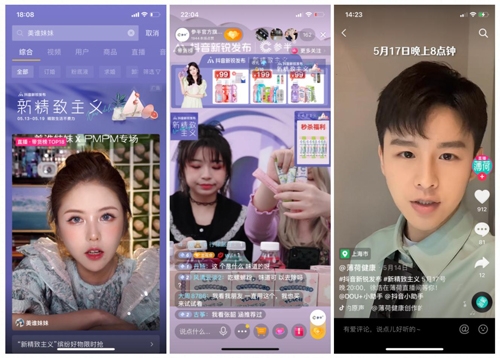 The campaign aimed to create a more intimate experience between brands and consumers, and show how "New Delicacy Lifestyle" can successfully be applied to marketing campaigns. It worked: the videos received over 130 million views and the GMV of the three brands increased significantly compared with the week before the event with sales doubling.
Douyin uses platform insights to promote young brands
Social commerce platforms, such as Douyin, enable brands to connect and relate with potential consumers through the click of a button. In the "Cutting-Edge New Release" series, Douyin has acted as a brand incubator and accelerator by using its vast 600 million strong userbase to drive the growth of young brands.
The campaign focused on analysis and insights into the psychology of the three brands' target audience and provided solutions for the "New Delicacy Lifestyle" that Gen-Z are seeking. The concept was subtly integrated into the videos, ensuring that the purchase of the product becomes part of Gen-Z's spiritual pursuit and boosting the sales of the three brands.
---
Read more: