Key takeaways:
Chinese tea brand Cha Bai Dao's collaboration with Diandi Lahai, an Internet celebrity on Douyin, faces criticism over the influencer's "ugly" look.
Diandi Lahai has become a new sought-after by global labels with his costume-changing video series that went viral, drawing in many others to follow suit.
The controversy shows the importance of the compatibility between a brand image and the characteristics of the person it engages with.
---
In China, celebrity engagement has been touch-and-go for marketers, not only because of the risk of celebrity scandals amidst the ever-growing scrutiny from the authority and the general public on the entertainment industry, but unpredictable beauty standards for brand spokespersons by savvy Gen Z consumers have also raised the bar for well-received marketing campaigns.
Finding themselves in a tight spot after collaborating with a social media influencer who is considered "ugly" by the standard of most Chinese netizens, Cha Bai Dao, a Chinese fruit tea chain is the latest brand to have slipped up on their celebrity endorsement.
The rise of the emerging Douyin sensation
The appearance of Diandi Lahai (literally means The Spicy Boy at the Bottom, his real name is Yan Hao), an Internet sensation with a total of 13 million followers on the viral short video app Douyin (Chinese TikTok) and Weibo (China's largest microblogging site), is at the centre of the controversy.
The average-looking 19-year-old debuted on Douyin in 2021 as a fashion blogger, producing costume-changing content where he replicates clothes from global labels such as Armani, Balenciaga, Dior and Louis Vuitton using his regular clothes. With the assistance of after-effect editing, Diandi Lahai makes a sharp contrast between his original look and a superstar version afterwards, helping to establish his own uniqueness, thus attracting a large viewership.
In April, he rose to become a phenomenon on Douyin with his "How to Become An International Super Model" video series, amassing over 2 million new fans in two weeks and drawing in many others to follow suit. The sensation towards Diandi Lahai continues to be fanned as the post-00s creator levelled up his output to incorporate the ongoing Guochao wave through a series of cinematic-style city promotion videos, featuring cultural heritage in China's lesser-known cities such as Dali in Yunan province, Guilin in Guangxi province and Ganzi in Sichuan province.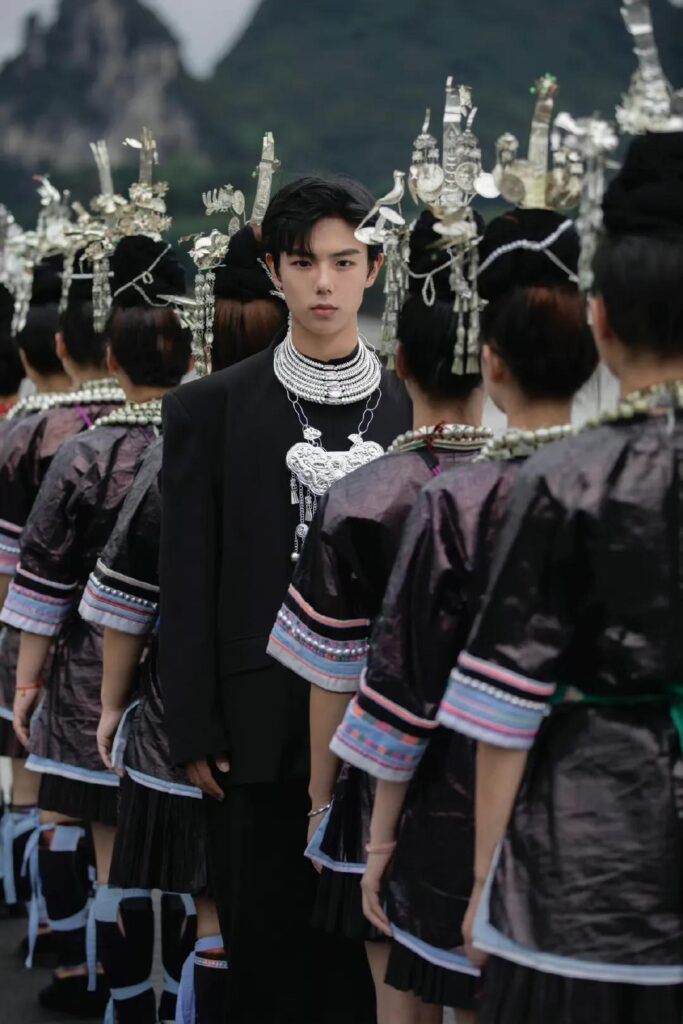 The emerging star has naturally caught brands' attention, with interests shown from industries including sportswear, watches and beverages. And Cha Bai Dao is one of those who secured a spot with this sought-after influencer. Despite timely actions and tapping into this viral Internet figure, the tea brand has seen its campaign run counter to its desire.
Run counter to the desire…
In an attempt to leverage Diandi Lahai's unique "changing costume" pattern, Cha Bai Dao unveiled two photos on 16 August, featuring two different styles: an ordinary portrait featuring the spokesperson with his iconic pineapple hairstyle that also appears in his videos, and the other is a more "handsome" version where he is in a suit that has been polished with the help of photoshop.
Complaints soon filtered in after the official announcement on Weibo, with some showing dislike of Diandi Lahai's look, saying "after looking at him, I don't even want to drink your products", and others questioning if a tea drink brand actually needs a spokesperson, suggesting a mascot could do a better job.
While some have jumped to the young man's defence, arguing that he didn't make his fame out of his look in the first place and that he does not deserve to be attacked over his appearance. Others have echoed the argument, adding the spokesperson's look is less relevant as long as the drink tastes good. With the online debate continuing to ferment, the hashtag for this collaboration has garnered over 450 million views as of 21 August.
Look beyond online traffic
Regardless of the controversy around Yan's look, the backlash faced at Cha Bai Dao, however, signals the importance of the compatibility between a brand's image and the characteristics of the person it engages with. While the "sharp contrast" concept tends to be well demonstrated with high-end brands, its attraction is dimmed when applied to products that do not have that "premium" quality, therefore, failing to create a synergy between the uniqueness of Diandi Lahai and the brand's offerings.
Meanwhile, although the strategy of the "changing look" came as "a creative initiative", it is gradually losing its appeal with the practice becoming commonplace and being imitated by more creators. No points are awarded by simply borrowing the idea for brands' campaigns without any added value.
On top of that, the cost of a celebrity campaign has also been a source of public concern, with the rate for engaging with this craved influencer seeing a 6-fold surge as of July to 600,000 RMB ($87,664) per 60-second video, compared to 100,000 RMB ($14,610) in May. And it is reported that a leaked chat history regarding a recent commercial video for a beauty brand presented by Diandi Lahai shows a fee of 900,000 RMB ($131,496).
The whopping cost, on the one hand, proves how lucrative the influencer market is. On the other hand, it worries consumers as they are the ones who will be paying the price, resulting in netizens complaining that Cha Bai Dao's decision to engage with him is "a waste of money".