Technology has changed the face of daily life and whilst traditions are sacred, many holiday periods have seen a technological upgrade. This is no different for Tomb-Sweeping Festival, China's annual ancestor worship holiday, which fell on April 7 this year. Across social media and e-commerce, this year saw the proliferation of some unique ways of honouring one's deceased loved ones. From space burials selling on Taobao, to tomb selection via livestream – the Chinese internet had it all.
COVID-19 and the rise of remote sacrifice
The digitalisation of Tomb-Sweeping Day began back in 2020 when millions of Chinese lived either in lockdowns or "closed management" communities as part of the government's zero-COVID strategy. With swathes of people unable to travel to grave sites or gather in families to honour the occasion, remote sacrifice or "cloud sacrifice" became an obvious solution for Tomb-Sweeping Day, much as remote working became the new normal for many workplaces across the globe.
Users can set up a virtual memorial hall for their deceased loved ones by logging their information on a remote sacrifice app. The platform provides a virtual grave, which users can share with family members via WeChat. Users with the link can offer virtual flowers to put by the grave, share commemorative eulogies, and post comments within the virtual memorial room.
Data from the Ministry of Civil Affairs showed a 275% year-on-year increase in the number of people logging in for remote sacrifice on Tomb-Sweeping Day in 2022, and whilst more people may have been able to travel to physical grave sites this year, provinces are continuing to hop on the wave of establishing official remote sacrifice apps. This year the government's Propaganda Department even used the remote sacrifice format for an event commemorating "heroes who sacrificed for national independence and liberation".
Space burials and a carbon neutral future
Perhaps the most surprising developments of digitalised Tomb-sweeping appeared on the e-commerce site Taobao this year and quickly went viral across multiple platforms. A company called Beijing Aerospace Wish Technology Company was selling "star burial" services under the slogan "let the memory of love roam among the cosmos". For 50,000 RMB (7,267.12 USD), the company claims it will send remains into space in a small capsule, through a mini program on WeChat customers receive updates on the space burial procedure, complete with a certificate at the end.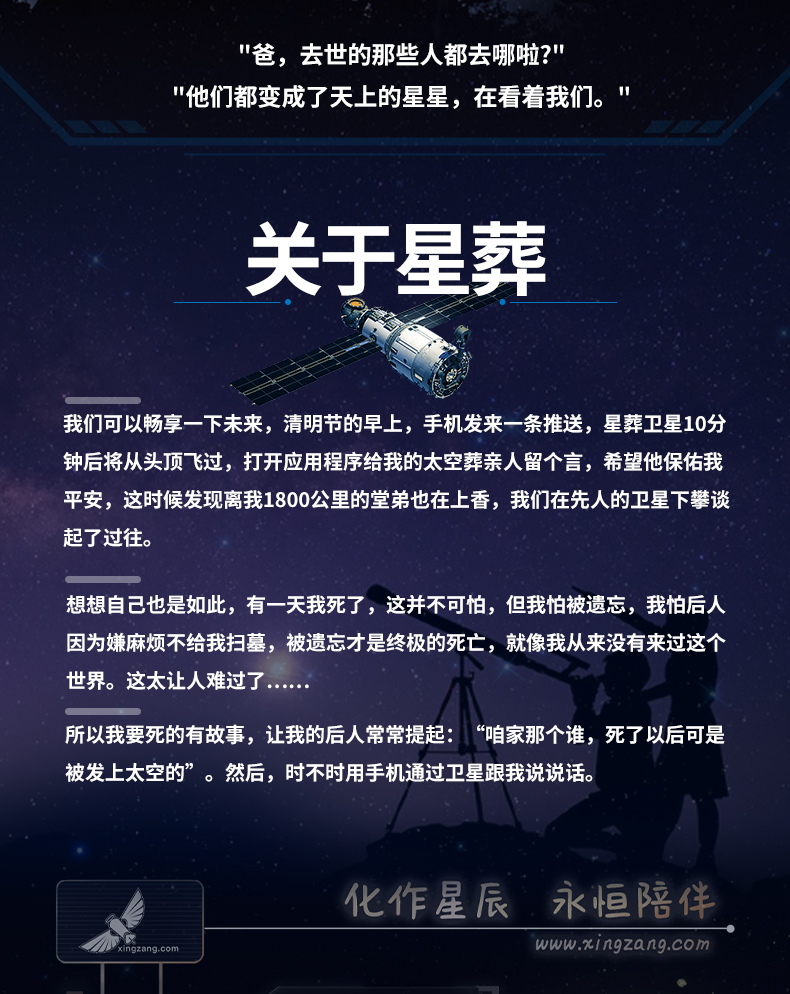 On Tomb-sweeping Day (April 5), a hashtag discussing the space burial product amassed 17 million views on microblogging site Weibo. Commenters expressed amusement over the extensive scope of products offered on Taobao and said it was as though science fiction had come true. One user even joked, "when you go to sweep the grave, you have to take a rocket!".
Whilst the product drew mainly sarcastic responses among netizens, the innovation was given credence by China's Ministry of Civil Affairs, a government body under the State Council. Ahead of this year's Tomb-Sweeping Day, the Ministry shared an article on "Future directions of carbon neutrality in the funeral industry" which details the pros and cons of the technology.
The Ministry views it as a step in the right direction but expressed reservations about the high price and proper implementation of space burials. Beyond the prohibitive pricing, whether Chinese can draw the same emotional resonance from a space burial remains to be seen.
The changing meaning of Tomb-Sweeping
This year many simply gathered on social media to post reflections on grief and memory. One content creator found a surprising way to spark discussion about death. Classmate Xiaogang (who has 500,000 followers on Xiaohongshu) staged a "funeral" for himself, imagining he was leaving Earth forever in a cardboard rocket, which he invited strangers, acquaintance and friends to scribble farewell messages on. Everyone gathered to see him off as he climbed into his cardboard coffin/rocket, giving eulogies and laying roses solemnly. Though it was all just a performance, it elicited genuine emotion from the friends involved in the video and from Xiaohongshu viewers.
In a society relatively freshly returned to post-COVID normality, death and loss still loom large in the minds of ordinary people. It is this collective processing of grief that is maybe most striking of all in the digitalisation of Tomb-sweeping Day. More than before, honouring the past goes beyond family ties and physical grave sites, and has seeped deeper into the daily lives of Chinese young and old as people find new ways to heal together.