You should know this small town in Southern China if you care about Christmas.
Many countries claim Santa Claus as theirs, but today you really should know the truth, that your Santa comes from China, along with his presents. More specifically, Yi Wu, a small town in Zhejiang Province, southern China, as 80% of all the Christmas gifts were made there in 2019.
From the iconic Christmas decorations to Santa dolls, and artificial pine trees that generated sales of nearly 2 billion RMB ($312.9 million). Even when the world is still in the midst of the pandemic, this little county has seen 60% of the global Christmas orders this year, showing just how large a part of the market this town holds.
Before its Christmas-related economy, Yi Wu was a poverty-stricken county that greatly relied on agriculture in the 70s with the biggest concern for locals being low soil fertility and a lack of fertilisers.
With the worry arising from fertilisers came the famous story of people exchanging sugar with chicken feathers, the locals discovered that chicken feathers could be processed into fertiliser. In addition, these feathers can be made into other scarce products of greater value, such as feather dusters or kicking shuttlecocks – a popular sport amongst Chinese people.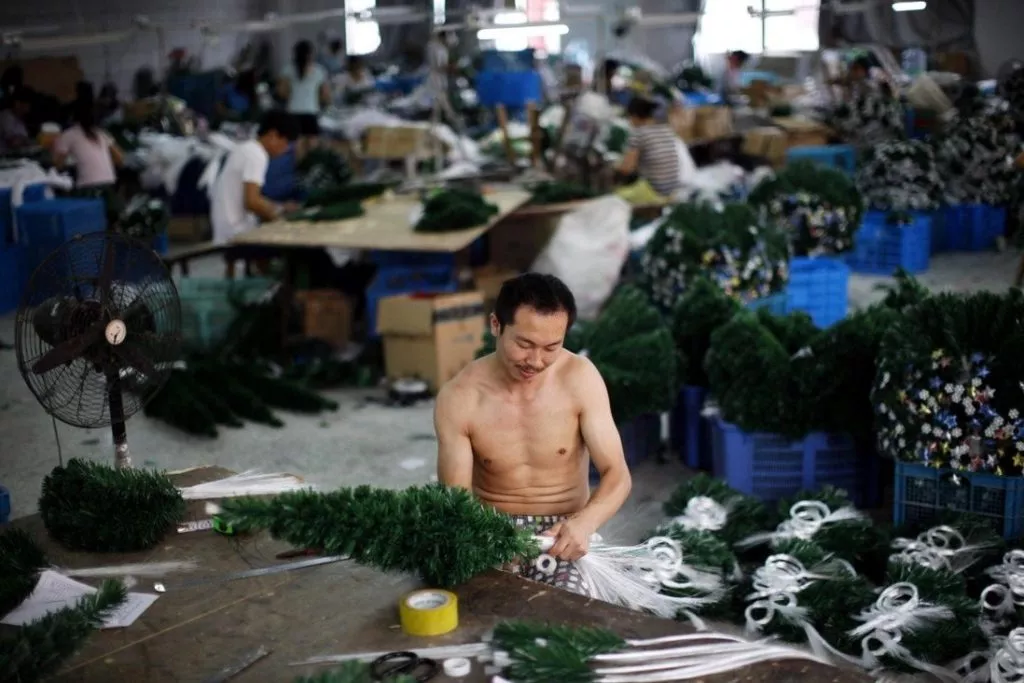 Those with a business mind started to trade daily necessities, like red sugar or needles, with feathers and turn them into something that could sell at a good price. This was especially true as many households raised chickens at home and treated the feathers as waste, allowing for a big markup on any products they made. Since then, the seeds of producing and trading were planted, which finally turned Yiwu into a major cog in world trade and its modern version ­– e-commerce.
Unfortunately, Santa might not make it to your home this year.
Due to global supply chain issues, there is a big concern in Yiwu as, "Many of our Christmas products are piled up in the factory yard as they cannot be shipped out" said the chairman of a toy manufacturer in China. If those products don't get shipped, Santa may not be able to visit your home this year.
Since the pandemic, the container turnover of ports worldwide has dropped due to change in cargo demand, shipping disruption, and even worker strikes. As a result, the freight rates rocket, between China and the US has meant the shipping price has increased by 4-5 times the price of around $3,000 per container last August to $12-15,000.
Millions of Christmas trees are lying in factories in China, waiting to start their merry journey. Christmas shops are waiting, the manufacturers are also waiting for the price to come down, creating a standstill in every step of the festive supply chain. It is not an easy time for many Chinese companies, in order to deal with the current shortage of shipping containers they have had to spend 2 million RMB ($313,365) renting a 10,000-square-meter warehouse for stacking Christmas trees in the meantime.
Nearly 70 per cent of all the countries around the world are now experiencing supply chain disruptions, according to Huang Junqiao, an official in the Yiwu Chamber of Commerce. Last year, many businesses missed the Christmas shopping spree because of the pandemic rules; this year, they placed orders 2 to 3 months earlier.
While some were delivered earlier than in previous years, others are still waiting in the warehouse due to the shortage of containers and high freight rates. Your Santa Claus, perhaps, is still lying in the backyard of a Chinese factory.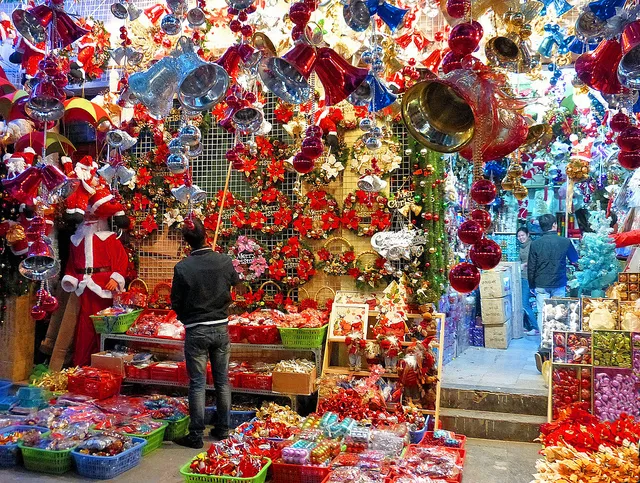 Why exactly are so many things Made in China?
A large number of low-wage workers is often the answer you get, but it's not just that.
Over the past few decades, China has developed a business ecosystem of suppliers, manufacturers, and distributors that make the whole production process efficient and cost-effective. For example, Shenzhen, a city that neighbours Hong Kong on its south, has developed into China's buzzing high-tech hub. It has developed an efficient supply chain to support manufacturing, including manufacturers, low-cost workers, skilled workers, assembly suppliers, and customers.
In addition to this, manufacturers in China also operate in a more relaxed regulatory environment. For example, environmental protection laws are often ignored, enabling Chinese factories to reduce waste management costs, in turn increasing the profits made from the products.
Nevertheless, things are changing. A factory that once had 500 workers now has only a few dozen, due to wholesale changes in China's work landscape over the last 50 years.
The head of a Chinese manufacturing company said that "young people don't want to work in factories now, labours cost is going up." China is also tightening regulations in terms of environmental protection, starting from reducing the electricity use and carbon footprint generated by factories and enterprises, meaning this market is losing some of its major selling points.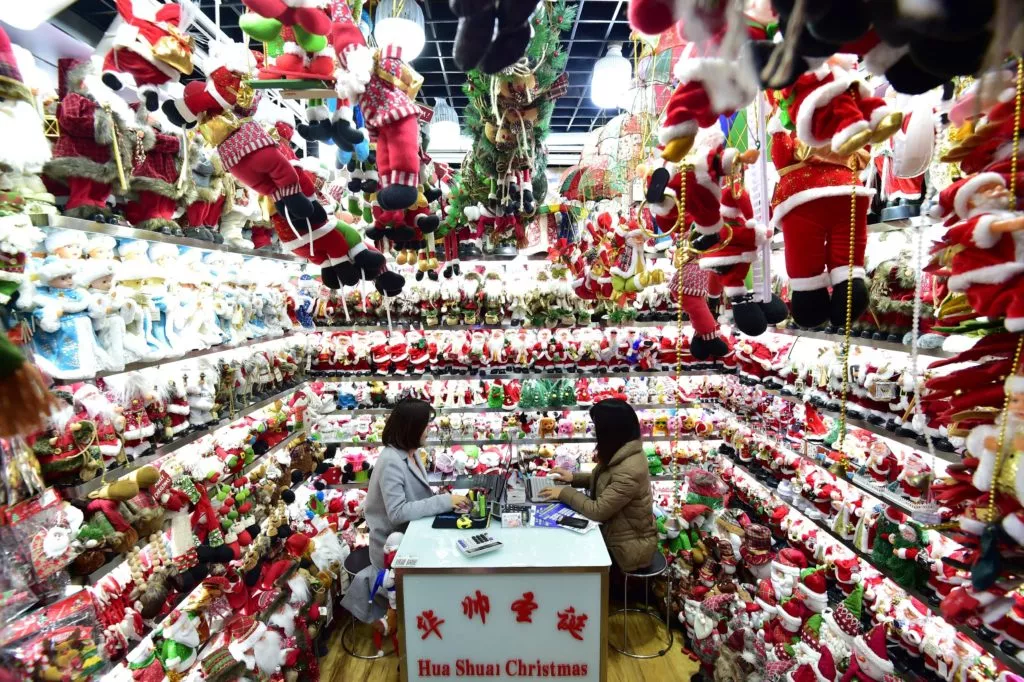 Yiwu has begun to think about business transformation – from low-end to high-quality. Many businesses in Yiwu have set up R&D teams and started to design Christmas products for next year. They have also been introducing advanced materials and technology to their production process, for instance, more products now adopt environmentally friendly materials such as wood, cloth, iron, and even upmarket acrylic materials, and use the European Union or Japanese standards.
As a developing country, China has seen unprecedented fast development over the past four decades. Having gone through the very early stage of its economic development, China moves on with more emphasis on self-reliant technological innovation, skilled labour force, and high-end manufacturing, embracing the promising future of this world's second-largest economy.
By becoming more in line with international trade practices and innovating new products all the time, China is primed to make their next economic step to a far brighter future, even if they are already a leading light internationally.
Read more: