Ultimate frisbee has taken off in China as the latest trendy sport and fashion fad, especially in first-tier cities. Literally translated into Chinese as jíxiàn fēipán 极限飞盘, ultimate frisbee was invented in the 1960s and introduced to first-tier cities by American expats in the late 1990s. The past year has seen a boom in popularity as influencers spread the word of this trendy lifestyle on social media apps like Weibo and Xiaohongshu.
Searches related to flying discs grew 17 times in volume from 2021 to 2022 on Xiaohongshu, where the sport has garnered more than 42 million views. Similarly, on Weibo, the hashtag #UltimateFrisbee has also been viewed over four million times. According to the "Top Ten Life Trends in 2022" released by Xiaohongshu, frisbee-related content on social media platforms increased by 6 times year on year. In 2021 alone, there were about 500,000 players participating in the flying disc sport across the country. This year, the number is likely to increase exponentially.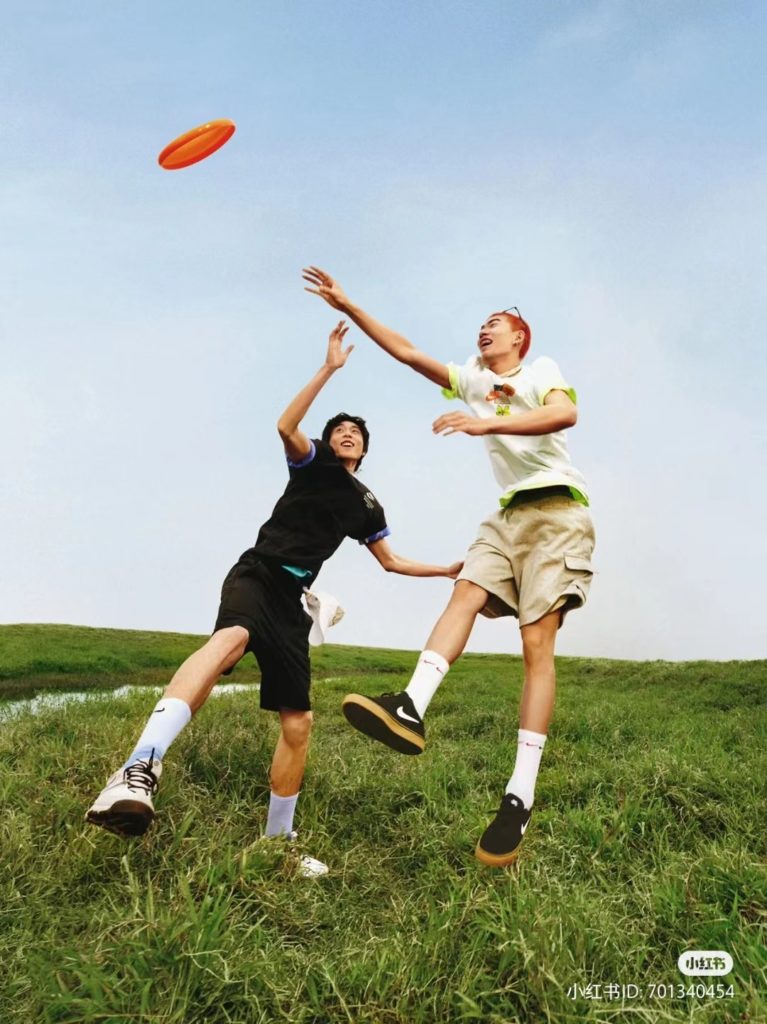 The trend has garnered so much attention that on July 7, the General Administration of Sports of China issued a notice that they will launch the first China Frisbee League in August 2022. This, coupled with the fact that the game may be considered as an Olympic sport in the Los Angeles 2028 Olympics Games, is even more encouraging for Ultimate lovers across China.
Frisbee has really caught on as a way of socialising and as a sport. With such a low barrier to entry in terms of fitness, even those who rarely exercise are diving into the trend. Many frisbee players said that after playing once, most of those who are willing to stay are attracted by the unique "inclusiveness" of the sport. Not only is the sport easy to take up, but it is quite affordable as well. All it takes is a tracksuit, a pair of running shoes, a pair of gloves, a frisbee and the sky's the limit.
In most countries, frisbee apparel is quite plain, consisting of a simple jersey and running shorts, topped with gloves and other necessary gear. In China, however, the ultimate frisbee fashion fad has taken frisbee apparel to a whole new level since influencers leaned into the sport post-pandemic. With the desire to come off as fashionable and as on-trend as possible, a large portion of women shows up to the field sporting colour-coordinated items such as biker shorts, tennis skirts, and sun visors to "keep up with the zones".
Activewear brands both international and homegrown alike have quickly caught on to the trend. Outdoor clothing brand Patagonia paired up with Niko to host a DIY up-cycle workshop in which participants transformed old clothes into cool frisbee bags by hand. On Xiaohongshu, world-renowned sportswear brand Nike incorporated frisbee into advertisements to showcase their latest apparel.
The trend has become so widespread that even China's virtual influencer Ayayi joined in on the fun, further reflecting the sport's popularity among Gen Z. In her Xiaohongshu post, the "meta-human" KOL sported a pair of trendy biker shorts along with soccer cleats.
Overall, the opportunity is currently ripe for activewear and wellness brands to hop on the growing popularity of ultimate frisbee in China. With post-pandemic conditions lifting up in the peak of summer and the virality of the trend, more people are bound to join the frisbee "high life".
Join our newsletter