Tmall, Alibaba's e-commerce arm, has introduced a 3D snow party in the metaverse, allowing consumers to embrace the latest winter fashion trends from global luxury brands, through easy access on the Tmall mobile app.
The snow party scene is composed of surrealist glass architecture, allowing users to choose from up to 6 digital avatars as well as interact with friends through taking selfies, chatting and exchanging emojis. On top of other features such as attending virtual exhibitions, 3D shopping, 360-degree product browsing, and AR and VR try-on, netizens commented that they felt like they were clubbing in the metaverse.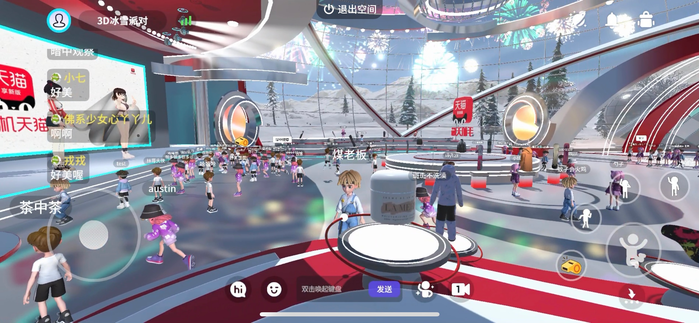 According to the spokesperson for Tmall, this 3D winter wonderland specialises in enhancing the online shopping experience for winter outdoor adventurers. And Tmall has leveraged the cutting-edge technology in all aspects of their services to change the way Chinese consumers shop, helping international luxury brands connect with China's shoppers digitally.
During this year's Double 11, also known as China's annual e-commerce phenomenon, Tmall deployed immersive technology with the launch of a virtual human designer named "Sinki", inviting customers to experience shopping in a brand new way. This resulted in a double-digit increase year-on-year in the total number of luxury products sales with 3D and AR features, and time consumers spent on browsing products also doubled, according to data shared by Tmall.
Additionally, luxury brands and museums such as Burberry and Gansu Provincial Museum teamed up with Tmall to venture into the 3D online shopping sphere. Adidas the largest sportswear manufacturer in Europe, launched a 3D World Cup exhibition on Tmall's mobile app for football lovers to purchase sports-related items while showcasing 14 official balls used in previous World Cups since 1970 with the help of 3D technology.
Behind all these moves of introducing a whole new meta experience, Tmall is aware of how digitally savvy Chinese consumers are and how fast they're able to cope with new technologies. The company disclosed a development plan for the next 5 years that will encompass gaming, shopping, and browsing all into one e-commerce experience while building up critical capabilities to drive user growth.
Join our newsletter