Alongside the launch of the 3D virtual shopping complexes to make 3D online shopping the new normal, Alibaba's e-commerce arm Tmall has also upgraded its product launch platform HeyBox into a digital curation powerhouse for brands' new releases in the run-up to the grand finale of China's annual e-commerce phenomenon Double 11.
Three brands including luxury label Burberry, American coffee chain Blue Bottle and British luxury mobile-phone manufacturer Vertu were the first cohort to set foot in the new space known as HEYSPACE. Tapping into the hyped concept of the metaverse, the digital expanse enables an immersive and interactive exhibition visiting experience with 720-degree vision.
Consumers can shuttle in between the three brands' skyscrapers in a futuristic universe using a spaceship-like flying machine. Products are presented in a 360-degree customer view and digital transactions can also be made in the virtual realm, therefore, realising a fully multi-dimensional purchase journey.
While Burberry unveiled its latest fragrance including the men's perfume line Hero and recreated its recent Chengdu pop-up event alongside games like lucky draws, Blue Bottle Coffee, provided a cloud tour of its first store in Shanghai, which generated buzz amongst locals during its opening in February.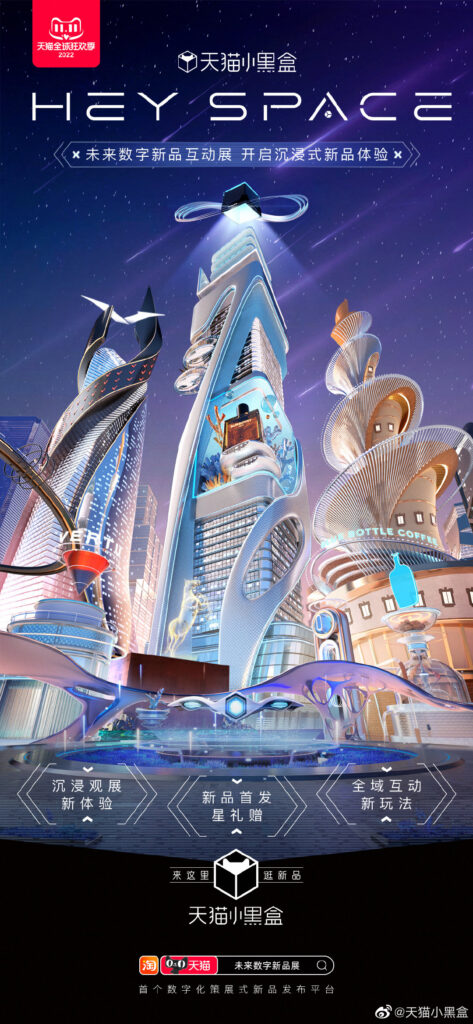 By digitalising the physical outlet, Blue Bottle is able to bring the brand's first footprint in the country to the wider public, further boosting the brand's recognition as a result. Meanwhile, to flavour the virtual visit, it also debuts the exclusive Ethiopian Single Origin coffee, streaming online tutorials of handmade coffee in the virtual space, enhancing the brand's engagement with its target audience.
Boosting the cutting-edge technological ambiance is Vertu, who presented the first-ever luxury Web3 smartphone that recently had its global launch in October in London, while the release event can also be watched in the new digital showcase room. This is a timely move, jumping on the world's largest online shopping spectacular bandwagon and leveraging the platform's ecosystem which is highly compatible with its new offerings, therefore, enabling a more effective market penetration.
Join our newsletter