As Double 11 turns 13, this year's event ushers in an era of 3D with Chinese e-commerce giant Tmall officially launching three-dimensional virtual complexes amid the presale festivities of the world's largest online shopping extravaganza and in the run-up to the grand finale on 11 November.
Immersive digital experiences are accessible without the need for external equipment such as VR/AR headsets or goggles. This applies not only to online shopping and virtual try-ons but also to virtual exhibitions, camping, and watching TV dramas and is set to become the "new normal" in the upgraded Tmall mobile app.
360-degree vision has also been made available to provide consumers with product details for watches and jewellery, camping tents, and home appliances. Users can preview items in real-life scenarios in the digital environment, a feature afforded by the platform's technological advancements.
The multidimensional space can be accessed through Tmall's homepage and users can virtually tour brands' conceptual storefronts, visit designer-toy retailers and experience the fantasy of Love Between Fairy and Devil, an ancient Chinese romance fantasy series that has gained steam amongst China's Gen Z drama fans since airing in August. Therefore, leveraging the enthusiasm for the hit drama to boost the platform's appeal to its target consumers.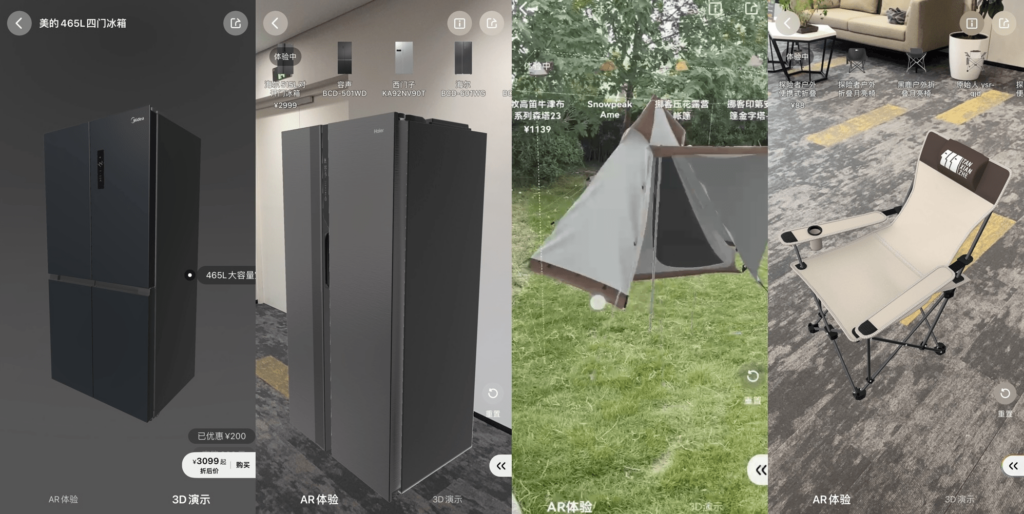 To keep consumers entertained throughout their online visit, the digital space incorporates outdoor scenarios so users can experience activities such as glamping in "natural landscapes" ranging from forests to snow mountains and islands. Equipment is available in various styles provided by different brands which can either be installed or removed. Users can also switch between different scenarios in just one click, tapping into the nation's continued campaign fever while enabling a more interactive shopping experience.
Adding to the digital endeavour is the "Treasure Pavilion", a space displaying brands' new drops and where visitors can play around with smart products backed by cutting-edge technologies. Users can trial drive Xpeng's flying car, which just made its public debut flying in Dubai in October, or play with the robot dog developed by Chinese robotics start-up Unitree. In addition, a digital collectibles zone has been set up, presenting a total of 50 virtual artworks including cartoon figures through to cyberpunk headsets and cultural relics, maximising the synergy between various subcultures and the digital collectible hype.
Join our newsletter