The classic American sportswear brand Champion collaborated with Chinese artist Chi Lei for its latest range for the Chinese market.
Champion announced the official launch of the Champion x Chi Lei City Limited Series on the microblogging site Weibo on March 24, teasing images of the new products inspired by Beijing, Shanghai, and Chengdu. The range features t-shirts, trainers, and bags in electric colours with artwork by Chi Lei, who has a reputation in China as one of the most controversial artists from the post-80s generation. The accompanying hashtag on the platform "Champion x Lei Chi City Exclusive Series" garnered 200,000 views on the site, with some netizens commenting that the range looked "innovative" and "trendy".
For the collaboration with Champion, Chi Lei created a character for each of the three cities in his own signature pop art-infused style. These characters, which resemble 3D metallic cartoon robots, feature on the exclusive t-shirts released as part of the range as well as the promotional material for the campaign. Each character was designed with a different city in mind – one has Shanghai's Oriental Pearl Tower sprouting from its head, another has antlers reminiscent of a Beijing Opera headdress, and a third has panda ears inspired by Chengdu's panda population.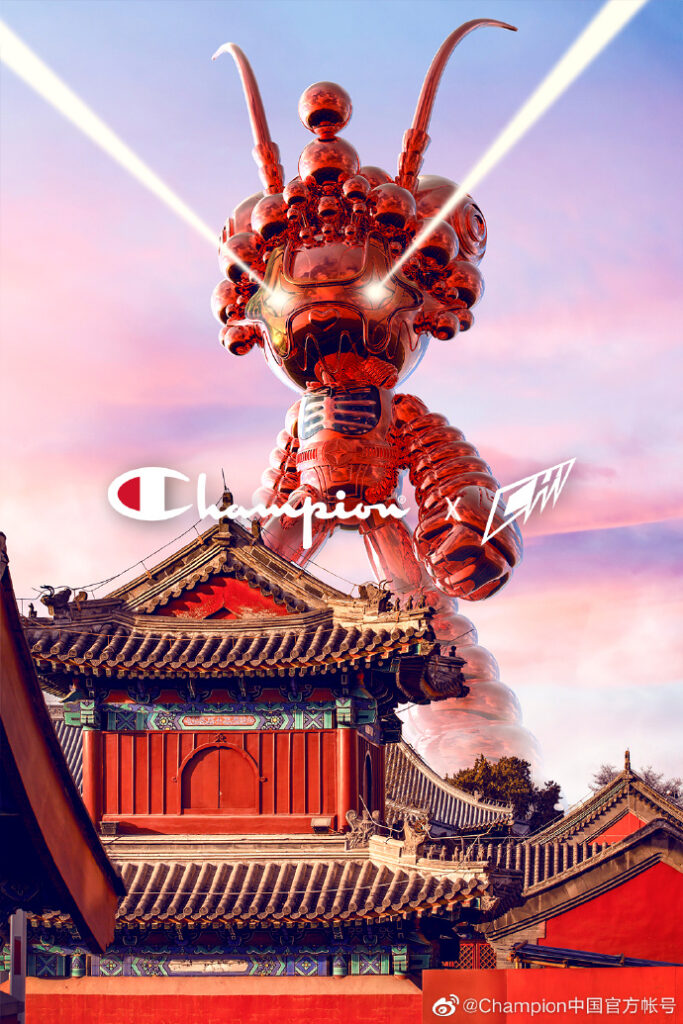 As the originator of the hooded sweatshirt, Champion is perfectly positioned to take advantage of "American Retro-core", a trend that has been charming China's Gen Z over the past year. The popular aesthetic, which is built around schoolgirl chic (à la Clueless) or vintage sporty looks, has garnered over 2 million posts on the lifestyle-sharing app Xiaohongshu. One of the platform's most liked posts demonstrating how to dress for the aesthetic features a pair of Champion white trainers.
Champion has certainly been leaning into this trend. Recent campaign photoshoots feature autumnal colours and school backdrops, drawing on the brand's classic roots to give the products a more nostalgic quality. Champion went even more retro for their Valentine's Day campaign, which was themed around a throwback 80s-style high school prom. The collaboration with Chi Lei is a break from this tradition but gives the brand room to evolve with the waxing and waning of classic sportswear fever.
Join our newsletter