On 29 December 2022, Maybelline, an American multinational cosmetics company, launched a series of campaigns in collaboration with Namito, a wide-eyed, bunny-eared rabbit image, to pay tribute to this year's Chinese Lunar New Year.
Namito is created by Chinese-French artist Lune Zhang, which represents the spirit of striving for freedom and happiness, and is in perfect alignment with Maybelline's brand tone of voice and characteristics of the younger generation. As for the yearly exclusive makeup products, the cosmetics company has created three items that embody the wishes of the rabbit year, including a primer, an eyeliner and a lipstick.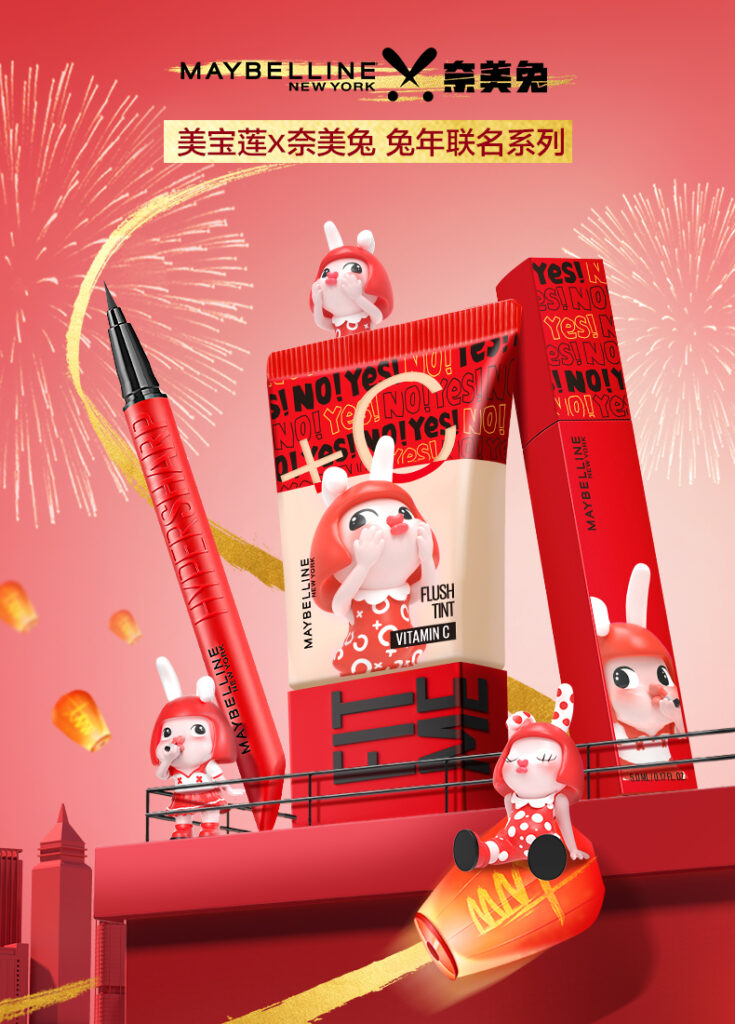 A giant Namito sculpture has been launched in Raffles City, Shanghai, which is a commercial building located at the heart of the city, an ideal place for fashion lovers and full of trendy retail stores. A series of innovative "missing rabbit" leaflets have been shared to garner consumer interest and encourage them to participate in the offline events.
For example, in the makeup activity section, customers are encouraged to post selfies with the Namito sculpture on social media platforms to win a complete set of limited-edition makeup products.
Paired with the offline promotions, Maybelline also revealed a 3D Namito-themed animation film online targeting Gen Z, documenting the journey of Namito's venture from New York to Shanghai as a city explorer.
By combining art and makeup through different social dimensions, Maybelline increased its online traffic and goods sales as planned, successfully building up the Online-to-Offline (O2O) commerce scene, which is a business strategy designed to bring potential customers from online channels to physical stores in order to complete purchases.
In this New Year campaign, Maybelline has merged separate elements like Chinese zodiacs, artwork, beauty items, social media platforms, an animation film and O2O commerce holistically, generating entertainment marketing in one go.
By implementing these tactics, the cosmetics player has not only created buzz-worthy social awareness to resonate with the younger generation but also in turn monetised that interest during the most important festival on the Chinese calendar.
Join our newsletter