As Chengdu solidifies its position as one of China's luxury capitals, South Korean luxury eyewear brand GENTLE MONSTER has unveiled a new flagship store to cash in on the vibrancy of this New First-tier City.
GENTLE MONSTER'S founder and CEO Hankook Kim has said he wants his stores to feel like art galleries. The new outlet housed within Sino-Ocean Taikoo Li, one of Chengdu's leading luxury developments, takes this one step further.
The store's aesthetic is avant-garde natural history museum meets billionaire's lair, with a huge animal skull and life-size animatronic buffalos setting off the imposing ultramarine carpeted floors. The "mysterious atmosphere" is clearly carefully curated, with the brand's official Weibo account describing it as an "intense confrontation between living beings".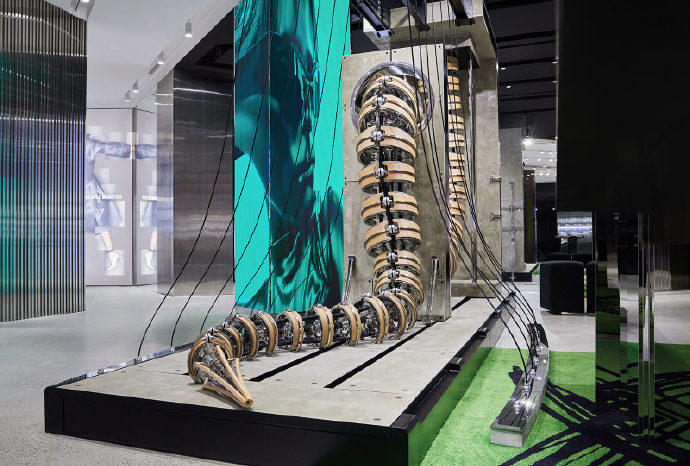 Taikoo Li has become a symbol of Chengdu's rise as one of the most culturally rich and commercially exciting cities in China. The GENTLE MONSTER opening is the latest in a succession of major luxury landmarks for the shopping centre, following on from Balenciaga's global flagship store and Louis Vuitton's third mainland China store which both opened in 2022.
GENTLE MONSTER owes its rise in part to the runaway success of K-pop, with the brand consistently leveraging collabs with stars of the industry. Continuing this successful formula, GENTLE MONSTER recently teamed up with Chinese pop idol Cai Xukun for an exclusive special agent-themed sunglasses collection.
To accompany the launch, the brand also dropped a game embedded in the WeChat mini program in which players could accept secret missions playing as Cai Xukun. For the three weeks following the launch, the top 10 ranking players each week received a secret agent package that included four pieces from the collab with Cai Xukun.
Join our newsletter