On October 25, the 2022 Tmall Double 11 pre-sale officially kicked off, ushering in hundreds of Taobao livestreaming hosts and channels. Among them, China's top livestreamers Li Jiaqi and Luo Yonghao averaged more than 10 million views.
Chinese entrepreneur and internet celebrity Luo Yonghao set up his Double 11 live broadcast around noon. Within two hours, the number of viewers climbed to 10 million, and sold a total of 210 million RMB ($28.8 million) worth of products. Over 156 products were reported to have been launched, which covered digital home appliances, sportswear, and tech gadgets.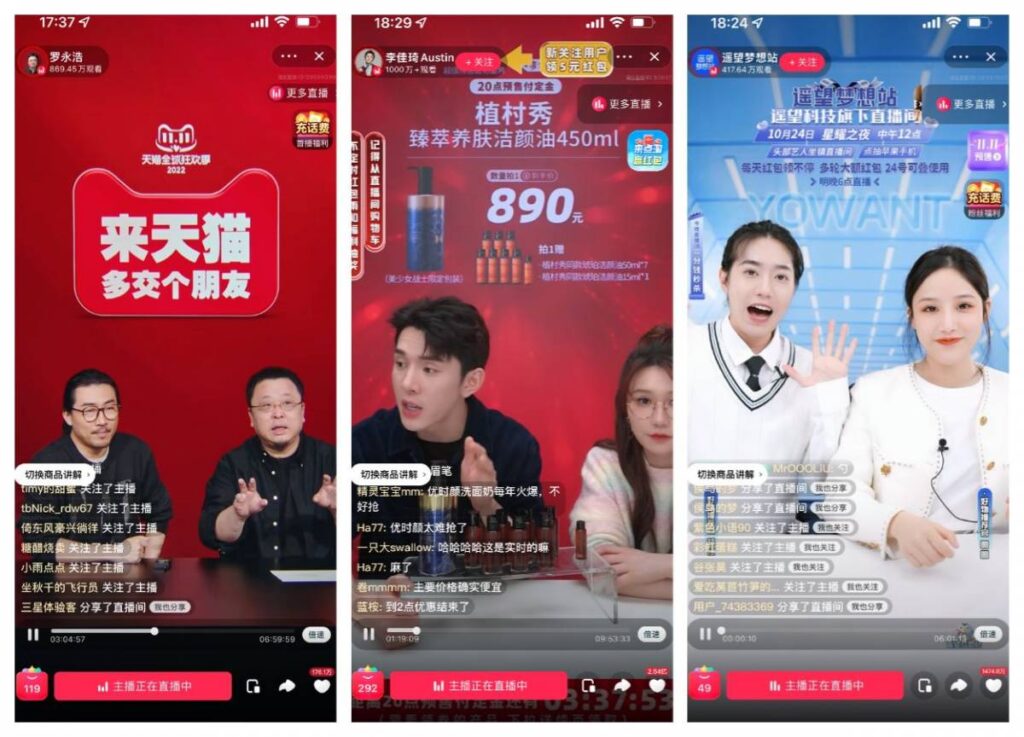 In the afternoon, 'Lipstick King' Li Jiaqi started his livestream ahead of the pre-sale, reeling in more than 5 million views within the first 22 minutes. At the 43rd-minute mark, the livestream had already doubled to 10 million views, reaching the maximum number displayed on Taobao's Live Viewing Data page. By the end of the livestream, Li Jiaqi's broadcast topped at a staggering 460 million views. Over the course of the nine-hour livestream, Li Jiaqi marketed a total of 291 products, including beauty products such as L'Oreal and Estee Lauder.
Later, in response to media rumors that Li Jiaqi's livestream reached a GMV figure of 21.5 billion RMB ($2.9 billion), Li's studio staff said, "The data is untrue and has no relevant basis. We have sent a lawyer's letter to the relevant media."
Despite the false information spread online, Tmall's Double 11 data shows that its pre-sale launch achieved explosive growth compared to 2021. According to Tmall figures, 130 livestreaming channels generated over 10 million RMB ($1.37 million) within four hours of the launch. In addition, the platform recorded 684% year-on-year growth in pre-sale volumes generated by new livestreaming hosts.
"Live streaming has become a storytelling format for delivering product information. Consumers are getting used to longing for a particular product through content consumption," said Chui Xue, President of the Industry Development and Operation Center of digital marketplaces Taobao and Tmall, during a press conference to mark the start of pre-sales.
Join our newsletter