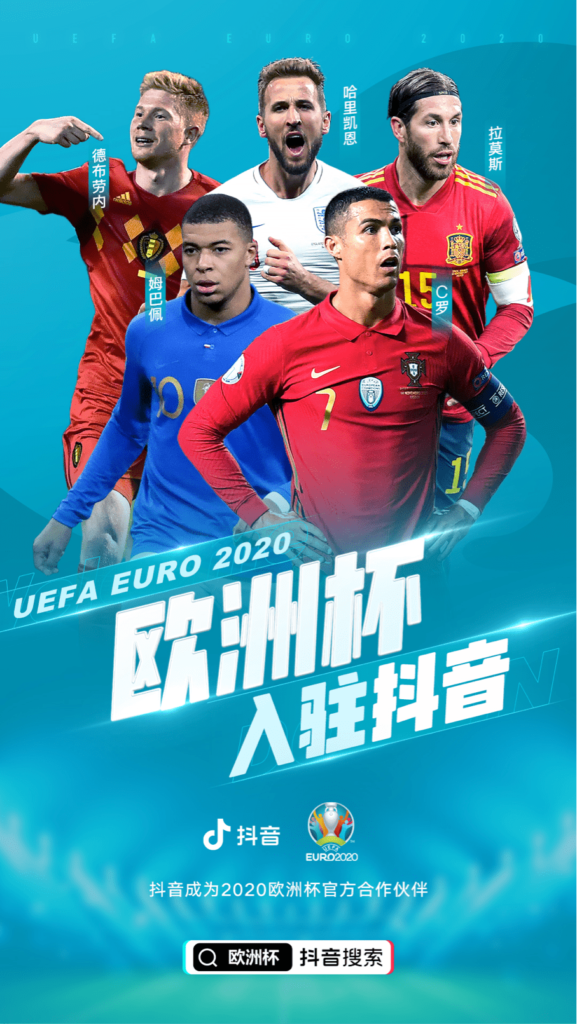 With just 100 days to go, short-form video platform Douyin announced that it will be the official partner of the EURO 2020 today (March 4). Following the announcement, the Union of European Football Associations (UEFA) opened its official Douyin account "UEFA European Cup", in order to share matches with its Chinese fans.
Despite being held in 2021, the European Cup is retaining the title EURO 2020 following last year's postponement due to COVID-19. Originally scheduled for 12 June to 12 July 2020, it will now take place June 11 to July 11 this year. The event will be held in twelve European cities for the first time to commemorate its 60th anniversary.
As the official partner of the tournament, Douyin will launch challenges related to the topic and produce exclusive augmented reality (AR) content. UEFA will also share the latest team developments, exclusive behind-the-scenes content, and videos of the current and previous European Cups on its Douyin account.
The number of Chinese football fans is rising and many clubs are expanding their presence in the China market as demand for viewership and merchandise grows. The announcement last week that global sports retailer Fanatics is planning to launch in China is a testament to this.
The top five European leagues (Premier League, La Liga, French Ligue, Bundesliga, Serie A) have Douyin accounts, as well as other top-ranking competitions and clubs. Chinese fans can interact with clubs, such as FC Barcelona, ​​Real Madrid, Bayern, and Manchester United, as well as famous players, including Beckham, Neymar, Muller and Lewandowski. It's not just Douyin: footballers and clubs have a presence on a range of Chinese social media platforms. In November, Cristiano Ronaldo opened an account on Douyin-rival Kuaishou.
Douyin is China's TikTok counterpart and is owned by tech giant ByteDance. As of October 2020, the number of sports-related content creators on Douyin reached 98 million. Over 600 million videos had been shared featuring sports activities which had over 2 trillion views in total.
Read more:
Join our newsletter