Chinese sportswear giant Anta announced the opening of the brand's first concept store in China in the capital city of Beijing on 2 September. Situated in Heshenghui, a shopping complex in Chaoyang district, the storefront has adopted the concept of SNEAKER VERSE and blends trendy sports with mechanical styles.
Such a concept is delivered through a colour scheme combining black and grey, technological elements such as robotic arms and 3D hollow three-dimensional models, which gives sneaker enthusiasts the feeling of stepping into a space reminiscent of electronic technology products.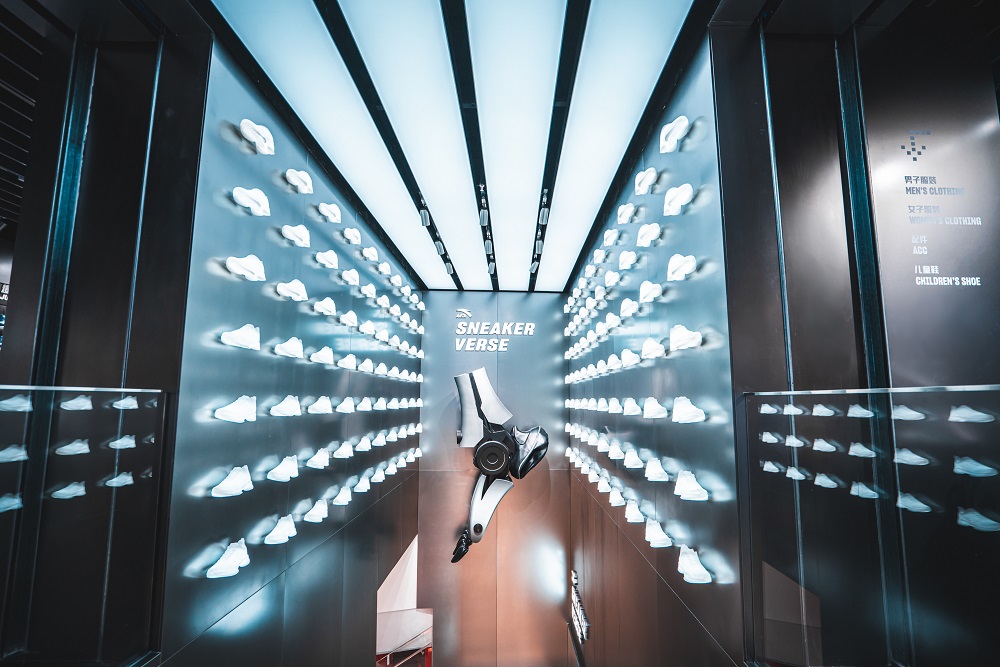 By creating a space with a strong sense of futuristic ambiance, it shows the brand's intention of enticing the young generations of consumers with cutting-edge technologies. Adding to the appeal are products carrying Anta's latest technology and designs such as the C202 series and Shock Wave 5 Pro, which is a new collaboration between Anta and the basketball sensation Kyrie Irving.
The opening closely followed the release of its "record-high revenue" of 29.65 billion RMB (4.07 billion USD) in the first half of 2023, beating global label Nike and exceeding the combined total semi-annual revenue of its Chinese rival Li-Ning and Adidas.
A series of special offers were also scheduled between 25 August and 3 September, including the product launch of the KT9 label (a collaborative product with another basketball icon Klay Thompson). This coincided with the inauguration of the SHOOTER11 Bootcamp in Shanghai, which is Thompson and his teammate Kevon Looney's third stop of their Anta Summer Tour in Asia.
The basketball training camp was initiated by Anta and Thompson, aiming to become an incubator of future skilled basketball players. With basketball lovers being thrilled by in-person coaching from the basketball legend, the brand intended to extend the buzz to the new store by installing a life-sized cartoon replica of Thompson, which turned into a photoshoot hotspot for visitors.
Join our newsletter