China's online education market has been booming for several years as the country's hyperconnected children spend more time than ever in front of laptops, smartphones and TVs. The COVID-19 pandemic accelerated the growth of the industry as schools and universities shut their doors and students were forced to move online. As a result, iiMedia Research predicted that the value of China's online education market would exceed 450 billion RMB by the end of 2020.
Alibaba's DingTalk became widely used by schools across the country as educators had to adapt to wholly online learning and was used by 130 million students during China's outbreak. However, DingTalk wasn't the only platform to see a growth in users. A number of new digital education platforms popped up and expanded due to the demand among schools, parents and the those looking to develop new skills while in lockdown.
China's $15.5 billion tutoring app
Founded in 2012, Yuanfudao 猿辅导 is a homework tutoring app which became the most valuable education technology company in the world after valuing at $15.5 billion in October and raising $2.2 billion from investors. The company's name Yuanfudao literally means "apes tutoring" to reflect the idea that learning is an evolutionary process, as with human beings' transition from apes. The company's homework and live tutoring services have enabled it to build up a userbase of 400 million in China (currently they focus only on the domestic market and don't have plans to expand globally).
"Better Teacher, Better Future"

Yuanfudao's slogan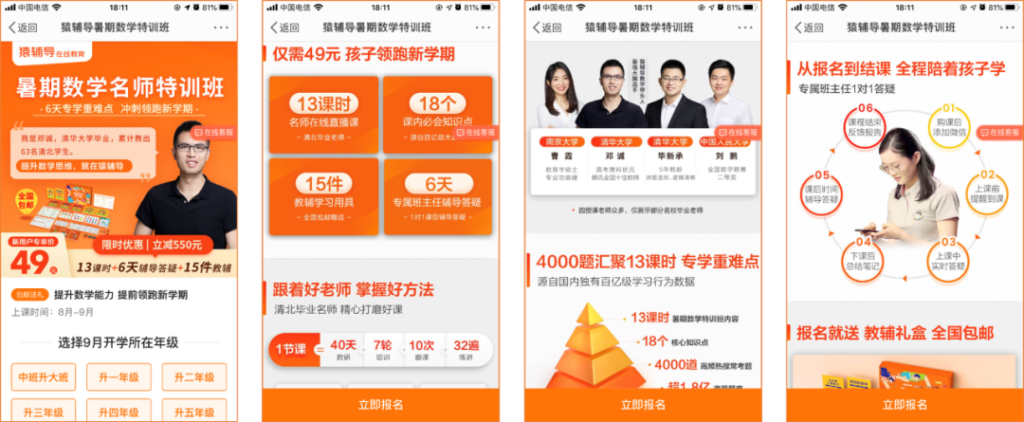 Yuanfudao's AI-based education services
Yuanfudao is home to a vast range of products and services based around the national curriculum for students in primary, secondary and high schools. It offers banks of exam questions, online classes and tutoring with experienced teachers, AI language courses and oral arithmetic tests.
The platform has gained standing due to its incorporation of advanced technologies which help to mirror a physical class environment while also bringing unique features which are exclusive to online learning. These include voice and handwriting recognition; smart picture search; intelligent correction of English composition; and a poetry assistant tool.
Yuanfudao's focus on putting technology at the heart of learning led to it setting up an AI Research Institute and Technology Laboratory in partnership with Tsinghua University, Beijing University, the Chinese Academy of Sciences and Microsoft in 2014. Data and research compiled by the Institute help inform Yuanfudao's online education services and curriculum content.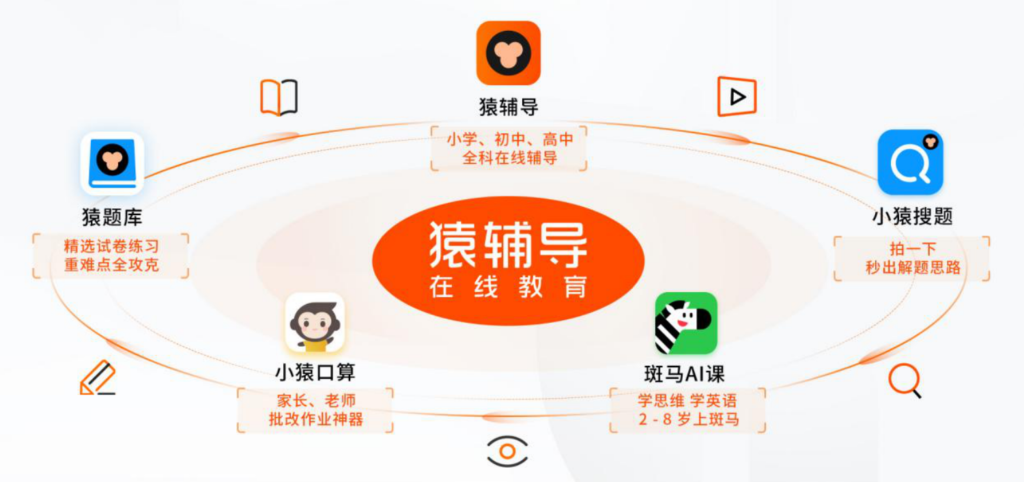 As a result, Yuanfudao has obtained a number of awards and titles:
In 2012, it became the first unicorn company in China's K12 online education industry
It featured on the Forbes "China's Most Innovative Companies List" in 2019
It ranked 38th among the top 50 Chinese new innovative enterprises in 2020
Competition from Baidu's Zuoyebang
As more and more companies endeavour to get a foot in China's online education market, Yuanfudao has faced considerable competition. Its biggest rival is Baidu's Zuoyebang. Literally translating to 'homework help', Zuoyebang has become the most commonly used online education platform in primary and secondary schools; by contrast, Yuanfudao is particularly popular among high school students.
During the pandemic, Zuoyebang's total number of active users expanded to over 800 million, earning it the title of most popular online education platform in China. In September 2020, it launched its Cocos-courseware platform which relies on AI to engage young students.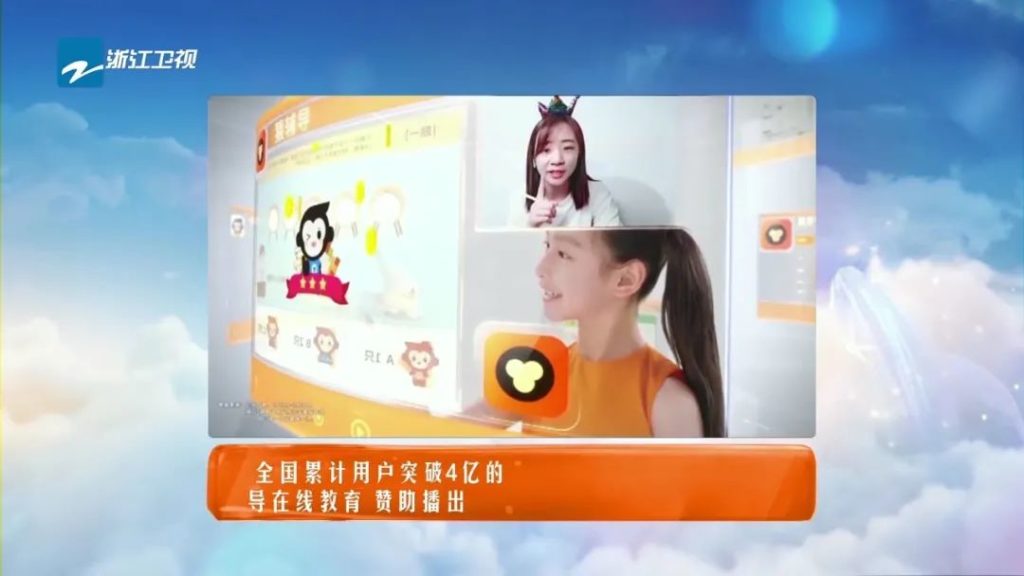 However, while Zuoyebang has relied on Baidu's vast user base, Yuanfudao has had to build support from scratch. It has attracted users through a combination of brand marketing, TV advertising and celebrity endorsement.
Yuanfudao has increased brand awareness by sponsoring a range of knowledge-based and reality TV shows, including talent programme "Super Brain". The company has also sponsored high-profile events, such as the Beijing 2022 Winter Olympics and Paralympics and events related to education, such as the Chinese poetry conference. It has further developed its brand name through campaigns which have successfully appealed to both parents and students.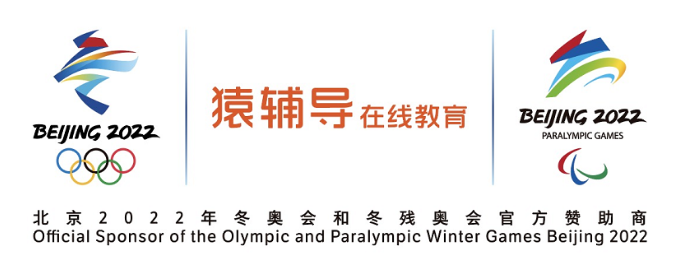 Yuanfudao offers support to Gaokao students
Yuanfudao launched a series of activities last year to show support for students who were sitting China's fiercely tough national college entrance examinations, known as Gaokao. They invited well-known graduates from famous universities, like Tsinghua and Peking University, to share their experience and suggestions for the exam. Yuanfudao also held free livestreams with senior teachers to review previous exam questions. One of their Gaokao livestreams was posted on China Central Television News's official Weibo account and received 13.3 million views and 30,000 comments.
Apart from focussing on the exam itself, Yuanfudao also offered free consultations about university application for students. The sessions covered how to apply to universities, which university is best suited to them and how to choose their majors.
Sitting the Gaokao is one of the most stressful and high-pressured periods in the lives of China's young people. By offering this kind of free support for students across the country, Yuanfudao showed that it was genuine in its goal to improve education for all and successfully built up support among students and parents across China.
Online education will expand in 2021
The online education market is sure to keep on expanding in China as the pandemic has encouraged more users onto these platforms and as technology brings new applications for the education industry. Due to the increasing competitiveness of China's schools and universities, parents are looking to any means they can to help their children get ahead.
Platforms will need to continue investing into the latest technology to improve their services and products like Yuanfudao and Zuoyebang are doing. To distinguish themselves within the growing market, brands will also need to show that they truly care about students by providing the high-quality educational services and developing a strong brand image.
---
Check out our other articles about China's education industry: