The National College Entrance Examination, a.k.a. GAOKAO, is widely considered to be the most important exam in the life of a Chinese student. This year, the date of the examination was postponed from June to July 7-8 due to the impact of COVID-19. For young people in China, GAOKAO is an extremely difficult and stressful period.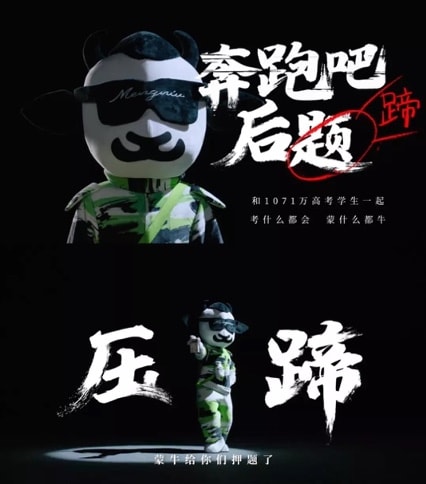 Maximising engagement with Gen Z
Chinese domestic milk brand Mengniu Dairy launched a GAOKAO campaign targeting students who participate in the examination. Having been active in the Chinese dairy industry for 10 years, Mengniu is now one of the market leaders and has been ranked in the Top 10 companies in the global dairy market.
Mengniu released a video featuring its branded cartoon character – Niu MengMeng. The cute character brought the brand closer to young Gen Z students and thus maximised the online engagement with them.
In addition to the character, the video utilised storytelling which the brand learnt from a recent popular speech "Hou Lang" released in May by Bilibili. After releasing the video, the brand quickly gained massive exposure and discussion on Weibo with 3.6 million views and 510 comments.
New packaging labels produced for GAOKAO
Apart from the video advertising, Mengniu launched a GAOKAO edition milk packaging with new labels. The new package featured some important past GAOKAO questions in topics ranging from Chinese and Maths, to English, Physics and Geography. By relating their product to students and encouraging them to be confident and prepared, the brand further developed its connection with Gen Z.
The innovative campaign massively drove engagement on various Chinese social media platforms. As a result, Mengniu's Weibo post hit 2495 comments and 13,968 likes. On e-commerce platform JD.com, the new GAOKO edition milk sold out extremely quickly.
Celebrity endorsement on Weibo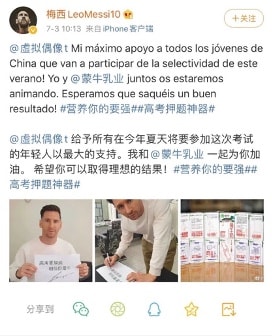 Football player Messi has been Mengniu's ambassador since the 2018 World Cup. The brand worked with Messi to reach wider audiences for its GAOKAO campaign.
Since the collaboration with Messi in 2018, the brand proposition has always been "Be Strong (要强)". This message fit perfectly with the campaign as "Be Strong" represents staying strong throughout the exam.
Promotion of products that benefit students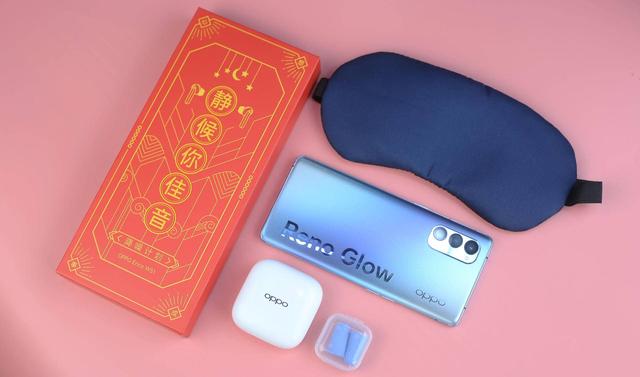 To promote the noise cancelling feature of its new headphone product, the Chinese phone brand OPPO launched a "Noise Reduction" campaign which encouraged the public to stay quiet near locations where exams took place.
The campaign started with the release of a video commercial featuring the hashtag #OPPO高考降噪计划. The video aims to increase public awareness about being quiet during the GAOKAO period. Additionally, the brand has been sending out "noise reduction" products to examinees for free.
To further promote the novel products, OPPO has teamed up with Gaode Maps to provide students with a free premium chauffeur service to exam halls, and noise-cancelling headphones are given to the students for their enjoyment during the drive.

Through the various initiatives it has implemented, OPPO has educated consumers about noise reduction technology. In the end, the campaign hashtag #OPPO高考降噪计划 obtained over 17 million views on Weibo.
Livestreaming to celebrate exam-takers
During the exam period, McDonald's brought back its "All Day Breakfast" promotion to serve breakfast for a continuous 72 hours. Along with advertising the promotion through its official channels, McDonald's also teamed up with Chinese short-form video platform Kuaishou. Together, they launched a 72-hour livestream marathon branded by McDonald's to spread the event's reach to a wider audience. 30 Kuaishou KOLs (key opinion leaders) took part by showcasing their own talents like singing, make-up and sports.
Within three days, the collaborative livestream gained over 7 million likes and 1.8 million views, and McDonald's official Kuaishou account saw its followers increase by 112,000.
Brands seize on the emotion-fuelled GAOKAO period
Within Chinese society, the GAOKAO exam is a hot topic every single summer. As the number of exam takers continues to grow every year, brands have been working hard to use the exam topic as an opportunity to stand out from the competition.
Those brands range from large retailers such as McDonald's, FMCG companies like Mengniu and electronic product manufacturers like OPPO.
All of these brands perfectly connect with the audiences' emotions and highlight social consciousness, in turn gathering massive social engagement and brand reputation.
One lesson learned from the GAOKAO communication is that emotional connection is tied to a successful social campaign in China. Students always feel stressed and nervous before the examination. Mengniu and OPPO create an emotional connection with students to meet their needs by encouraging and inspiring them. On top of that, customers generated in this way are mostly likely to stay with the brand for a long time because emotional connection will build high brand loyalty.
---
Want more from brands connecting with China's young people?
Check out Tmall's "white shirts" campaign where the e-commerce giant offered encouragement to China's job-seeking graduates.
If you enjoyed this piece and want to contribute an article to Dao, please get in touch with the team.