Key takeaways:
China's coffee market will witness a Compound Annual Growth Rate (CAGR) of 10.15% from 2021 to 2026.
The American-born coffee brand lands in Mainland China, showing its ambition to join the already saturated market and challenge some dominant competitors.
The debut hit the Chinese city, with the new store extending the brand's commitment to appreciating and respecting local culture.
---
In recent years, the coffee market in China has been booming and many young urbanists are gradually becoming coffee enthusiasts. It is projected that from 2021 to 2026, China's coffee market will witness a Compound Annual Growth Rate (CAGR) of 10.15%. A study by Shanghai Jiao Tong University said Shanghai has the most coffee shops of any city globally by January 2021, with more than 6,900 coffee shops in the metropolis.
That is the reason why so many competitive domestic and foreign coffee brands are trying hard to get a share of the ever-increasing market. For example, domestic brands like Luckin Coffee and Manner Coffee continue to gain popularity among the young generation whereas Starbucks and Tim Horton remain major foreign competitors in the market.
Commitment to appreciating and respecting local culture
In February, another boutique coffee chain Blue Bottle Coffee marked its debut in mainland China with its first store opening in Shanghai. The American-born brand has already achieved great success in Asian markets with stores in Hongkong, Japan, and South Korea.
The debut in Mainland China shows its ambition to join the already saturated market and challenge some dominant competitors. On the opening day, there were hundreds of people waiting outside the store for almost one and a half hours just to get a cup of take-away coffee. Why has Blue Bottle Coffee attracted so much attention from Chinese consumers from the very start?
What makes Blue Bottle Coffee special and stand out among other brands?
If you just came to know Blue Bottle Coffee for the first time, you might have some questions about the young yet successful coffee brand. Blue Bottle Coffee was founded in 2012 in Oakland, California, and is known for high-quality coffee beans sourced from individual farms. It aims to provide the freshest and single-origin coffee for every customer. Blue Bottle started as a small coffee delivery service back in the early 2000s and is now valued at more than $700 million. While the coffee at Blue Bottle Coffee is excellent, there is more to its success than just good coffee.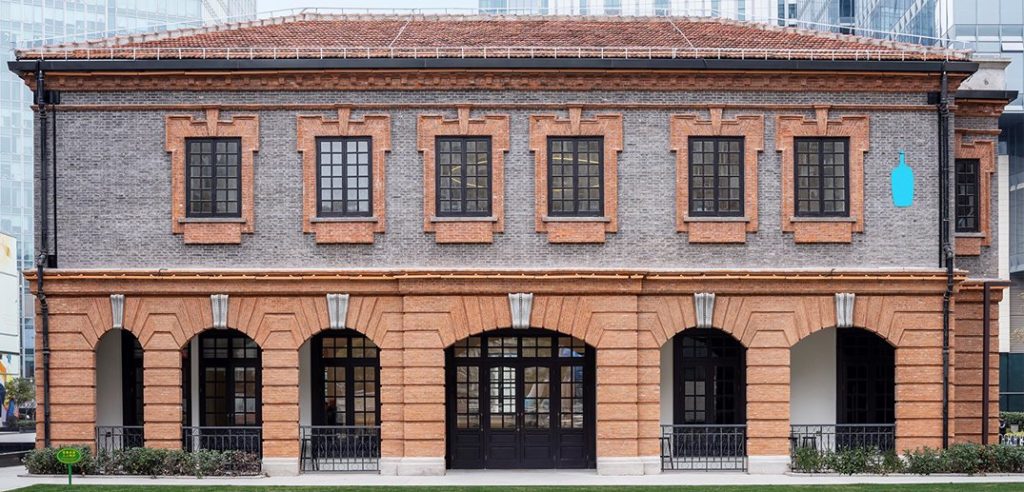 When having a careful look at the location that Blue Bottle Coffee chose for its first store in mainland China, it is in the very centre of Shanghai, the financial centre which boasts the highest number of coffee shops worldwide. The American coffee company selected a historic venue by Suzhou Creek, the two-floor outlet is in Shanghai Yutong Flour Mill whose establishment dates to 1926. The decoration details in the 20th century have been maintained which gives the store a unique aesthetic feature. The whole design showcased the harmonious combination of the 90s Shanghai style and modern industrial design.
In addition to serving its excellent coffee, Blue Bottle said the new store extended its commitment to appreciating and respecting local culture. The store not only houses a selection of classic drip coffee and its signature espresso-based drinks, but also provides snacks inspired by an iconic portfolio from its worldwide operations.
The Shanghai store offers merchandise co-created with a local illustrator to a pastry palette featuring local specialties, including the exclusive 'Yutong Dessert Set' prepared by local Shanghai brands. In other parts of Asia, Blue Bottle also introduced different services and products based on countries. For example, there is a specially designed canned Blue Bottle coffee in Japan which represents the company's consideration of the unique street vending machine in Japanese culture.
Minimal design rooted in brand culture
Another important reason for Blue Bottle's success lies in the minimal design. If you ever look at pictures of Blue Bottle stores around the world or the packaging of coffee beans and brewing kits, it is easy to find out that simplicity and minimal design is the essence of Blue Bottle's coffee culture.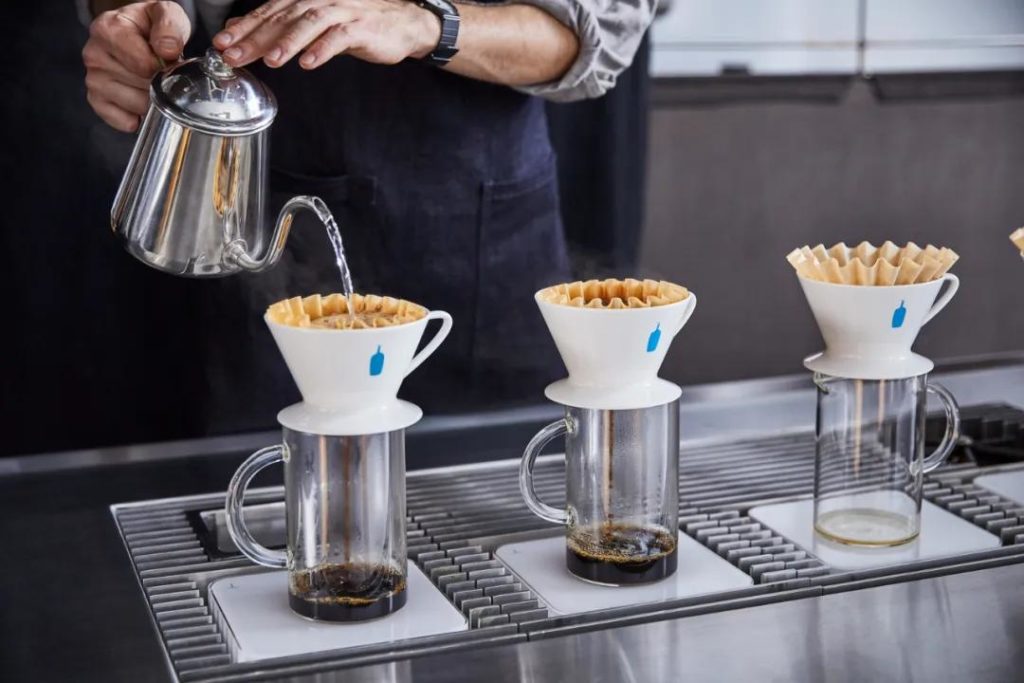 Take one of the most popular brewing products – Blue Bottle Coffee Dripper as an example, it is simple to use and clean. All you need to make a cup of perfect home-brewed coffee is the dripper, filters, and a kettle. You don't need to be a proper experience coffee barista to make yourself a cup of coffee. Blue Bottle makes the coffee-making process more approachable for ordinary customers.
Another favourable brewing kit is the Cold Brew Set in collaboration with Hario, which is one of the greatest Japanese brands in making coffee brewers. It is even simpler than the coffee dripper as only ground coffee and clean water are needed. Blue Bottle also has a huge library of brewing guides, guides to buy the right coffee beans, and much more that helps customers to stay loyal and have good coffee every single time.
From Blue Bottle's successful debut in China, it is not difficult to find out that the company is using its unique brand culture to build up the reputation in China, including fitting in with the local culture, continuing to provide excellent coffee service, and welcoming more people to start their own coffee journey.