Key takeaways:
Pepsi succeeds again by partnering with Disney to create a fun and trendy campaign!
To celebrate their 5th anniversary Pepsi launched mini co-branded cans that featured famous Disney characters such as Mickey and Minnie.
Similar to past campaigns, Pepsi again showcased its creative marketing efforts by utilizing technology to connect with young millennials.
---
Pepsi milestones in China
PepsiCo was one the earliest multinational companies to enter China in 1982. Since its entrance, over the past 10 years, Pepsi together with its business partners, has invested more than 53 billion RMB ($8,2 billion) in China.
Whilst the brand has encountered cultural mishaps via its marketing campaigns, it has recently succeeded in incorporating Chinese culture in its advertisements and appealing to young millennials.
For instance, last year Pepsi executed a creative AR campaign that allowed users to treat any blue surface, such as a Pepsi can, as an augmented reality screen for creative purposes. By utilizing technology, an ongoing trend in China, the campaign was a huge hit and it generated over 2.7 billion views via the short-form video platform Douyin. Another example of its success is through its recent campaign that launched its own White Peach Oolong Flavour Cola. By sensitively integrating traditional Chinese culture into this campaign, Pepsi showed other Western brands how to 'hit the nail' on the head.
A 'surprise' party for all!
And it seems that Pepsi's latest collaboration with Shanghai Disney Resort again demonstrates its ability to connect with the latest trends. In July of this year, Pepsi hosted a series of events with Disney including a surprise party to celebrate their 5th anniversary of working together. Over the past 5 years, the two have worked together to provide customers with unique localised experiences. For example, Pepsi sponsored the launch of the Pepsi "E-stage" in the theme park Tomorrowland. Integrating Pepsi fashion and pop elements, the stage has now become an integral part of the park for various music performances.
Together with its spokesperson, the famous actor Li Xian who has featured in many popular Chinese dramas, the campaign immediately generated a 'fun' and 'exciting' atmosphere. Li Xian has a huge fan base and so he was able to push the atmosphere of the event to a climax. The idea behind the campaign was to create both online and offline interactive experiences.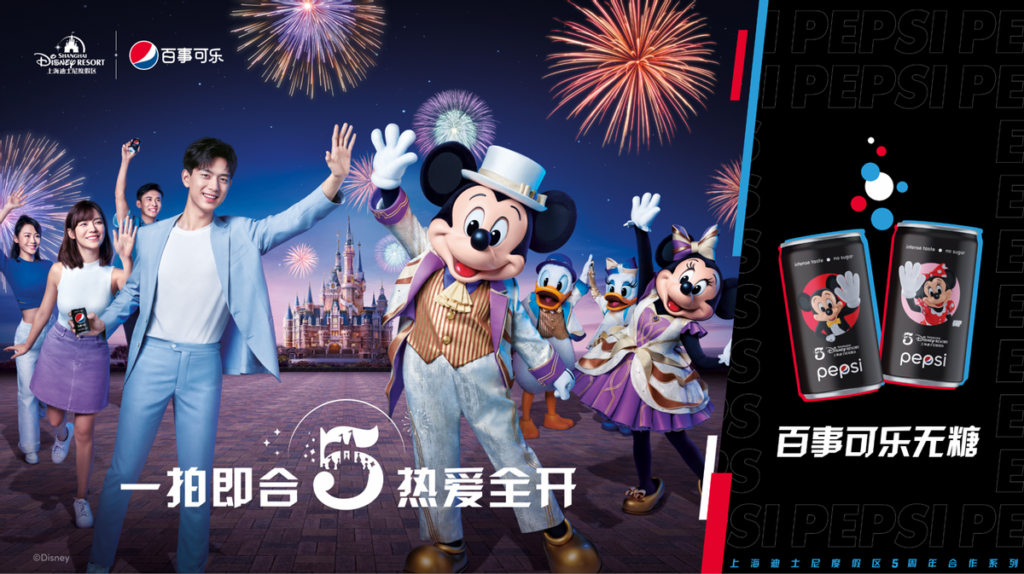 Online, they published social interactive videos performed by Li Xian and Disney characters via its official micro-platform and guided users to participate in forms of Q&A. Offline, they hosted a 'surprise' party and celebratory activities such as a firework display and a dance party hosted by Li Xian and Mickey Mouse and his friends.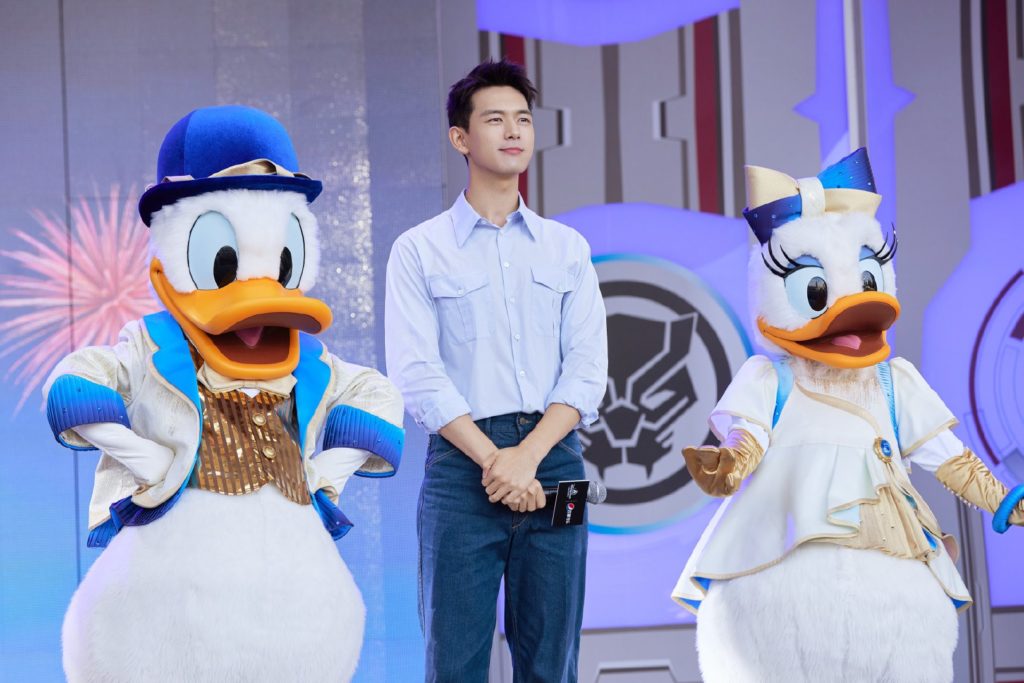 To increase the enthusiasm amongst the crowds at the campaign, Pepsi gave away its 'limited-edition' co-branded mini-cans as prizes. These small sugar-free drinks that featured famous Disney characters attracted a lot of young consumers as they brought back a lot of nostalgic memories for them. The innovative package design of the cans drew in young people to join in the fun!
Moreover, its online strategy worked particularly well. The two companies worked together to launch a 'Pepsi Mini Can' mini-program via WeChat and invited consumers to enter the mini-program to win surprise gifts and invite friends to win more prizes! By integrating gameplay technology, the campaign was able to tap into current trends such as gaming and create an immersive online experience for those who did not attend the in-person events.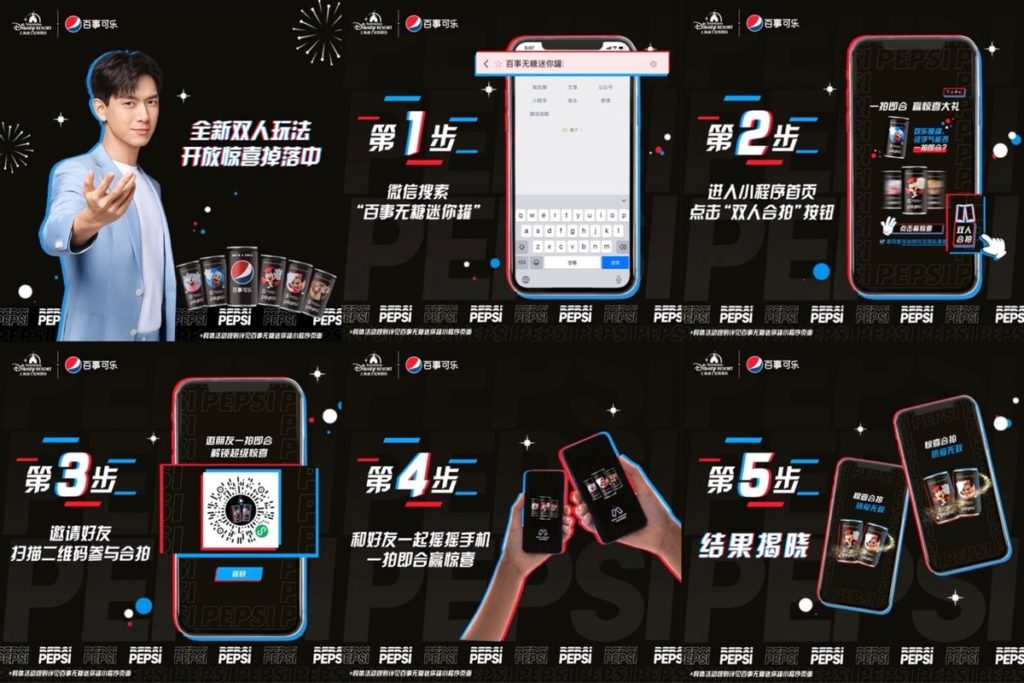 Young people are inspired to follow their dreams
A key element of the campaign that stands out is its dream-seeking spirit and its ability to connect with young Chinese people. The creative campaign was able to reach out to netizens through its use of technology and further strengthen its brand on social media platforms.
Indeed, other Western brands can learn from this campaign as to how to create a localised experience for Chinese consumers. Whilst Disney and Pepsi have of course worked together before, this campaign differed as they created an audio-visual experience.
Pepsi's dreamlike campaign was a huge hit!
Just in figures alone, the circulated campaign hashtag via Weibo "#love it all in one click' (#一拍即合 热爱全开#)was read over 540 million times!
Despite the cultural differences between the East and West, every young person has a 'dream' that they would like to achieve. And so, by reinforcing this message via its campaign together with Disney who again emphasizes 'dreams' and 'happiness', it further engaged with the target audience. It will be exciting to see how their cooperation will evolve in years to come.