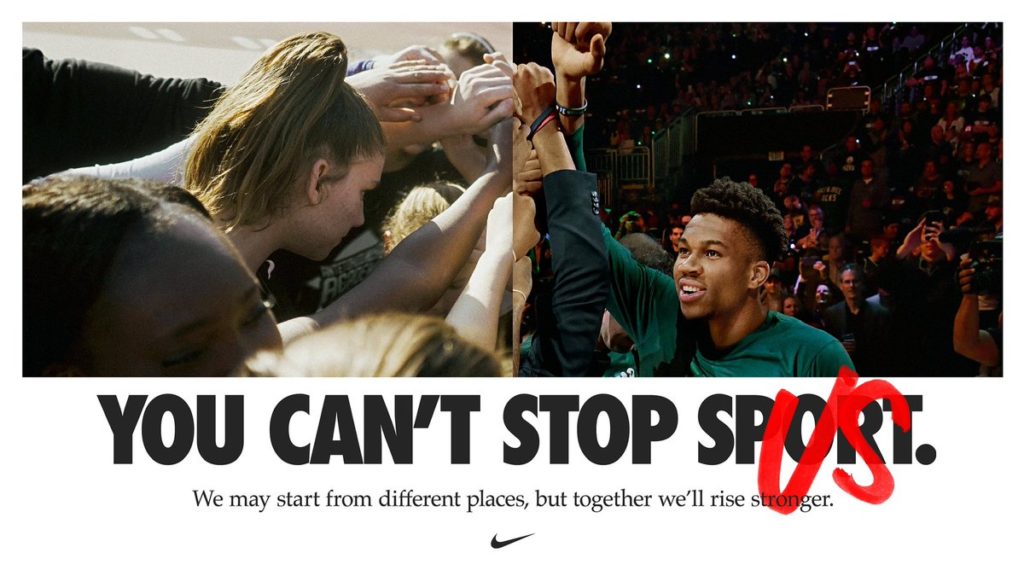 Nike has once again shown why the brand is the world leader in sportswear with the global advertising campaign it released amid COVID-19.
The pandemic has had a huge impact on the sports industry so Nike launched a campaign called "You can't stop us" which encouraged people to persevere and remain positive. Nike also catered the global campaign to its Chinese audience.
Extensive research produces seamless campaign video
Created by agency Wieden+Kennedy Portland, the video for the "you can't stop us" campaign features a range of athletes of different genders, ethnicities, nationalities and those with disabilities.
The research process included sieving through more than 4,000 pieces of footage, with 72 clips finally collated to produce the 90-second film. The screen is split between new footage and pre-existing shots which perfectly match to look like the movement of a single person.
Some of the clips are related to the pandemic and the Black Lives Matter movement to remind viewers that sports can be a force for creating a better future.
Tailoring the campaign to a Chinese audience
"Nothing can stop what we can do together" campaign was launched on March 29 in China just after the lockdown was lifted across the country.
Nike translated the campaign video into Chinese and shared it on Chinese social media platforms. It has been viewed more than 1.2 million times on Weibo and many netizens applauded its themes of social justice, diversity and equality.
The brand encouraged people to participate in the campaign on social media by making their own "duet" sport videos. Similar to those that appeared in the campaign, the videos featured two sports-related shots appearing side by side on the screen. The hashtag and campaign exploded on short-form video platform Douyin with 5 billion views and 479,000 videos being produced.
Nike launches charity run for Hubei children
After this successful campaign, Nike launched a special charity initiative for Hubei children. People were encouraged to come together to collectively run 250,000km in order to raise funds for counselling and mental health support for children from Hubei, the province worst affected by COVID-19.
As of August 8, a total of 14,350 runners had participated in the charity run and achieved the goal – 250,000km.
Creating challenges on social media is the key
Nike's "nothing can stop what we can do together" campaign gained huge traction across the world. The video's diverse selection of athletes meant that it appealed to audiences globally. The meticulous selection of footage was carefully crafted to evoke positive and uplifting feelings.
If a brand is looking to become viral on Chinese social media platforms, one of the best ways to do this is to try and create a challenge like Nike. Challenges inherently demand that users generate content which is the strongest form of engagement that brands can get on social media.
Brand: Nike
Agency: Wieden+Kennedy Portland
---
Want more from brands spreading inspiring messages amid the COVID-19 pandemic?