Our world is facing serious environmental challenges and businesses around the world are increasingly recognising that they have a role to play. Many Chinese enterprises have launched initiatives to protect the environment – just take a look at all the brands who got behind Earth Day 2020 in China.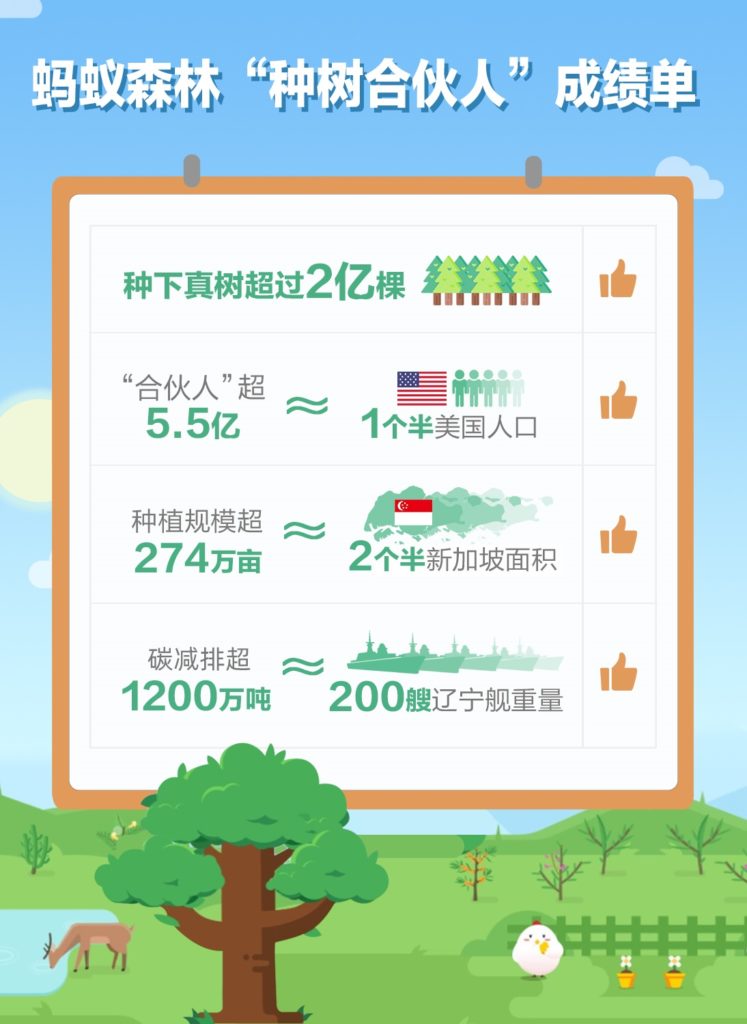 Ant Forest transforms virtual energy into 200m real trees
Alipay's Ant Forest Scheme is one example of the impact that big businesses can have on the environment. Ant Forest was launched by Alipay in August 2016 and encourages users to pursue a low-carbon lifestyle.
Activities which reduce carbon emissions, such as travelling by public transport or paying utility fees online, can be redeemed for virtual "green energy". Users can accumulate it to grow virtual trees on their Ant Forest account and, once they collect enough "green energy", the virtual tree will be converted into a real tree which will be planted in China.
By August 2019, the scheme had reduced the total amount of carbon emissions by 12 million tons. In May 2020, there were approximately 550 million users on Ant Forest, which is equivalent to 150% of America's population. Altogether, users had planted 200 million trees throughout China. Due to its contribution to the environment, Ant Forest won the United Nations' Champions of the Earth award, one of the UN's top environmental honours, in September 2019.
KFC and Ant Forest collaborate – plant a tree when you buy a KFC breakfast
In July this year, Alipay and Ant Forest collaborated with KFC to launch the campaign "Good morning, Green morning." Consumers who bought a KFC breakfast through Alipay's KFC Mini Program, automatically received 7g of "green energy" on Ant Forest. KFC and Alipay specifically chose 7g because the pronunciation of 7g in Chinese (qī g) is similar to miracle (qí jī 奇迹). The key message behind the campaign was that our environment will be protected as long as everyone takes responsibility.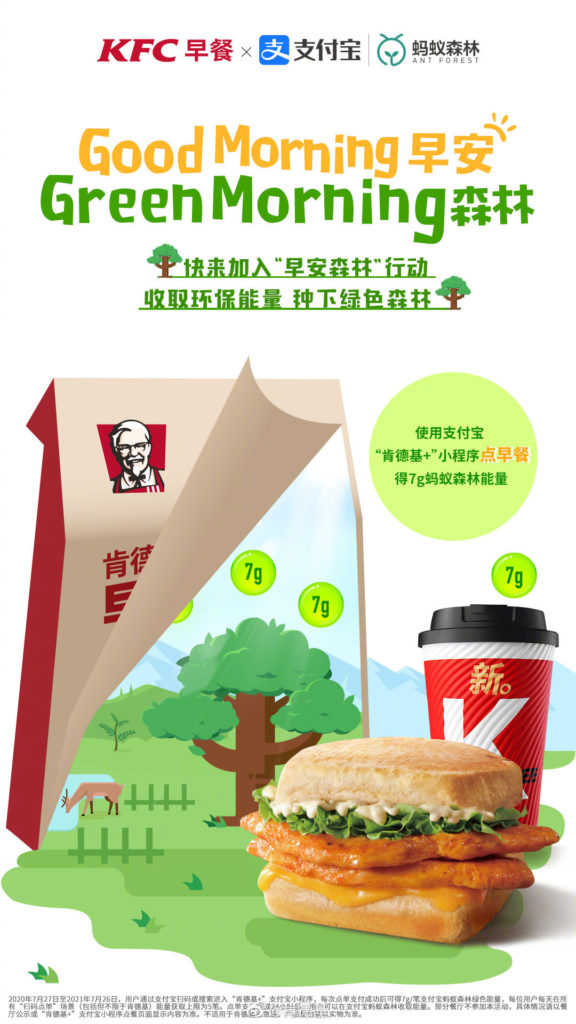 Breakfast is as important as your job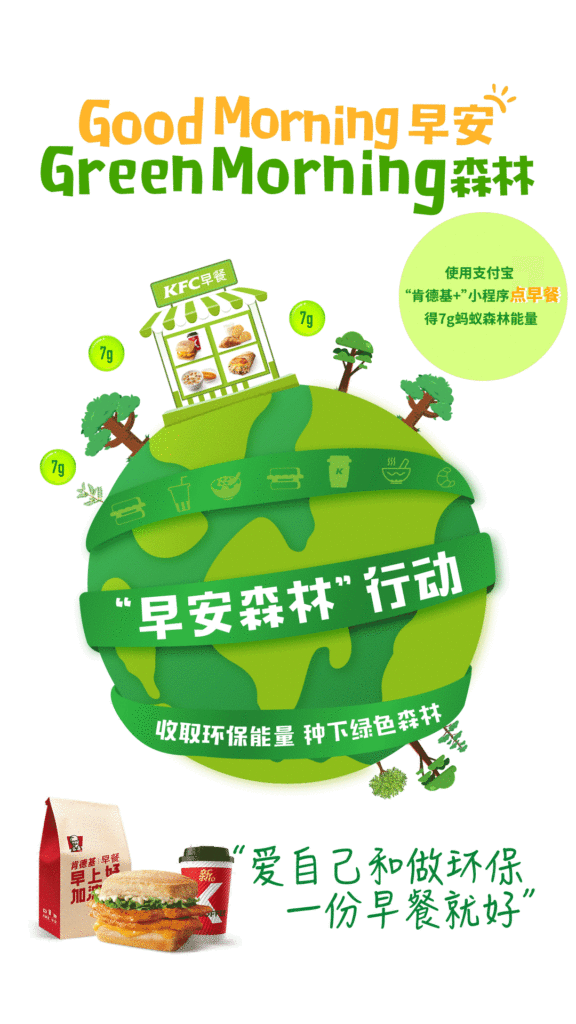 As well as contributing to environmental protection, the campaign also encouraged consumers to live more healthily – many people in China forget to, or skip, eating breakfast due to their hectic work lives.
A "green energy" themed restaurant was also erected in KFC's Shanghai Fuzhou Road store. Every customer who had a seven as the last digit of their queue number received a free breakfast. They could either choose to take the free breakfast or leave a message on the paper packaging and put it in the restaurant's "energy storage cabinet". Those which were left were given for free to workers who often don't have time to eat breakfast, such as delivery drivers, cleaners and construction workers.
Many consumers thought that this campaign was meaningful and contained the right message – spreading kindness through society. Many of those receiving the free breakfast were key workers who sacrificed a lot during COVID-19, and so, many who were involved felt like this was a nice gesture to show their thanks.
"Thank you very much to the stranger who provided me with this free breakfast. In the takeaway delivery industry, we can't always eat meals on time everyday so it's a nice reminder for us that health is more important than work. Thank you."

A delivery driver
A positive response for KFC and Ant Forest on Weibo
Within two days of its launch, the campaign video hit 92,800 views on Weibo.
Netizens commented:
"Such a great campaign!"
"I'm going to visit this KFC green energy store for sure."
Green is the new black – Chinese companies take on environmental causes
In its four years of existence, Ant Forest has made a massive positive contribution to the environment by encouraging consumers to opt for low-carbon lifestyle choices and by planting trees throughout China. Their latest collaboration with KFC not only encouraged consumers to support, protect, and nurture the environment, but also urged them not to skip breakfast and to help others.
Issues of public interest, like the environment and health, always strike a chord with consumers and, since COVID-19, Chinese people have become increasingly conscious of the environment and wildlife. Indeed, the campaign also fit with KFC's "new energy" nuggets campaign which took place earlier this year and encouraged consumers to "go green" with plant-based alternatives.
Brand: KFC and Alibaba