While Labour Day may have become an extensive shopping festival and a good opportunity to travel in China, the origin of the holiday is very different. Taking place on May 1st, Labour Day 劳动节 was officially made a public holiday in 1949 to celebrate workers' contribution to China, and has since been extended to a three day holiday.
This year, brands chose to remember the essence of the holiday and commemorate Chinese key workers. 2020 Labour Day campaigns were dominated by the medical staff, delivery drivers and police who had been working tirelessly and bravely on the frontline throughout the COVID-19 pandemic.
We have picked out some examples of the wide range of Chinese and international brands that produced a campaign promoting Labour Day:
E-commerce & retail
In the style of Mao-era propaganda posters, Tmall's campaign features a range of key workers from Alibaba Group's apps – a merchant from Tmall, delivery driver from Eleme, logistics operator from Cainiao, sales assistant from Taobao and a teacher using DingTalk. A simple concept to highlight the essential services provided by the Alibaba Group and to show gratitude to their staff and other key workers.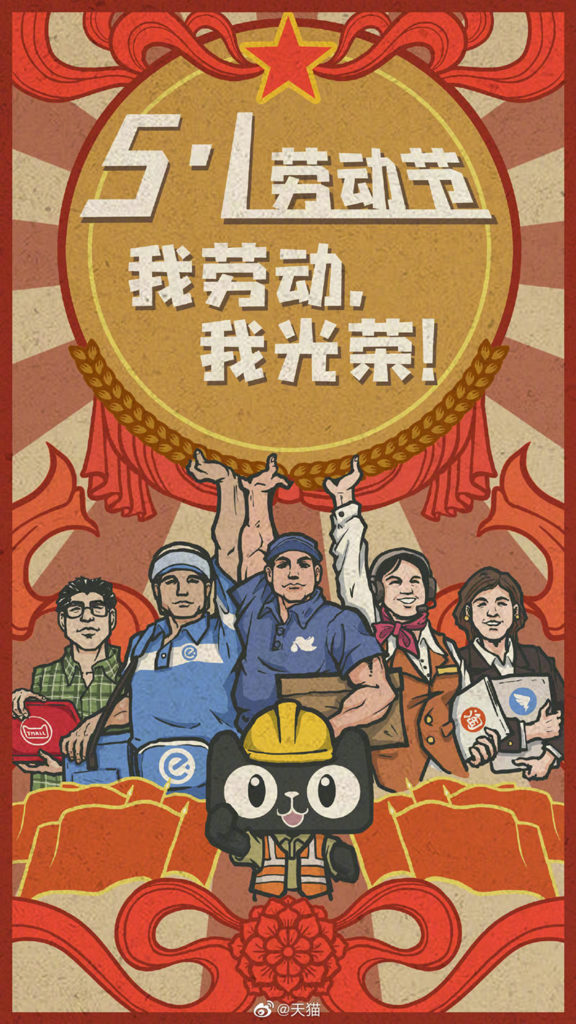 JD.com puts a focus on the role of their platform and shows a range of workers delighted to receive parcels from the e-commerce giant with the caption:
The retailer Suning also showcases key workers – delivery drivers, medical staff and street cleaners – in their Labour Day posters and thanks them for their "honourable work".
IT & Technology
The unique campaign from Huawei's leading smartphone brand Honor created a microworld in a mobile phone to represent the unique and important role that all of its employers play in creating their handsets.
360 Total Security, the largest provider of internet and mobile security products in China, expressed thanks to key workers with the words:
Food & Beverage
Yili and Mengniu are two of China's leading producers of dairy products and both depicted mask-clad key workers in their Labour Day posters. Yili highlights the benefits of their products to workers stating that "after working hard, milk will give you the nutrition you need". Whereas, Mengniu's poster does not feature their product and purely focuses on praising workers: "Every person who works hard needs to be protected".
In similar style, 奥利给 (Ào lì gěi) or "keep working hard" was used in Baicaowei's poster. The snack firm owned by Pepsi chose this popular Chinese buzzword to indicate encouragement and support for the nation's hard-work.
Lelecha's Labour Day poster depicted an orchard filled with farmers. The new high-end bubble tea brand aimed to show gratitude to the farmers who play a key role in producing the ingredients for their bubble tea.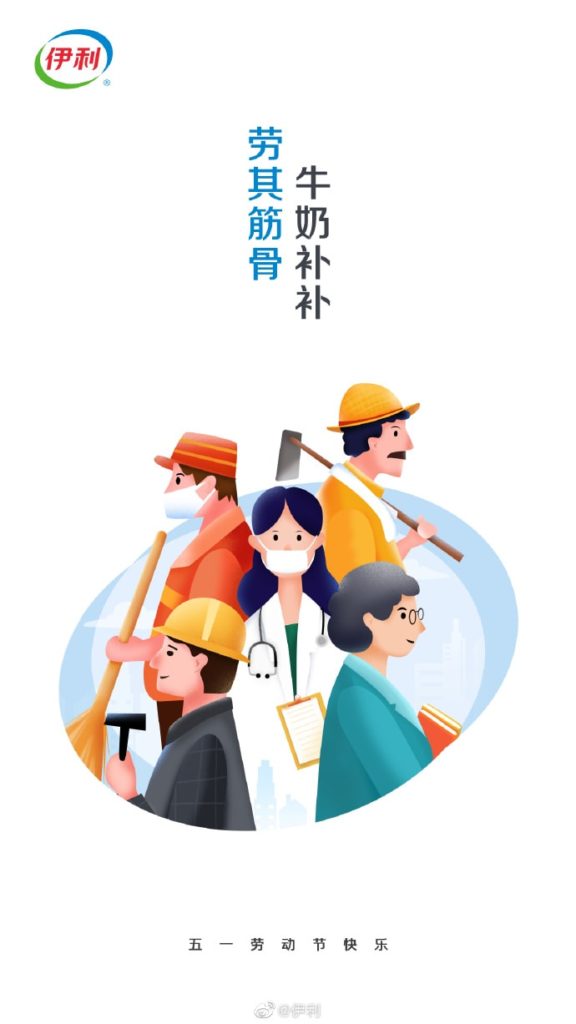 Automotive
It's not hard to guess what brand this campaign belongs to. With Mercedes-Benz vehicles present in the background of every image, the car manufacturer focuses on its role in helping society as well as expressing support for the key workers shown in the foreground with the slogan "Thank you for working hard to make sure that every trip is safe."
Leading automobile manufacturer Geely presented a simple poster using a play on words to appeal to consumers – the pronunciation of "Geely" sounds similar to the word for "luck" in Chinese.
FMCG
The retro campaign from toothpaste brand Lengsuanling (literally translated as "protecting sensitive teeth from cold and sour tastes") offers "respect to every person who works hard."
Home appliances and consumer electronics brand Haier used the opportunity to express thanks to workers while also promoting their new product:
Midea is another Chinese electrical appliance manufacturer who used the holiday to promote a product launch with the phrase "it's time to get some rest after working for the whole year."
Entertainment
Chinese music streaming and download service Kugou shows medical staff enjoying the cherry blossom in Wuhan – one of the best places to see the blossom but inaccessible at the time due to the city's closure during the COVID-19 outbreak.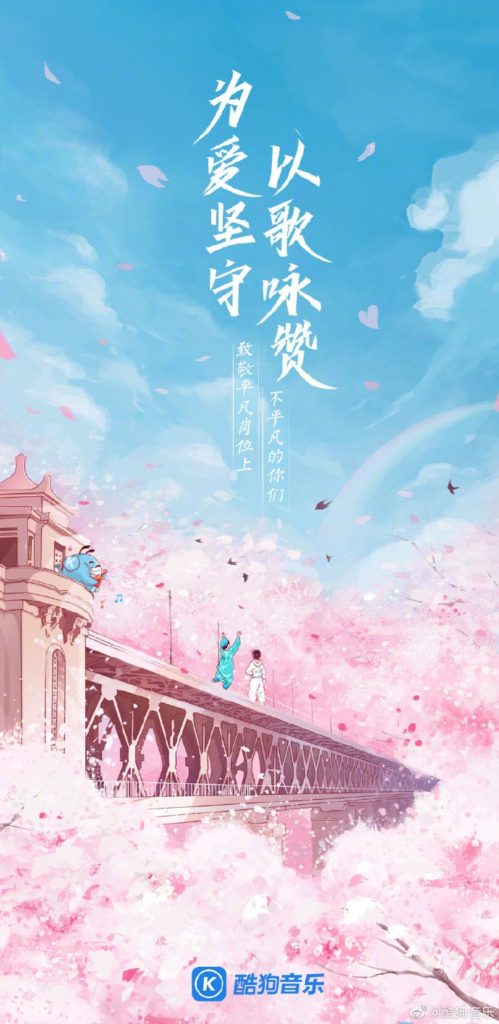 Labour Day posters present an unanimous ode to key workers
Brands operating in China never miss an opportunity to create posters to celebrate holidays or festivals as this is a key way to engage with online audiences, promote brand and product awareness and share core values with consumers.
An interesting feature of the 2020 Labour Day campaign was the resurgence of Mao-era style communist propaganda posters which were also used to praise workers, such as those produced by Tmall, Baicaowei and Lengsuanling.
As Labour Day closely followed China's coronavirus outbreak, the majority of brands chose to highlight the work and sacrifices of China's key workers in their 2020 posters. However the key variant between these campaigns was the extent that brands focussed on this message – some solely expressed thanks and gratitude to workers with little mention of their brand, like Suning and 360 Total Security; whereas, others also used it to launch new products or promote existing products, such as Yili, Haier and Midea.