Key Takeaways:
In recent decades, China's food and beverage industry has grown significantly, playing an important role in the country's economy.
The American chip brand Lay's made an effort to adapt to the tastes of various Chinese communities and entice consumers to eat their chips with familiar but distinct seasonings.
The snack maker not only takes the overall tastes of Chinese consumers into consideration but also innovates flavours dedicated to different regions.
---
China's food and beverage industry is booming
The Chinese food and beverage industry (F&B) has grown significantly in recent decades; with over 1.4 billion people to feed, the industry is massive and plays an important role in the country's economy.
Foreign F&B brands must be cautious when entering the market due to the varied eating habits and tastes of Chinese consumers, not to mention food purchasing habits in China have also changed dramatically in recent years. According to Statista, the food market will generate $1,298,561 million in revenue in 2022, with China accounting for the majority of this revenue.
Let's talk about Lay's
Snacks are small meals that most of us eat at specific times of the day. There are some that are healthy and some that are not, but more importantly, they provide an excellent opportunity to socialise with others, such as at work or with friends.
The well-known Lay's packaged chips are among the most delectable snacks, having been invented in 1932 by Herman Lay, a salesman who opened a grocery store in Dorset, Ohio, and currently controls 67% of the total US snack food market.
Furthermore, Lay's international expansion strategy, which combines aggregation and brand adaptation, has proven to be successful because the company is dominant in most markets and achieves synergies.
How Lay's adapts to the Chinese market
Since its entry into China in 1994, Lay's has carefully planned its corporate localisation strategy. Since then, an unprecedented variety of new tastes based on the classic tastes of Chinese consumers have been incorporated into those already known by the rest of the world, allowing entry into the brand new market.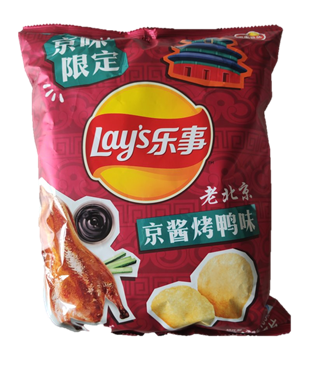 Lay's strategy was to not only cater to the tastes of Chinese consumers, but also to take regional variations into account by launching a series of chips based on the tastes of Chinese consumers. For example, it debut Peking Duck-Flavoured Chips in Peking Duck's birthplace Beijing and Spicy Hotpot Chips aimed at China's fiery Sichuan province.
The duck neck fries, for example, have piqued Chinese customers' interest in this new product. The product's release sparked a large online debate, as consumers were curious about the taste of these "weird" chips. As a result, many consumers created potato chip tasting content and shared their thoughts on their social media platforms, promoting the brand.
How Lay's engages with Chinese consumers
Year of the Tiger 2022
In honour of the Chinese New Year, Lay's presented a graphic of a tiger with the addition of red lanterns in the design to represent good luck, happiness, and prosperity at the start of the new year, with materials available in both English and simplified Chinese.
Douyin challenge
Sound is the most powerful sensory signal for chips; eating crispy fries is what draws you in, and hearing others eat a bag of fries makes you want to buy them.
Lay's previously activated a new creative strategy, creating their own Douyin (Chinese TikTok) Challenge, in which users were challenged to create a fun lip sync clip using the chips while emphasising the Lay's sound.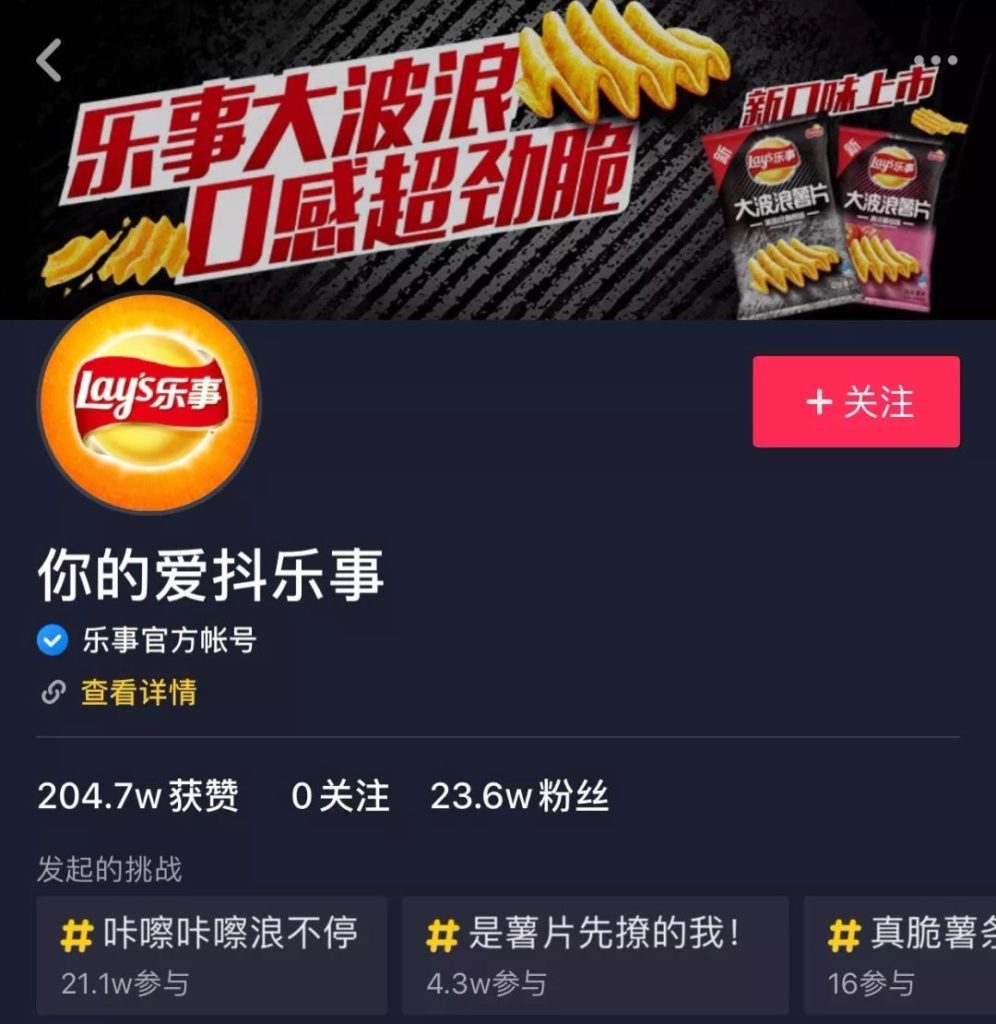 On that occasion, the brand heavily invested in the KOLs strategy by inviting twenty top influencers to share their thoughts and spread the Lay's sound, triggering their fans to participate in the challenge, which resulted in the purchase of a bag of chips.
Lay's fortune-telling chips
The use of prediction sticks to foretell the future is a well-known Chinese New Year custom. Another brilliant idea from Lay's was to ask Taiwanese customers to use a bag of potato chips instead, and released a mobile-based game that allows customers to predict their luck by scanning a piece of chip.
Customers can scan a potato chip with their phone to discover their fortune for 2022 in general, based on an analysis of the five areas of wealth, health, love, family, and study.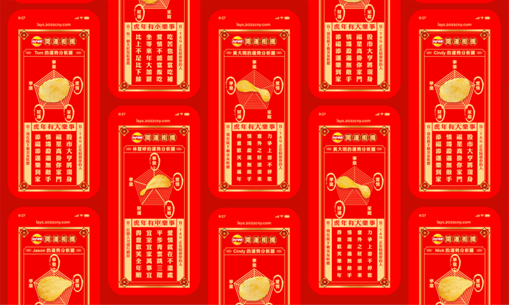 "People believe their fortunes are written in the stars, but they can now be found in a bag of Lay's potato chips. We hope you'll try Lay's fortune-telling Chips and wish you luck in 2022."

Lay's Taiwan Marketing Manager Tina Liu.
The expansion in China continues…
The rush to invest in China has been dubbed the "gold rush of the 21st century," with some companies succeeding where others fail. Lay's has become a brand that is in high demand on a daily basis in China as a result of its distribution strategy, and its availability in as many points of sale as possible, including shopping malls, vending machines, supermarkets, groceries, and small shops.