All good relationships go through ups and downs.
Whether the relationship is just starting out or partners have been together for years, there are always ways to build a healthier and stronger relationship.
Chinese dating app Tantan and media company Xinshixiang appealed to this sentiment and launched a campaign inviting people to share their suggestions.
Children and pensioners offer their suggestions about love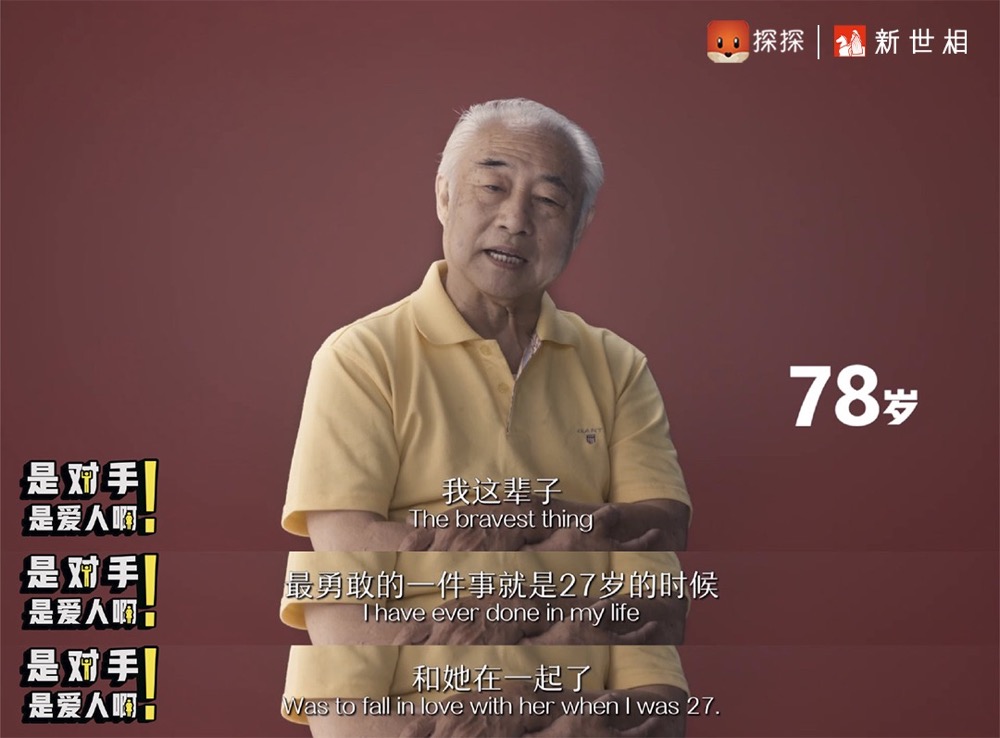 Tantan collected 150 suggestions about love and relationships from women and men aged 4 to 78, collating a huge range of perspectives on the question:
"What would you say to people who want to fall in love or who are in love?"
The campaign launched just after Qixi (Chinese Valentine's Day) which took place on August 25 this year. The two brands were trying to highlight that, although Qixi is a festival for showing love, happiness is not the only emotion that you will experience when in a relationship.
Tantan, as one of China's leading dating apps with over 90 million registered users, thought that their audience would benefit from hearing other people's perspectives. Individuals shared their suggestions of how to keep a relationship meaningful, fulfilling and exciting, regardless of a couple's goals or challenges.
They published two videos, separately interviewing men and women, which collectively hit 3.8 million views on Weibo. Many netizens on the platform commented that the suggestions were exactly what they wanted their partners to know and understand.
Answers show contrasting opinions between genders and generations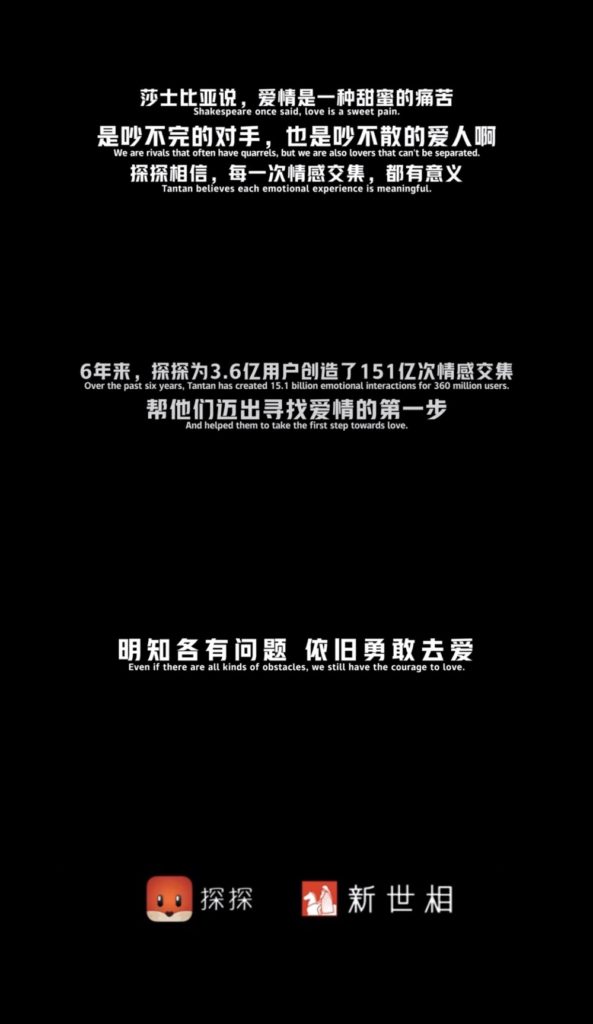 Specific topics or questions revealed the differing opinions between men and women and the different attitudes between generations. We selected some of the contrasting answers to show what they reveal about Chinese culture and trends:
"Idol culture" is very common in China, especially among young people. China's Gen Z often do outlandish things to display commitment to their idols. They commonly wait for hours for their idols at airports and mega-fans have also gone to the extreme of buying out the entire run (120,000 copies) of a fashion magazine featuring one of China's most famous bands, TFBoys. Girls often consider idols as their "perfect boyfriend" and the boy's quote above reflects the jealousy that many boys feel towards these idols.
These quotes highlight the attitude among many young women in China who will expect their partners to guess what they are thinking and fake "break-up" with them over minor issues. These "break-ups" are to elicit a reaction, rather than a genuine desire to end the relationship. Several interviewees in the video highlight that expecting too much from partners can put unhealthy pressure on a relationship.
Due to the gender imbalance resulting from China's One Child Policy, there is a huge pressures on men to meet certain "standards" to be deemed worthy of being in a relationship. Especially in cities, young men are expected to have a certain job, income, own a house and car etc.
In China, girls often like to make boys guess when it comes to giving gifts. If a couple have known each other for a while, the girl may assume that her boyfriend has a pretty good idea of what kind of gift she wants. However, no one is a mind-reader. Indeed, Prada helped men that were stuck for ideas during love-themed festival 520 by allowing consumers to choose gifts on the website an advance.
Emotional branding from Tantan and Xinshixiang
During Qixi, brands' advertising usually focus on love and how to cherish it. Yet Tantan and Xinshixiang did the opposite – they showed people the problems that can arise in relationships. However, the overarching message came back to love: the advice presented in the videos could help couples build a stronger relationship. Their campaign posters say: "Qixi has ended but love has not".
Tantan and Xinshixiang's campaign elicited an emotional response from their audience, thereby creating high engagement. The broad range of opinions presented in the videos also helped the campaigns appeal to a wide audience.
Brands: Tantan and Xinshixiang