Key takeaways:
Chinese video streaming platform Bilibili has joined the summer campaign season by dropping a "Watermelon Field" at the Youth Energy Centre in Shanghai.
The campaign is a Chinese wordplay that skilfully leverages the practice of 吃瓜 (chī guā), or watching commentary videos of films and TV shows, which is commonplace on Bilibili.
The offline pop-up was coupled with a digital replica where over 10 popular content creators with millions of followers were involved.
---
China's YouTube equivalent, Bilibili (also known as B Station), recreated a "Watermelon Field" at the Youth Energy Centre (or TX Huaihai) in Shanghai as the metropolis basks in the summer sun. From 21 to 23 June, the iconic landmark was covered by the video streaming platform's synonymous bright pink which was decorated with real watermelons. With such a vibrant colour composition, it gives a nod to the platform's identity and shows their intention of tapping into the "Dopamine" colouring that has become a Gen Z sensation.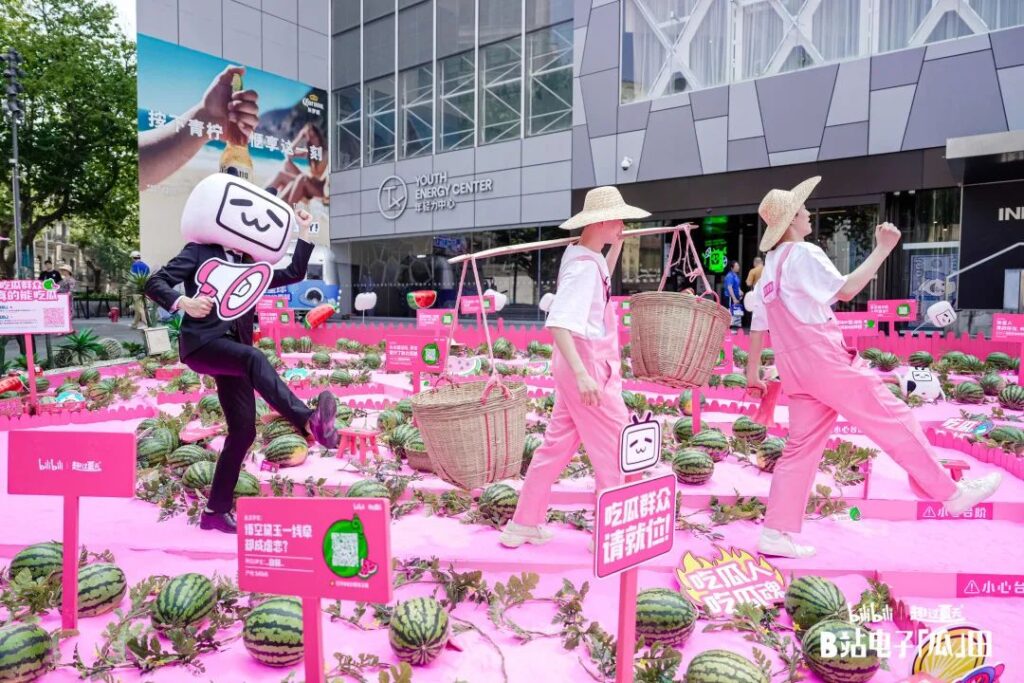 With the tagline "Good melons I've had on B Station these years", the campaign skillfully leverages the platform's status as a 吃瓜 (chī guā, or "eat melons" in English) space for its users who are mainly of the post-95s and post-00s. The internet slang refers to the practice of watching an event unfold but not engaging, like an onlooker. The application of this term was then extended to watching movies or TV series from a third-person point of view through videos with commentary or secondary creation videos – a type of video that has been at the core of Bilibili's content.
In this vein, the platform teamed up with more than 10 of the most popular content creators with a niche in film and television commentary to curate a digital "Watermelon Field". Included were San Dai Lu Ren, Dian Ying Zui Top, and Xiao Pian Pian Shuo Da Pian. These creators are followed by over 6 million and Xiao Pian Pian Shuo Da Pian was one of the winners of Bilibili's Top 100 Creators 2022, and his video commentary videos garners an average of 1 million views.
A total of five "melons" were introduced, inviting users to join discussions based on video content providing unexpected angles of plots from some well-known TV shows including Journey to the West and Dream of the Red Chamber – two of the Four Great Classical Novels of Chinese Literature; SpongeBob SquarePants, Harry Potter and the hit film The Wandering Earth.
To further the campaign's voice, Bilibili wanted to turn the virtual practice of 吃瓜 (chī guā) into a real-life summer sweet for the public by setting up a physical "Watermelon Field". While acting as a wordplay of 吃瓜 (chī guā), it also smartly taps into the fruit that is synonymous with summer, giving its target audience a sense of ceremony when entering the sweltering season.
It is understood that users with verified Big Membership can collect a watermelon on site, while such an offer is also available to ordinary users who shared content under the campaign hashtag, enriching the online conversations. In addition, participating content creators were also invited to have a presence at the offline event. Known as "mysterious melon farmers", their appearance was fitting with the "rural" ambiance while also tipping the hat to the overall campaign theme. Such an unpredictable turn-up, meanwhile, flavoured the event with a sense of mystery and surprise.
By cleverly capitalising on the consumer habit of 吃瓜 (chī guā) and combining it with the fruit which symbolises summer, this is a timely effort by Bilibili for a seasonal campaign. This also enables the platform to strengthen its position in allowing its young users to engage in a wide range of TV and film production in a more playful way. More importantly, it also facilitates them to express their own views, which is highly valued by these savvy generations who pursue personality and individuality.