Key takeaways:
Chinese yogurt brand Chunzhen under the dairy giant Mengniu Dairy teamed up with QQ Xiaowo to curate a metaverse island that revives Gen Z's childhood memories.
QQ Xiaowo, a social networking space embedded in Tencent's messaging app QQ has drawn in brand partners for metaverse creations, including Calvin Klein, Gucci and L'Oréal.
The digital realm leverages the concept of gamification and co-creation while an offline pop-up brought online buzz to the New Tier-1 city of Tianjin.
---
In a sharp contrast, Chunzhen, a yoghurt brand under China's dairy giant Mengniu Dairy, leveraged metaverse – a term synonymous with the future – to revive the childhood memories of China's Gen Z. This was achieved by collaborating with QQ Xiaowo, a social networking space embedded in Tencent's messaging app QQ.
The upgraded online environment enables a Web3-like ecosystem, allowing users to customise their virtual characters alongside a range of digital activities such as opening virtual stores, decorating their own virtual homes, partying and socialising over sought-after Gen Z games like Jubensha. Introduced in early 2022, the space has become another pathway for brands to enter the futuristic internet iteration of metaverse. Current brand partners include KFC, L'Oréal, Calvin Klein, Jordan China, Kappa and Vans, as well as luxury label Gucci who dropped its brand's 2023 Spring/Summer series runway show in QQ Xiaowo for the first time.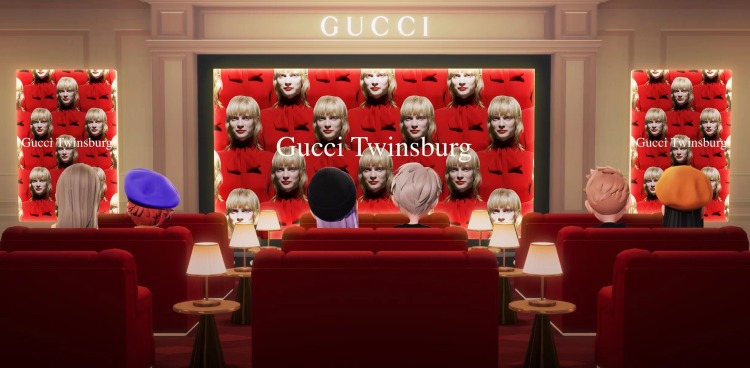 A metaverse world reviving Gen Z childhood memories
Now, Chunzhen has rushed to the space, giving birth to "Satisfy Your Food Cravings Community by Chunzhen", which is a tailored made metaverse interactive island with a "childhood retro style". Characterised by the brand's signature blue and white hues, the immersive environment is decorated with neon lights and vintage signs exuding a strong sense of retro-Chinese cool. While some old-fashioned objects such as vintage televisions, kettles and stereos enhanced the nostalgic ambiance.
A total of five digital scenarios including the Galaxy Gaming Room, Red Star Elementary School, Culture Great Hall, Craving for Yoghurt Canteen and Chunzhen Photograph Studio were installed in the metaverse, reviving some of Gen Z's childhood routines while leaning on the practice of gamification. Included was playing classic arcade games, especially the dance machine, which was one of the most popular after-school activities remembered by the post-80s and post-90s.
Also arousing reminiscence was the virtual school ground where blackboards were covered with intriguing childhood questions awaiting users' answers. Visitors could relive the joy of being in a classroom and play on the playground just like they did during their school years, creating a more engaging digital experience.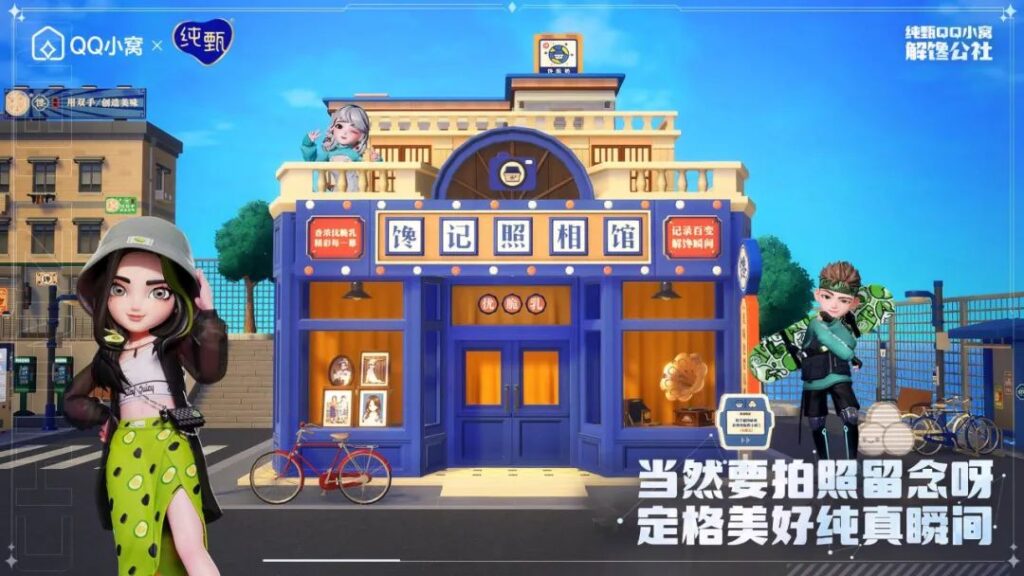 In the Culture Great Hall space, visitors had the opportunity to interact with the brand's own virtual character NPC (Non-Playable Character) Xiaozhen through activities such as taking photos. They can also unlock surprise gifts by engaging in the product introduction presented by Xiaozhen, enhancing the sense of involvement while allowing the informative session to be more playful, and therefore, entertaining.
Meanwhile, upon completing gaming missions, players were rewarded with snacks including crispy milk, dragon fruit, walnut kernels, and popping candy, which were provided by the Craving for Yoghurt Canteen. Users were invited to make their own version of a virtual yoghurt, incentivising players with a mix of Gen Z's childhood nibbles and its classic offering. By doing so, Chunzhen was able to resonate with its target generations emotionally by enabling them to capture moments from their past while deepening its penetration of the shrewd demographics.
Co-creation enhances the sense of consumer involvement
To further unleash the synergy of user co-creation and metaverse, the brand launched the #Post-00s New Dimension Yoghurt Store# campaign on QQ Small World (an Instagram like image-driven socialising space in QQ), allowing users to become store managers, furthering the sense of participation. As such, Chenzhen ignited another surge of enthusiasm among young people with the campaign hashtag garnering over 270 million views on China's Twitter-like platform Weibo.
Adding to the online excitement, Chunzhen brought the "Satisfy Your Cravings Community by Chunzhen" to the real world during the recent May Day holiday, through a creative pop-up event in the New Tier-1 city Tianjin. Leveraging the holiday footfall, not only did Chunzhen invite visitors to taste its milky offerings on-site, but also the idea of co-creation was extended to the physical space, where customers could engage in the yoghurt-making process.
The fusion of nostalgic elements and technology in the stylised scenes attracted many users to take photos and check-in, creating offline buzz that simultaneously boosted the campaign's online awareness. Through the integration of online and offline operations, the brand effectively enhanced its visibility and strengthened its relationship with target consumers, ultimately, improving sales conversion. It is understood that during the promotional period, nearby stores saw an increase in daily sales of 910%, while online platforms, particularly the e-commerce market JD.com Tewu Z (an innovative content shopping space curated by JD.com for Gen Z), achieved a monthly sales growth rate of 58% with page visits increasing by 468%.
The success of Chunzhen's metaverse campaign shows it is essential to identify collaboration platforms that provide technological advantages and build a metaverse space with unique brand characteristics. This allows brands to create diverse and immersive interactive experiences while building a solid foundation for virtual communication and engaging users effectively.
Additionally, it is crucial to inject "core values" into the brand's metaverse space. While metaverse technology can provide novel and exciting user experiences, brands must ultimately touch upon their target audience's emotions, thoughts, and interests to truly resonate with users and establish distinctive brand recognition.