In Quilt.Ai's research into the consumption habits of young, affluent Chinese mothers in Mainland China, we identified four key segments which brands should take note of. Key data sources used in our study were Weibo, Baidu and Taobao, which we analysed through a combination of qualitative codes and quantitative analysis, employing use of our proprietary Culture AI technology.
Visualising Culture on a Grid…
In forming these segments, we semiotically analysed their habits and self-representation along axes of Maternal identity and Child identity. This enabled us to visualise the four distinct types of mothers based on how strongly their role as mothers featured in their overall self-identity, and how she represents her child's identity online.
The four key segments identified are: Bling Moms, Cosmopolitan Moms, Everyday Moms and Curator Moms.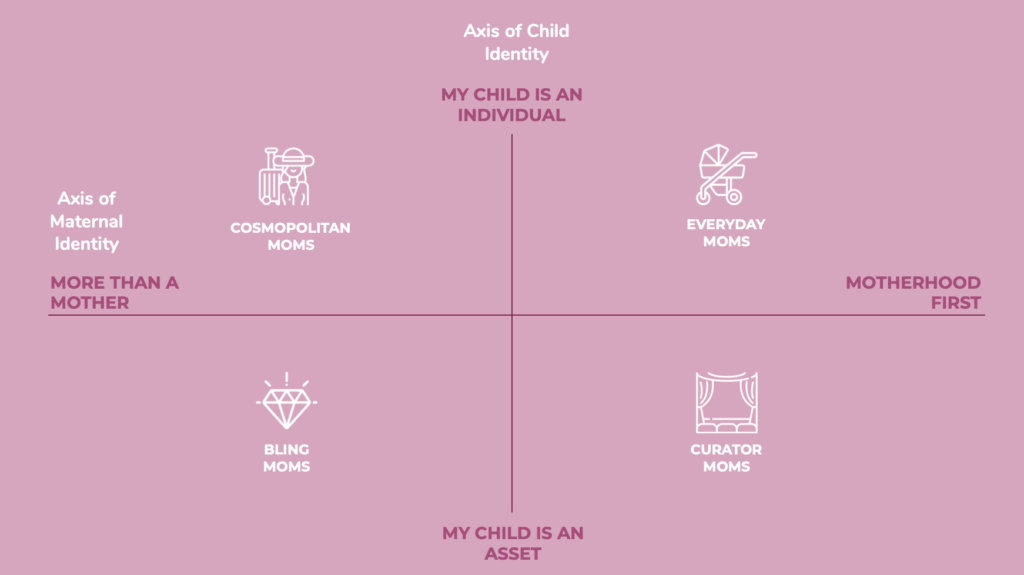 1. The Bling Moms
These mothers do not view mothering as the defining aspect of their identities. Analysis of this segment's social media output revealed that Bling Moms' social uploads were mostly in the beauty and fashion related domains. Over 60% of her uploads are in these categories, followed by pictures of social and recreational activities. Only after these categories, were there uploads related to her child.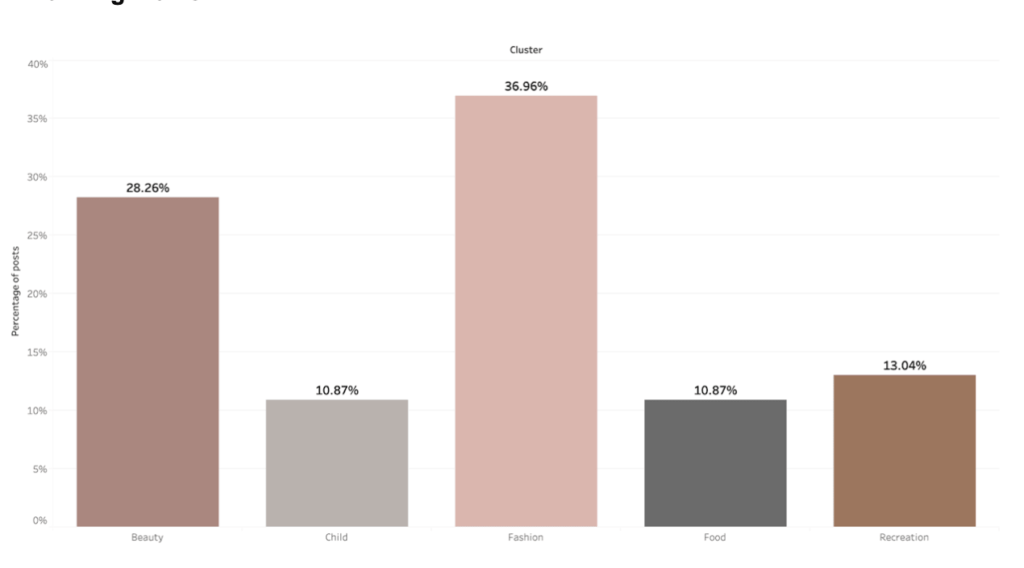 The Bling Moms position themselves as society darlings, filling their social feeds with pictures at fashion shows and exclusive brand events, as well as fine-dining. Where food is photographed, we observe an underlying common theme of indulgence.
Images such as a table spread fully with plates, or an indulgent dessert tower feature. Secondary to her social darling identity is her mother identity. Where her child features on social media, the child appears clad in branded apparel, as a complement to her dominant identity projection.
Codes of luxury and exclusivity dominate. Brand analysis reveals that most of the brands photographed in her pictures are in the makeup and skincare space, ranging from well-known affordable Korean skincare brands e.g. innisfree to expensive international luxury brands such as Tom Ford, Armani, YSL and Chanel.
2. Cosmopolitan Moms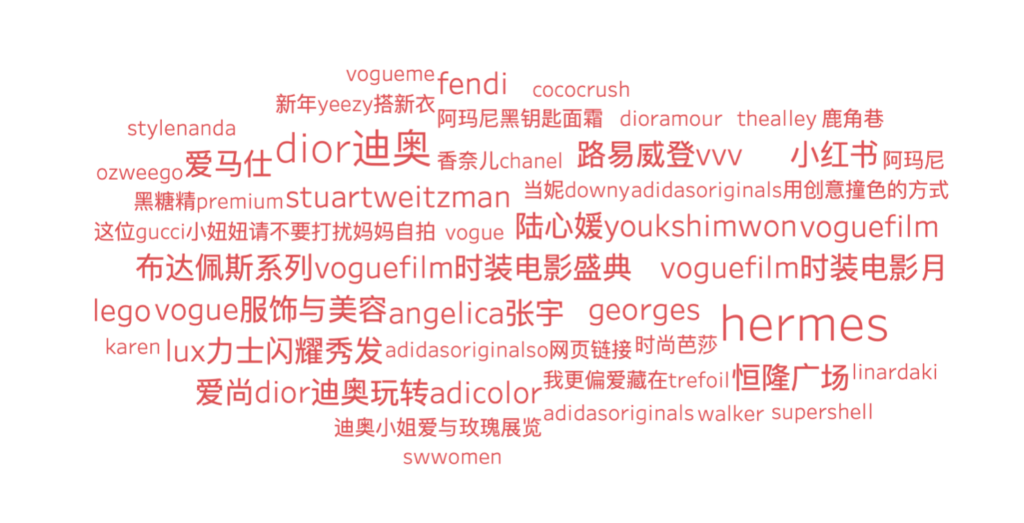 The Cosmopolitan Mom, similar to the Bling Mom, views her role as a mother as just one of the many parts of her identity. She does not express this maternal aspect much on her social feeds as well. The Cosmopolitan Mom is similarly into beauty and fashion.
Brands mentioned on her social posts are mostly high fashion luxury brands such as Dior and Hermes. Notably, the Cosmopolitan Mom reveals a more refined, niche taste. A top search from this segment of mothers was 'Georges Hobeika', a Lebanese haute couture fashion designer.
What sets her apart from the Bling Mom, and is also key in defining this segment, are her globe-trotter tendencies. The Cosmopolitan Moms post numerous pictures at holiday resorts, infinity pools, tropical beaches, luxury hotels, bars with city skyline views, wineries and fine-dining venues. Her child rarely appears in her social feeds, and is very much part of her private life instead.
As worldly global citizens, the Cosmopolitan Mom demonstrates an interest in wellness activities, and uploads pictures of yoga and pilates workouts, participating in arguably Western-driven wellness trends. In this segment, an overall dominant code of Lifestyle-centric personal branding stands out.
3. Everyday Mom
In contrast to the previous two segments, the Everyday Mom is your mom-next-door. Moms in this category have relatively few uploads containing fashion and beauty related items. Top uploads on her social media feeds are related to food (almost 30% of her uploads), recreation and her child. She shares many photos documenting her "mother experience" – pictures of home life with her child, or trips out on walks together and more.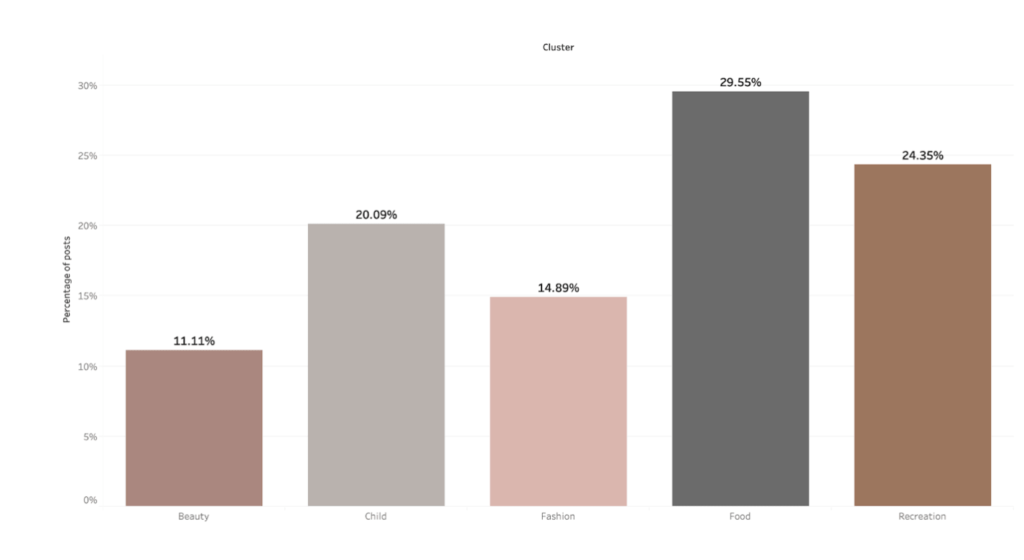 Examining her brand universe, more children brands feature in this segment. "Disney" appears as a top brand detected by our language extraction models. Outside of children's brands, the Everyday Mom is also interested in designer brands, although these are of the mainstream sort, e.g. Louis Vuitton. She also displays some interest in newer streetwear luxury brands, such as Virgil Abloh's off-white.
Like the Cosmopolitan mom, the everyday mom is similarly into wellness, although her interests in this field are more low-key. She is interested in activities like swimming and running, and posts a lot of pictures depicting home-cooked food. Her posts on food are nutrition-focused, showcasing ingredients that go into her concoctions.
Unlike the previous two segments, food pictures here do not feature fine-dining as much, and are used instead to signal a certain domesticity. They position the Everyday Mom as a home-maker who engages in cooking to care for her family.
4. Curator Moms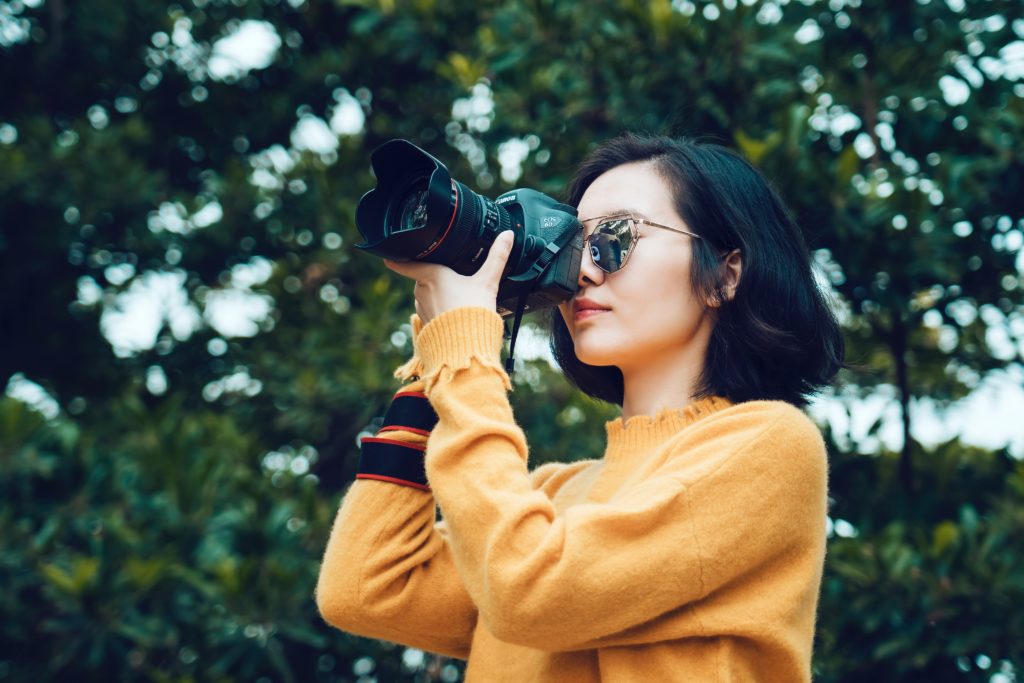 For mothers in this segment, 40% of their social feed gets dedicated to showcasing their children, which is the highest among the four segments. What is especially interesting about this is that pictures of the Curator Mom's child are highly staged, as the segment name suggests. The child appears in the role of "model" more than "child" (there are not as many images capturing a daily-life parent-child interaction).
Uploads by the Curator Moms are magazine-like mini photoshoots, with elements of glamour and exactness. Clothes of parent and child are coordinated, lighting is flawless, and backdrops appear too picture-perfect to be candid shots.
The Curator Mom does not mention luxury brands as often in her post captions. Instead, brand 'endorsements' are subtly integrated into her feed, subtly positioned in her pictures. The packaging and presentation of these brands are displayed and showed off – it seems that what matters more is the brand experience, not so much whether the brand is a household luxury brand name or not.
How to Speak Mom: What does this mean for luxury brands?
For brands looking to enter the luxury market for young mothers, considering the key differences between these personas will enable more targeted brand messaging.
Taking for example the case of the Cosmopolitan Mom, targeting aspirational benefit (i.e. 'owning this product brings me a step closer to appearing like I have it all') might not be that effective. For the Cosmopolitan Mom, her interest in niche designer brands that not many have heard of shows us that she does not aspire towards a mainstream luxury, but sees herself as an early adopter and perhaps trend-setter.
---
Quilt.AI is a human-informed tech platform bringing actionable insights to brands. With our technology, we conduct consumer research across regions and categories with speed, delving deep into cultural meaning behind the latest lockdown trends, or examining the social outputs of brands.
Reach out to the Quilt.ai team at [email protected] for more insights. 
---
If you enjoyed this piece and want to contribute an article to Dao, please get in touch with the team.