Since my last opinion article on Dao Insights, Pioneering sustainability – Shenzhen is more than China's Silicon Valley, I have received many inquiries about Shenzhen. At the same time, I got invited for a podcast interview to talk about my recently published scholarly journal article on talent migration in the case of Shenzhen. Surprisingly, the host started with a question about Silicon Valley instead of Shenzhen: In your understanding, what else can be learned from Silicon Valley?
Amazed at the worldwide business enthusiasm for expansion in Shenzhen in the midst of a global pandemic and how Silicon Valley is still being idolized by many Chinese in the face of geopolitical uncertainties between China and the United States, I pondered: In spite of social, institutional, and political differences between Shenzhen and Silicon Valley, the two global technology centres share more than one similarity: migrants and talents.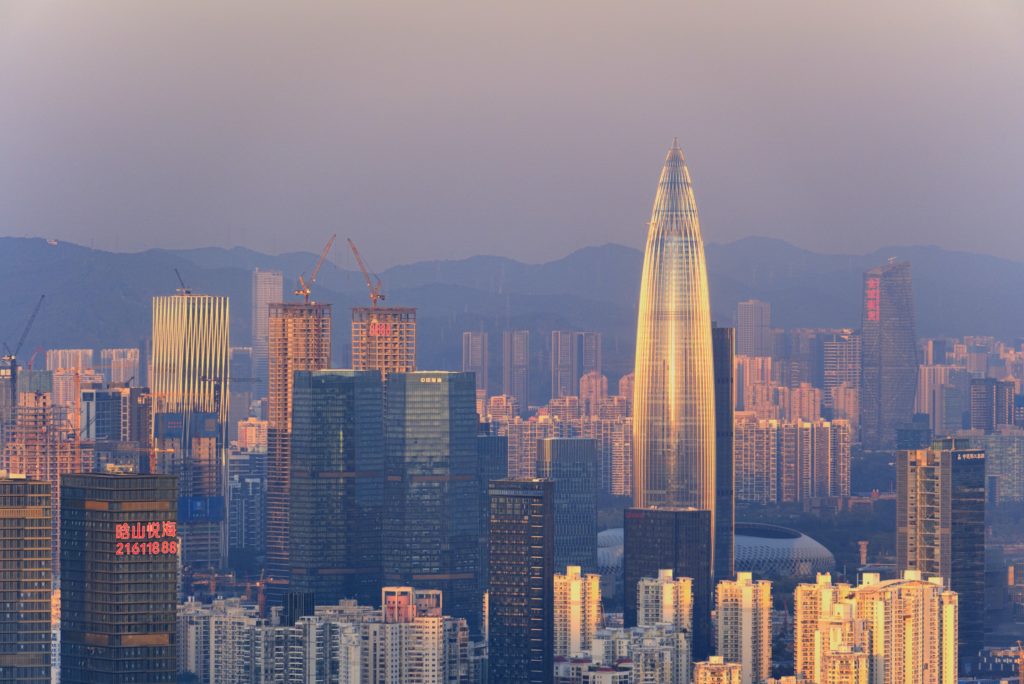 Shenzhen VS Silicon Valley = migrants VS immigrants
"Someone leaving their hometowns for Shenzhen is essentially similar to someone immigrating to Silicon Valley from their home countries. Being a migrant, despite the format, represents a kind of risk-taking, entrepreneurial spirit, and the internal desire for adventures and changes."

Grace shared this with her host during their podcast interview
Silicon Valley's transnational entrepreneurs and successful immigrant founders of technology companies have been frequently appearing in popular media and are documented in academic books. Silicon Valley Institute for Regional Studies reported in 2019 that, among residents in technical professions with a bachelor's degree or higher in Santa Clara & San Mateo counties, 6.9% of them are from Europe, 15% of them are from China, 23% are from India while local California residents account for 18% (see Figure 1).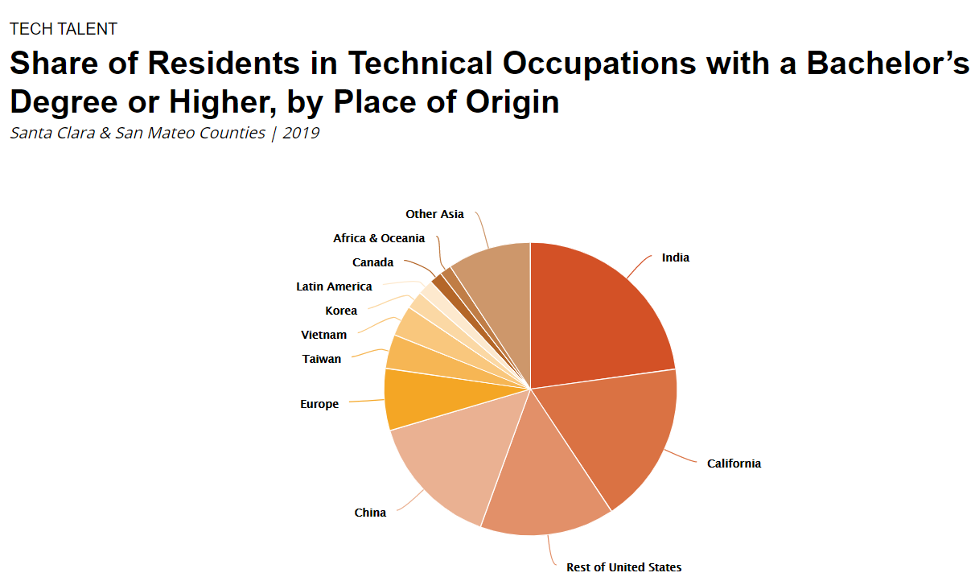 Similarly, Shenzhen attracts many migrants. According to a UNESCO report (2009), Shenzhen is named China's largest migrant city with the youngest population of an average age of 30.8. The China Urban Vitality Research Report released by Baidu ranked Shenzhen as the topmost attractive city in China from 2017-2019, and its three-year population attractiveness index increased from 9.925 to 10.109 (see Figure 2).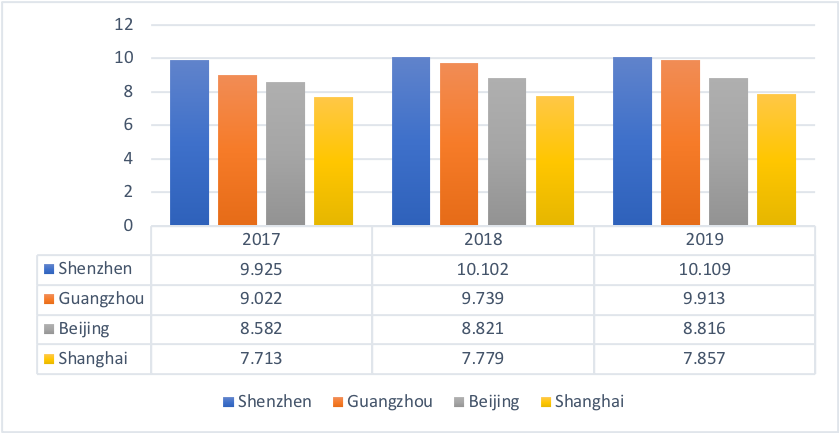 Gold-digging, Shenzhen women earn their own fortune
Are people attracted to Shenzhen for "gold-digging"? The definite answer is yes. Back in the early 80s in Shenzhen, there is a popular slogan in the city that: If a man wants to get married, he should look for Shenzhen Kai Da factory girls (娶女就娶凯达妹). "Kai Da" in Chinese is one of the first toy factories invested by Hong Kong investors in Shenzhen in the early 80s."Kai Da factory girls" represent money-making, independence, and modernity. Take Zhou Qunfei for example. Ranked No. 3 in Hurun Global Female Rich List in 2020, she is the CEO at Lens Technology who is a self-made factory girl from Hunan to Shenzhen. Four decades later, women's independence, entrepreneurial and money-making spirit is still carried on.
A recent online post comparing young women in Shenzhen with the ones in Beijing has gained popularity. It is said that two Shenzhen women were on trips to Beijing and hang out with their Beijing friends at a bar. They were shocked to find out that their female Beijing friends kept making small talk and complained about their work. In contrast, all they loved to discuss were: stocks, equities, startup investing, purchasing houses…Therefore, a term was born: Shenzhen Women (深圳女孩) (see Figure 3).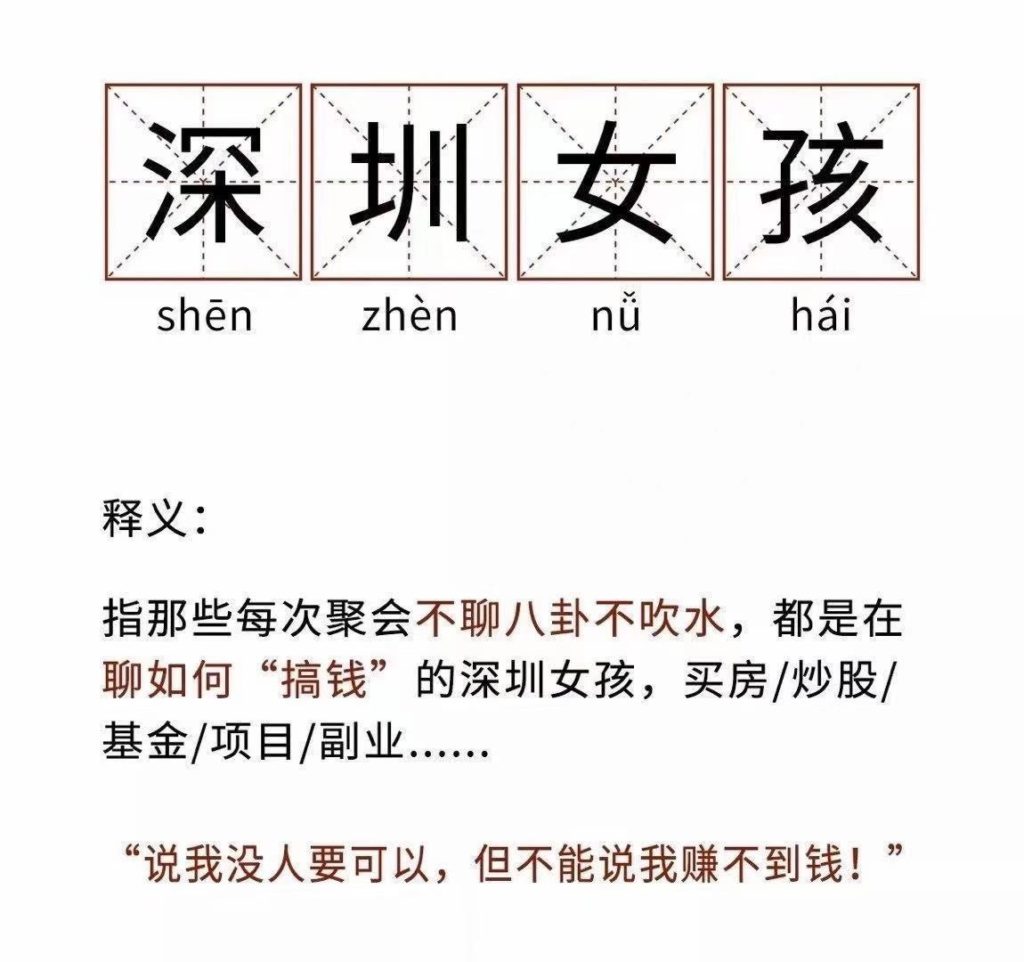 Shenzhen 'Peacock Talent Program'
You might sense Silicon Valley female empowerment in Shenzhen Women. However, different from Silicon Valley, Shenzhen's local government plays a key role in policymaking to attract talent. Shenzhen Peacock Talent Program, launched in 2011, is a government initiative to attract both overseas Chinese returnees and talents who are foreign nationals. This program focuses on attracting technical human capital that can fulfil Shenzhen's current developmental needs.
Shenzhen Peacock Talent falls into three categories, namely A, B, C talent. A talent refers to superstars with international recognitions in their respective arenas. For instance, the receiver of the Nobel Prize and Turing Award. Talents falling into this category are qualified for money incentives around 461915.10 dollars which were often used as research funding. Chief Executive Officers from fortune global 500 companies (company list in the link) along with Olympic gold medalists also are considered as A talent.
Compared to A talent, B and C level talents are relatively easy to reach. For instance, full or associate professors at famous universities worldwide for over five years qualify for B talent, with money incentive in the amount of 307943.40 dollars. People who hold Ph.D. degrees and serve as assistant professors at global-level universities can apply for C talent.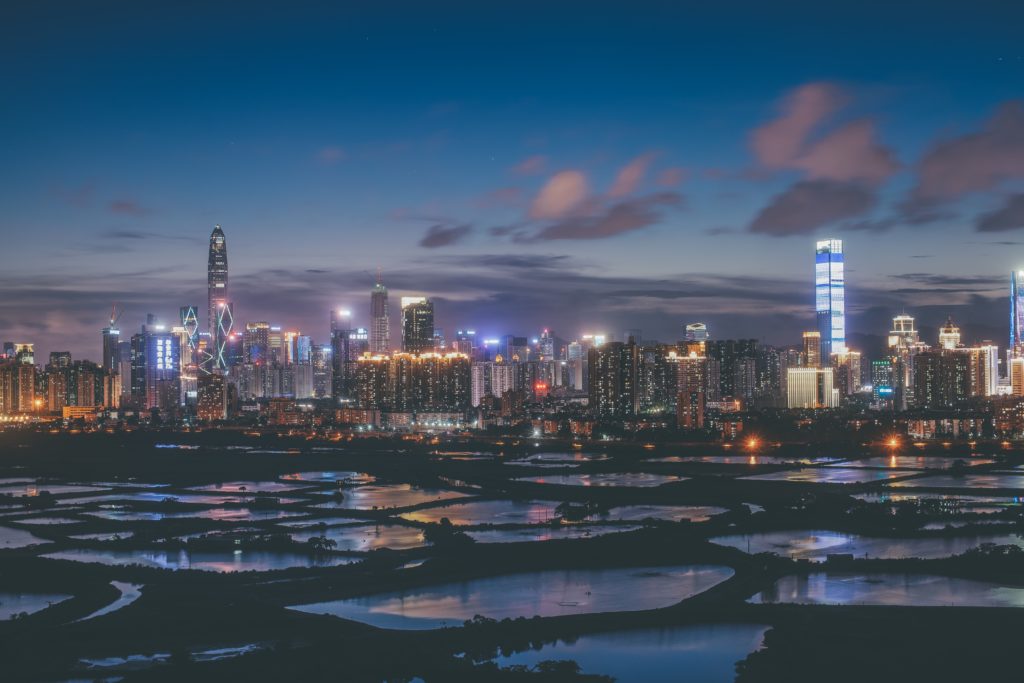 "We have three Peacock Talents in our company, and they are all foreigners." A Head of Public Relations at a Shenzhen startup proudly told me. Indeed, the Shenzhen Peacock Talent initiative is targeted at talents with diverse national backgrounds to help the city advance its technological innovation race on a global stage.
Shenzhen VS Silicon Valley, the similarities they share remind me of the book written by the famous female American writer, journalist, and activist, Jane Jacobs. In her book published in 1961, The Death and Life of Great American Cities, she argued that great cities are places that attract people from diverse backgrounds to turn their energy and ideas into wealth and innovations. If I had a chance, I would ask her: Do you still hold the same argument?
Read more: